Evi Sachini is the Director of the National Documentation Centre (EKT), the national institution for documentation, information and support on science, research and technology issues. She is also member of the board of directors of the National Hellenic Research Foundation and member of the Board of Directors of the Greek Network for Research and Technology (GRNET). She holds a PhD in Chemical Engineering from the National Technical University of Athens. Dr. Sachini has substantially contributed to the cultivation of the Greek knowledge ecosystem and has led a number of important initiatives in the area of reliable digital content. As a national expert and representative to the European Commission and OECD, she has advised on issues of R&D and Innovation, management and exploitation of knowledge capital. She has published a series of reports relating to areas of research policy, development and innovation.
Founded in 1980, under the United Nations Development Programme, the National Documentation Centre is integrated with the National Hellenic Research Foundation and is supervised by the General Secretariat for Research and Technology (GSRT) of the Ministry for Education, Research and Religious Affairs.

Dr Evi Sachini talked to Greek News Agenda* on the role and activities of the National Documentation Centre, which include accessibility to digital content regarding scientific research, production of the national statistics for Research, Development and Innovation and connection of research and innovation to entrepreneurship. Dr Sachini also stressed EKT's contribution to the preservation of the Greek cultural heritage through its portal, searchculture, which offers access to digital cultural content from 55 collections of 43 respected institutions. She further elaborates on how EKT helps Small and Medium Enterprises, including start-ups, to innovate and grow internationally. Dr Sachini underlines that EKT supports a virtuous policy making and entrepreneurial decision-making circle by providing research, technology and innovation statistics and informed analyses. Finally, she stresses that the national policies on Research, Development and Innovation, the highly skilled R&D human resources and high scientific quality research that is performed in specific niches of excellence, make her optimistic for the future and for the ability of the country to integrate its research and innovation dynamic in its new growth and productive model:
What is the role and main activities of EKT as regards the diffusion of knowledge?
Knowledge-intensive activities are a major source of potential economic growth for Greece as a means to exit the economic crisis. Towards this goal, and in accordance with our mission to collect, document, manage, disseminate and preserve quality digital content and data produced by the Greek scientific, research and cultural communities, EKT performs the following actions.
Firstly, in terms of digital content, a) we make available digital data and information accessible within the scientific, research and cultural communities (eContent), b) we disseminate and promote trustworthy Greek content on an international level, c) we have developed electronic infrastructures with an effective mechanism for collecting and searching content and data (Open Access, Open Science), and d) we provide SaaS services (Software as a Service) including digital repositories, such as openABEKT.

As the designated organization responsible for the production of the national statistics for Research, Development and Innovation (RDI), EKT is very actively pursuing the enhancement of understanding of the national innovation system. To meet this end, EKT not only provides statistical data on various aspects of the national and regional research, technology and innovation system, but also puts data into context. In other words, it places statistical data within a geographical, sectoral, etc. context via dedicated and in-depth analysis of various RDI-related topics, and thus aspires to assist policy-making by the provision of up-to-date and comprehensive information.
On an international level, EKT participates in scientific conferences, presenting its contribution to RDI relevant issues (RDI statistics, public policy, dimensions of national innovation system, etc.). Lastly, EKT being a member of the Enterprise Europe Network, provides consulting services for international business partnerships, information on European policies, innovation and technology transfer and fosters the participation of SMEs in European Programmes for Research and Technology.
How is EKT contributing to the preservation of Greek cultural heritage?
EKT has been actively involved in the preservation and dissemination of cultural content for years. One of our first cultural content projects was Pandektis, the digital library of the National Hellenic Research Foundation's Institute of Historical Research collections. Last year we completed the development of a suite of comprehensive services initially offered to Cultural organizations that were beneficiaries of the last "Digital Convergence" Operational Programme Calls. These cloud services are offered on a Software as a Service model, enabling Greek cultural organizations to navigate the modern information environment, where everything is interoperable and connected. We developed a workflow for digital cultural content that includes safe long-term storage, quality control, standards-based documentation and aggregation.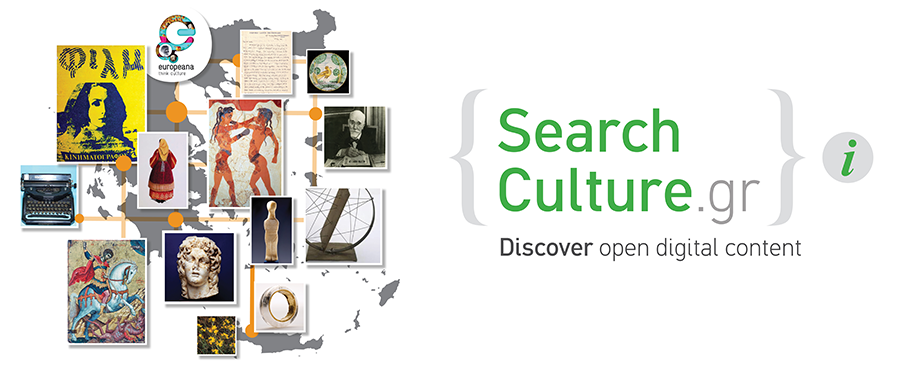 End-users can now search for cultural content via our portal, SearchCulture.gr, an aggregator of cultural heritage content. SearchCulture.gr offers central access to and single search of digital cultural content of more than 160,000 documents from 55 collections of 43 respected institutions, ranging from museums and folk heritage organizations to archives and local cultural collections. It also establishes interoperability with major 3rd party search engines and portals like Europeana, thus making quality Greek cultural content more accessible and exploitable.
To further help safeguard Hellenic digital heritage, we provide a repositories service which is a comprehensive content publication service for authorised content producers. Various cultural organizations have used the service: the Acropolis Restoration Service has two repositories we created the one hosting their restoration archive and the other their educational content. We are also developing repositories for academic Art History collections, manuscripts, local art collectives and oral histories collections, Faculties of Art etc.
How does EKT measure the output and outcome of the Greek Research, Development and Innovation system?
Since 2012 EKT has been a member of the Hellenic National System (and by extension of the European Statistical System) and has been tasked with the provision of the official statistics on Research, Development and Innovation in Greece. In this capacity, EKT undertakes a series of Eurostat-approved and synchronized surveys on concerning research spending, personnel and innovation activities.

In addition, EKT is responsible for measuring a range of other research enablers and outcomes. For example, on matters of scientific publications, highly educated human capital, the performance of domestic research and business institutions in European research projects, the research infrastructure, female participation in research activities, the career of PhD holders, Greek participation in competitive EU R&D calls (under Framework Programmes /Horizon 2020), etc.
How is EKT supporting the collaboration between academia and businesses and the networking of Greek research organizations with those abroad? In what ways can innovative start-ups receive assistance from EKT?
By way of the provision of statistical data as well as via informed reporting and analysis, EKT supports the relevant policy makers in helping them make decisions based on updated information. By being coordinator of Enterprise Europe Network – Hellas, EKT provides a wide range of value-added services for SMEs using the concept of "one-stop-shop" and under the guise of a unique organizational mechanism-network. This can be broken down into three groups of related services. 1) Providing information to enterprises regarding European issues, such as finding foreign business partners and supporting outward-looking entrepreneurship. 2) Offering innovation and technology transfer services. 3) Promoting aspects of the knowledge triangle in Greece, focusing on higher education institutes' third mission and their contribution to national production and, 4) helping in accessing European funding, finding the appropriate partners, submitting proposals and helping in project implementation.
As regards innovative start-ups, let me start by saying that innovative SMEs, including start-ups, are claimed to play an important role in generating growth and employment, throughout Europe. According to Eurofound's latest annual report, young innovative SMEs with high international potential are the biggest recruiters in the European Union. Their growth is also expected to support the shift of the EU economy towards more knowledge-intensive activities.

The National Documentation Centre, as National Contact Point for Horizon 2020 and Coordinator of the Enterprise Europe Network-Hellas supports SMEs, including start-ups to innovate and grow internationally. For example, Enterprise Europe Network-Hellas is a successful strategic alliance of business support organizations and networks, helping Greek business grow faster through commercial partnerships, access to finance and tailored support. It is a nationally distributed infrastructure of institutions and expertise, with extensive experience in cooperation at national level and distinguished performance in global networks. As a member of the Enterprise Europe Network, it collaborates with more than 600 organizations in 60 countries to find the best opportunities for Greek enterprises to grow.
During the period 2008-2016, Enterprise Europe Network-Hellas produced 740 international partnership agreements. 1,960 Greek profiles were disseminated in more than 60 countries. 645 company missions and brokerage events were organized and supported by the Enterprise Europe Network-Hellas.
How does EKT support evidence based policy making for research, technology and innovation and the transition to a knowledge-intensive development model?
Incentivizing sustainable and long-term economic growth is primarily based upon a policy mindset that takes into consideration the range of available quantitative and qualitative evidence relevant to each occasion and sensitive enough to adapt to societal and economic fluctuations. EKT being a provider of research, technology and innovation statistics and of informed analyses supports a virtuous policy making and entrepreneurial decision-making circle, by way of providing up-to-date evidence on the range of the topics involved. Indicative of that is the effort made to support the implementation and monitoring of smart specialization strategy in Greece, by providing regional RDI-relevant indicators, elaborated specifically for the purposes of the national strategy for growth.
What are the main characteristics of the Greek RDI system?
Greece has been experiencing a rapid deterioration of a number of several macroeconomic and quality of life indicators since the onset of the financial crisis. Despite the fact that the Greek RDI system has been under pressure, national expenditure rose in absolute and relative value (e.g. R&D intensity). Additionally, other initiatives, such as the appointment of a Deputy Minister for Research in 2015 (for the first time since 1985), the implementation of a National Strategy on Smart Specialisation or the mobilization of Regional authorities to support research and innovation may be considered to be signs of the higher priority that the RDI sector is given on the national policy agenda.

This positive juncture for RDI in Greece, combined with the capable R&D human resources and research of high scientific quality that is performed in specific niches of excellence, make us optimistic for the future and for the ability of the country to integrate its research and innovation dynamic in its new growth and productive model. This can be seen from the latest R&D indicators for spending (R&D intensity) which shows an increase to 0.97% of GDP for 2015 from 0.84% in 2014. In addition, domestic SMEs exhibit a healthy/robust attitude towards innovation – for example, Greece (0.87%) outranked the EU average (0.69%) in terms of non-R&D innovation spending as % of turnover for 2012.
Similarly, the domestic scientific and research base is increasingly internationalizing. The number of international scientific co-publications has been systematically rising during the last decade indicating the growing networking of the international science base. Also, Greek actors have been systematically excelling in attracting competitive European research funds.
Are Greek organizations successful in participating in European research funded programmes or are they lagging behind?
To elaborate more on my last point, one of the clearest indications of Greece's great research potential, is manifested in terms of Greek domestic scientific, research and business participation in EU Framework Programmes. European Framework Programmes are the major funding mechanisms for increasing the scientific and technological capacity of the member states on behalf of the EU.
As such and according to the latest data (Horizon 2020), Greece is ranked 9th in the number of signed contracts and 12th in budget share. This is very important given that 28 countries are members of the EU. Greek organizations exhibit an equally good success rate in H2020 (2014-2020), while, the success rate of Greek participation (in terms of number of Greek participations) reaches approximately 13%, a rate which is even higher for specific programmes, such as Research Infrastructures or Space. Greek organizations have attracted more than €437 million euro with 312 Greek SME participations attracting approximately €83 million euro.
What is EKT's strategy for the future?
In answering this question it should first be noted that EKT is one of the (very) few organizations in Greece that has undertaken the difficult task of setting a carefully crafted and comprehensive strategy until the year 2022 that builds upon the current developments. In accordance to the Centre's central objectives, and in the broadest terms, EKT aims to increase the volume and quality of the Greek digital scientific and cultural content that will be made freely available for use and re-use by all interested parties, supporting actively open-access policies. This will be achieved by making use of state-of-the-art technologies.
Secondly, EKT will safeguard the production of the national RDI statistics by accomplishing all the relevant milestones. In addition, new metrics and RDI-relevant publications addressing various and currently-hidden aspects of the national and regional innovation system will be brought out. Thirdly, emphasis will be put on matters of incorporating new knowledge produced by the domestic science and academic system into innovation-intensive business ventures, and facilitating the interplay between academia and the private sector.
* Interview by Florentia Kiortsi
Learn more about EKT's strategy (in Greek). Read also: "Research – Create – Innovate": Connecting R&D with Enterprises, Summary of the Operational Programme 'Competitiveness, Entrepreneurship & Innovation', Doctorate holders in Greece: Highly competitive, highly mobile, Historic high in research spending, Industrial scholarships to boost research in Greek enterprises, Hellenic Foundation for Research and Innovation to Strengthen Research across Greece, New Initiative on Research & Development funding, new era for Universities and SMEs