Constadina Voulgari-Kontesopoulou was recently crowned winner in the regional (Mediterranean) semi-final of an international culinary competition, in Tel-Aviv, with her signature partridge dish "Ellinon Gefsis" (Greeks' tastes). Consisting of partridge cooked in sous vide, at 54.5 degrees, in wine lees Vionger with mousseline pastinacas, wild root and salad with vineyard products, Voulgari's dish swayed the local S.Pellegino Young Chef 2018 jury, securing gold. Voulgari, inspired by Ancient Greek cuisine, prepared her dish choosing rare ingredients from the Greek countryside.
"Ellinon Gefsis" was judged by a local jury of three top independent chefs who sampled the dishes of
ten
selected semi-finalists from Malta, Israel, Turkey and Greece during the live competition held in Tel Aviv, Israel, on 10 July. All dishes were evaluated on the basis of the five
Golden Rules
:
1. Ingredients: Ability to select the best ingredients the market can offer in terms of quality, freshness and uniqueness, in order to achieve excellence in taste
2. Skill: Ability to work with raw materials and turn them into a dish that respects their original essence
3. Genius: Ability to explore new, challenging and innovative perspectives in relation to the culture of fine cuisine with a personal and contemporary style, while maintaining a perfect equilibrium of taste
4. Beauty: Dish presentation, giving an aesthetic enhancement of its contents
5. Message: Ability to communicate a clear message through one's work and vision.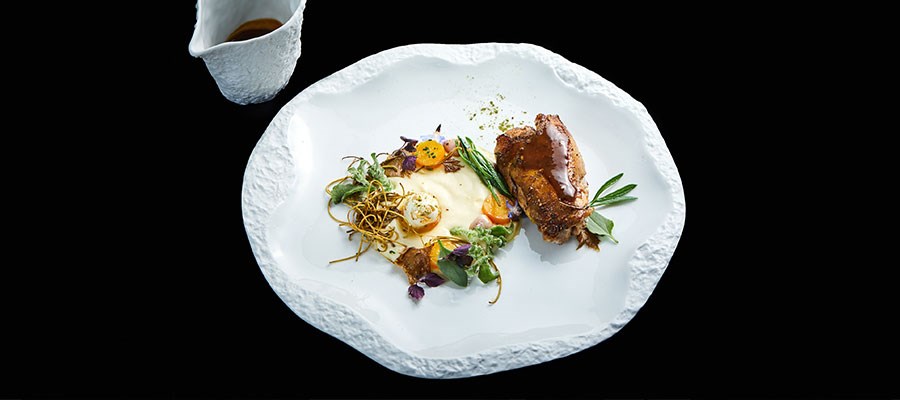 "Ellinon Gefsis", the dish prepared by Voulgari (photo source: finedininglovers.com)
According to Athens based Michelin starred Greek chef and young chef mentor, judge Nikos Roussos, "Constadina made a dish with her heart, and you could taste the difference. Her preparations proved her high culinary skills, and she used interesting techniques as well as unique products."
Speaking of her win, Voulgari commented: "Taking part in the competition was a gift I gave myself for turning 30 years old. For me, it is a dream come true, and I'm so happy to take part in this competition."
Next up, Voulgari, who works as a Chef in a restaurant in Ierapetra, Crete, will compete at the Grand Finale, having set the goal of perfecting her signature dish under the guidance of her chef mentor. Her dish will be tasted by a jury of seven world-renowned chefs, the so called "Seven Sages", who will ultimately crown the S. Pellegino Young Chef 2018. The Grand Finale is scheduled for 22-23 June 2018 in Milan.
The San Pellegrino Young Chef 2018 initiative
Sanpellegrino Spa is the Organiser of the "S. Pellegrino Young Chef 2018" initiative, consisting of an international "Talent Scouting" open to young Chefs up to 30 years old. The purpose of the initiative is to support the principles of the culture of good food around the world through a project aiming to identify talented young chefs in order to celebrate their talent and encourage their professional growth. A panel of judges consisting of independent members of ALMA (authoritative training centre for Italian Cuisine at an international level -www.alma.scuoladicucina.it) will define a shortlist of a maximum of 10 Young Chefs for each of the 21 participating regions. S. Pellegrino offers talented young chefs around the world more opportunities to develop their skills under the mentorship of a top chef as well as gain valuable professional visibility.
With information from oliveoilmagazine and caruso.gr.
E.A.
TAGS: FOOD & DRINK | MEDITERRANEAN