The established annual appointment of book lovers, the 51st Book Festival, opens its gates on September 1 and will run through September 17, with thousands of book titles for every taste and age and dozens of presentations, discussions with authors and parallel events.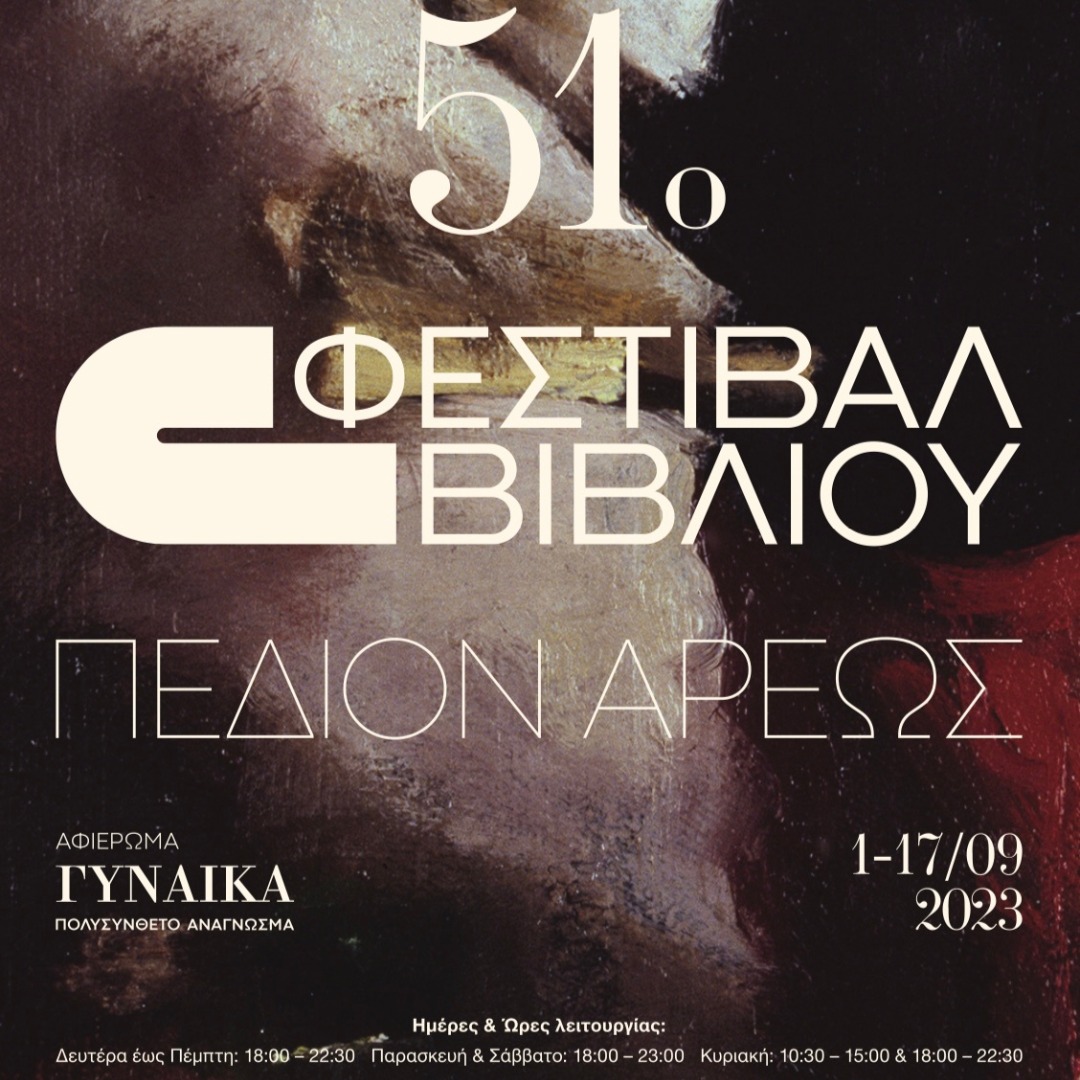 210 publishers and 275 stands will participate in the country's biggest festival in Pedion tou Areos, while 180 cultural events, concerts, theatre performances and interactive educational events will take place inaugurating a new era in the life of the Park. Themed "Woman – A Multifaceted Narrative", this year's festival pays tribute to the contribution of women in Arts and Letters, while it also focuses on the challenges women have been faced with over the years to the present.
Against a background of thousands of books, visitors will have the opportunity to enjoy a number of cultural events among which: a concert with renowned Greek singer Eleni Dimou, a concert by the Marios Strofalis Quartet & Irini Tumbaki, a concert with the soprano Christy Kathariou, a children's theater show "The Carnival of the Animals" by the METHEXIS theater production company, a Karagiozis show from the "Nikolas Tzivelekis" Shadow Theatre, an event of the Hellenic Academy of Comics, and a two-day event for first-time writers. The poster and the cover of the catalog of the 51st Book Festival 2023 are decorated with the work of the leading Greek painter, Giorgos Rorris.
The 51st Book Festival is an organization of the Association of Book Publishers (S.EK.B), the Region of Attica and the Organization of Culture, Sports & Youth of the Municipality of Athens (OPANDA), in cooperation with Petite Paris d' Athene and the Network for Children's Rights. It is held under the auspices of the Ministry of Culture, the Municipality of Athens, the Hellenic Foundation for Culture and the Athens Chamber of Commerce and Industry, with the support of Vestart.
The official opening will take place on Monday, September 4, 2023 at 20:00. It is more than certain that the 51st Book Festival will succeed, for one more year, in fulfilling its spiritual, social and cultural goal, with the support of all those who work for the production and promotion of the book, but, above all, with the support of readers and book lovers. Stay tuned and enjoy the festivities!
A.R.
TAGS: LITERATURE & BOOKS | READING GREECE