2023 marks the 60th anniversary from Wildcat under glass' first publication. Inspired by her childhood on Samos and written in 1963 in Moscow, Alki Zei's debut novel, Wildcat under glass is a landmark in Greek children's literature. Regarded as an international children's literary classic, the book has received multiple awards, has been published in 39 foreign editions so far and translated into 22 different languages.
The story is set on an Aegean island during the 1930s as the nation is forced into a fascist dictatorship. It is told through the eyes of a young girl named Melia, who relates the experiences of her family as they are forced to accept life under a repressive government. Melia and her sister Myrto have their own secret code of communication and they love listening to their grandpa's stories. But what they really love the most are the magical stories of the wildcat's adventures, that their cousin Nikos recounts. The magic wildcat is a stuffed feline that stays locked in the living room inside a glass cabinet. He has one blue and one black glass eye, and he uses one or the other depending on whether he's in a good mood or not. One summer day, something will happen that will upend all of their lives. Who might want to harm the wildcat?
Alki Zei successfully combines humour – the bumbling policemen as they tail the children up the mountainside – with the chilling image of books being burnt in the town square, including Grandfather's beloved 'ancients' and Myrto's changing character as she is slowly indoctrinated with the fascist beliefs. The author skilfully weaves a story of every-day events set against a backdrop of the changing political situation in Greece, a land where democracy originated but that is now slowly being eroded.
The book provides an interesting look at an important period of Greek history and tells it from a child΄s unsophisticated perspective. The naturalness and liveliness of the dialogue is combined with the seriousness and depth of the meaning. In a playful atmosphere, the reader is aware of and enjoys a mature thought that deals with and analyses social visions while trying to discover the threads that move them. The value of the book consists in precisely this combination, making Wildcat under glass a universal story about humanity, democracy and freedom.
The author
A major figure of contemporary children's literature, Alki Zei  is one of the main representatives of the after war (Second World War) generation, not only because of her work for adults, but also with her novels for grown-up children.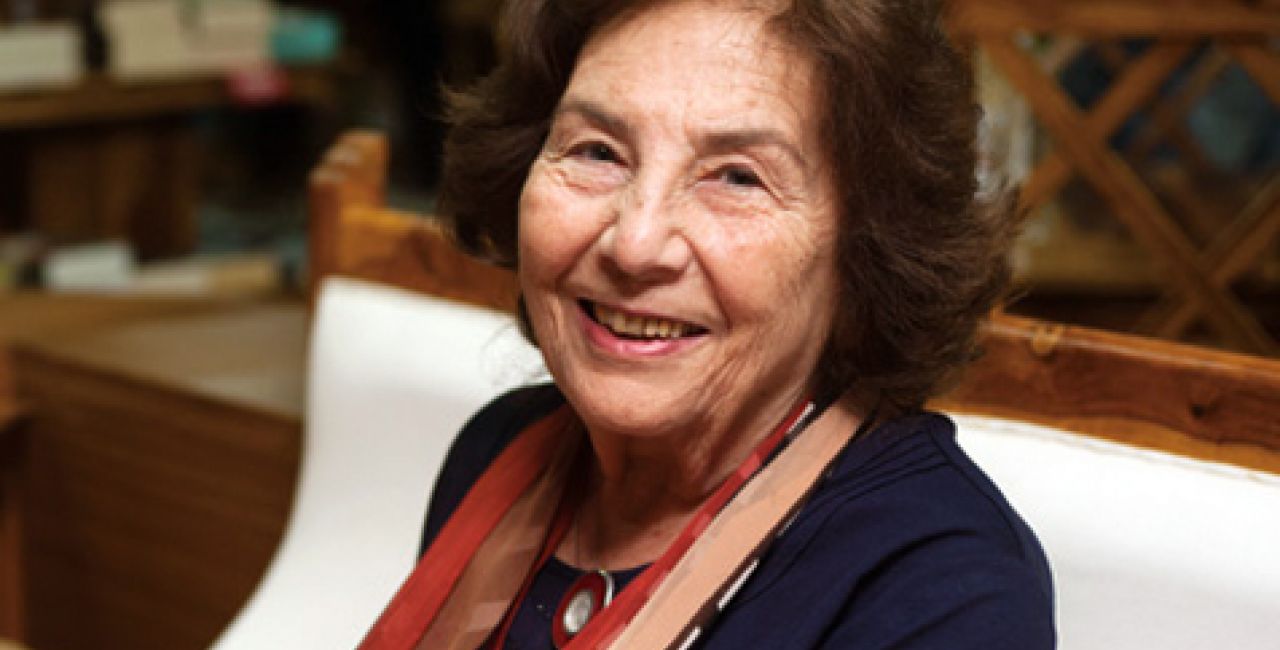 Her books are inspired by her personal experiences, weaving along the recent history of Greece, treating meanwhile universal subjects. Specifically, Wildcat under glass, Petros' war and The mauve umbrella constitute a trilogy on Greece's history between the decade 1936 – 1946, is the atrocities of war (Second World War), the oppression of dictatorship, the hardship of the lack of freedom, the torture of hunger. But at the same time these difficult and uneasy themes are incorporated in intriguing adventures with lovely characters, funny stories and a lot of suspense.
A main feature of her stories is the projection of her own life experiences on her heroes' lives achieving to present to the younger generations events of the troublesome recent Greek history in a collected but sharp way.  Her work is characterized by realism, social concern for contemporary problems of urban society and respect for historical truth.  Despite the realism and seriousness of their subject matter, her books stand out for their optimistic view on life and their delicate humour.
The innovative and avant-garde novels, short stories and plays that she has written have obtained many distinctions and awards, including a State prize, an Athens Academy award, various national and international distinctions and, ultimately, the Honorary Doctorate proclamation of hers by the Universities of Cyprus and Salonika. Most of the titles of her works have been published in a large variety of languages and a number of countries around the world.
To use Angelica Vouloumanou's words, "Alki Zei is a precious asset for Greek contemporary literature […] As she belongs to a generation of people who have sacrificed their ambitions and private lives for the sake of collective dreams and fight for peace, freedom and democracy, having herself actively participated in Greece's bitter historical moments of Resistance, persecutions and overthrows during and after World War II, she considers it her duty to record those important historical events so that younger generations know. […] Her intention is to ensure awareness and give a chance for further questioning on a multitude of universal moral and social issues".
A.R.
Read also: Reading Greece Pays Tribute to Writer Alki Zei
TAGS: LITERATURE & BOOKS | READING GREECE