Dimitris Kalokyris was born in 1948 in Rethymno, Crete. A poet, writer, editor, graphic designer and literary critic, he is one of the most multifaceted literati of contemporary Greece. He founded the literary magazine Tram (1971-1978), the literary and artistic magazine Hartis (1982-1987) and he also served as head of the magazine To Tetarto (1985-1987). He is currently the President of the Hellenic Authors' Society.
He is the author of twenty-six books of poetry and prose, fifteen books of translation, while he has held three exhibitions of collages and also illustrated numerous children's books. In 1996 he received the National Short Story Award for his book The Discovery of Homerica and in 2002, again, for his book The Museum of Numbers. In 2014 he received the Ourani Foundation Academy of Athens Award for the entirety of his work. His works have been translated into many languages.
Dimitris Kalokyris spoke to Reading Greece* about his latest collection of poems titled Isavron, noting that "poetry is the language of youth, while prose is the language of maturity". He explains the affinities between Cavafy and Borges and discusses how the influence of Borges, Elytis and Embirikos has been imprinted on his literary work. He also comments on current literary and artistic projects in the era of online communication and the role of the Hellenic Authors' Society noting that it has "a coordinating role in promoting the work of its members, an objective to be carried out irrespective of any crisis" given that "a writer is always in crisis: with oneself, with the world, with dreams, with everything".
You have said that your latest poetry collection Isavron [Isaurians] is "a harvest and codification of the different verse forms you have delved in during the past ten years". Why don't you tell us a few things about the book?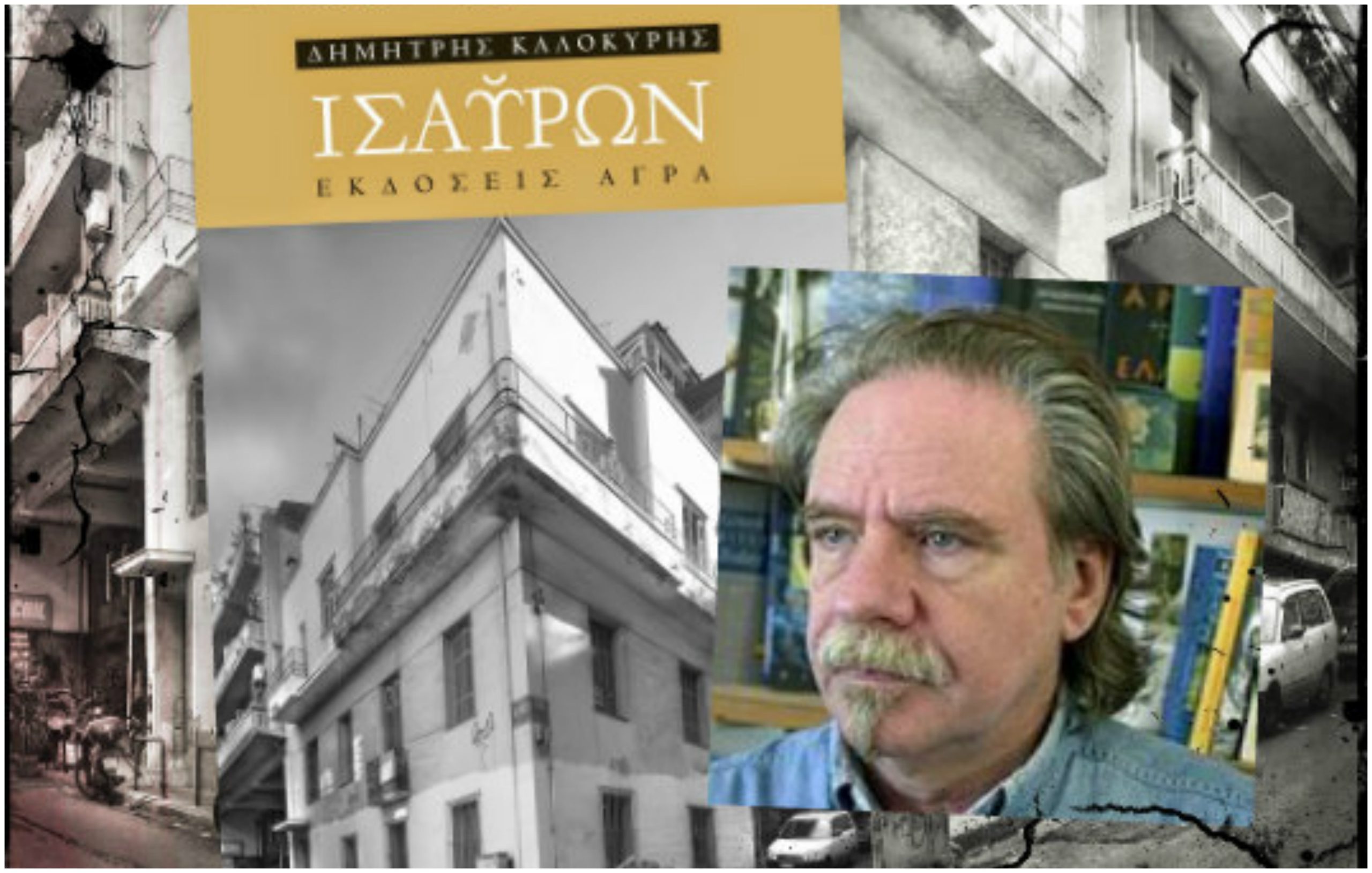 Isavron is a collection of poems. It's been many years since my previous collection (Colors of the Liquid Animal in 1990). In the meantime, I focused mainly on prose-like texts or extended poetic compositions, such as Hellenica or The Book of Melanthia). The short or longer poems of Isavron stand on their own and were written on various occasions, without being part of a preplanned whole. In any case, most poems in the collection are characterized by a humorous, mocking mood, by the sort of parodies and twists of speech that are dear to me. The eponymous composition, which assumes the form of a … Biblical autobiography, was written in the same spirit. What is peculiar and comic at the same time about this book is that it was included in the so-called "short list" of Readers' Poetry Awards sponsored by Public bookstores, even though we were all defeated by… Cavafy!
"Poetry is the language of youth, while prose is the language of maturity." How would you account for the fact that more and more young people turn to poetry? What is Greek poetry's appeal among foreign readers?
Poetry is a language that stems predominantly from feelings, which is why it is the way the writing process usually begins. It is very rare for poets to stick to verse and not turn to prose over the years as well. On the other hand – and I wonder if that also plays its part – it is a fact that more poems are translated into foreign languages by comparison to prose. This may be due to the shorter length of poems, making it easier to be published in magazines. However, the fact that only scattered poems by too many poets are published gives a chaotic and rather false impression of the true poetic creation of the country, which is only fragmentarily represented in the international community through poetry anthologies and magazines.
You have characterized Borges as "the only worthy successor of Cavafy", while you maintained friendly relations with Andreas Embirikos and Odysseas Elytis. How have these influences been imprinted on your literary work?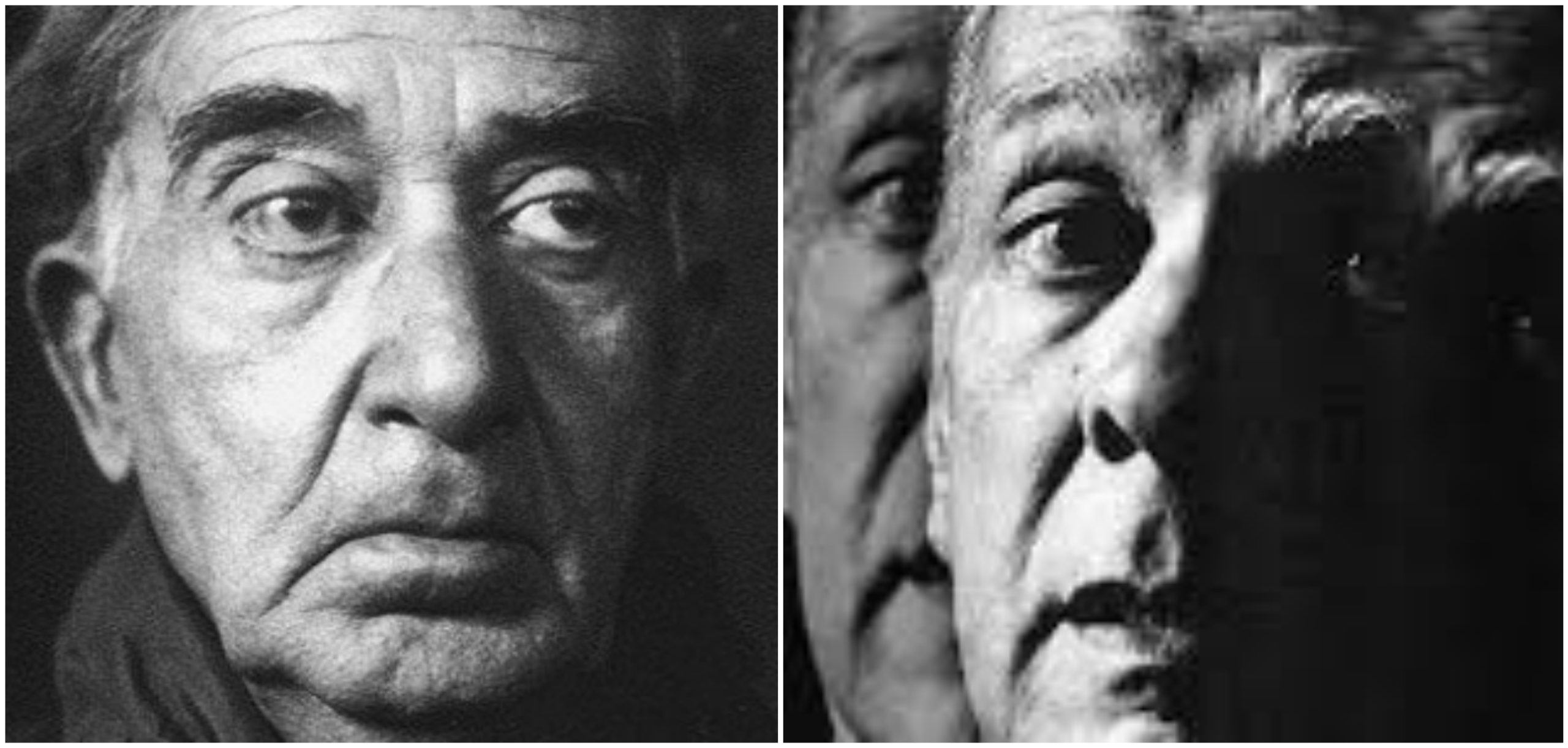 The affinity between Borges and Cavafy has long been identified and repeatedly emphasized, both by critics and philologists, even though Borges categorically denied it. There are indeed certain thematic convergences indicating that, no matter how little he knew about Cavafy's work, Borges regularly wandered around similar themes: Although these were commonplaces in literature (especially during the 19th century), both authors often used dates or foreign language phrases as titles for their poems; they were inspired by Alexandrian literature; they depicted battles in full detail, praising generals; and from some point onwards they placed a significant emphasis on their "difference" (homosexuality for Cavafy, blindness for Borges).
To these, we can add certain types of titles, such as the one by Cavafy in his youth: "On Reading the Poem 'Les Colombes'" and the title by Borges: "Al iniciar el estudio de la gramática anglosajona" (On Beginning the Study of the Anglo-Saxon Grammar) or "Julian and the Antiochians" and "Ariosto y los Arabes" (Ariosto and the Arabs). There is also a striking affinity between, mainly, early (or marginalized) poems by Cavafy on Nordic mythological and historical themes and comparable poems in Borges, for example, "King Claudius" or "Lohengrin."
My intention is to show an affinity between the two authors, while Cavafy's affinity with Pessoa, among others, is also recognized today. Maybe that's where the attraction I felt for Borges from the very beginning stems from. A regular reader of Cavafy myself, I realized, while very young, that Borges was the author most closely related to Cavafy, using similar subterfuges, playing games with history and so on, something I did not recognize in the poets you mentioned (Elytis and Embirikos). What I got from them perhaps was the pitch of their diction, which I felt enthralled by, and this was a gift in terms of the dynamics of expression. What I found in Borges had more to do with a technique in managing thematic explosions, a methodology of transition from one type of speech to some other in a single breath. As if I were diving simultaneously into two oceans …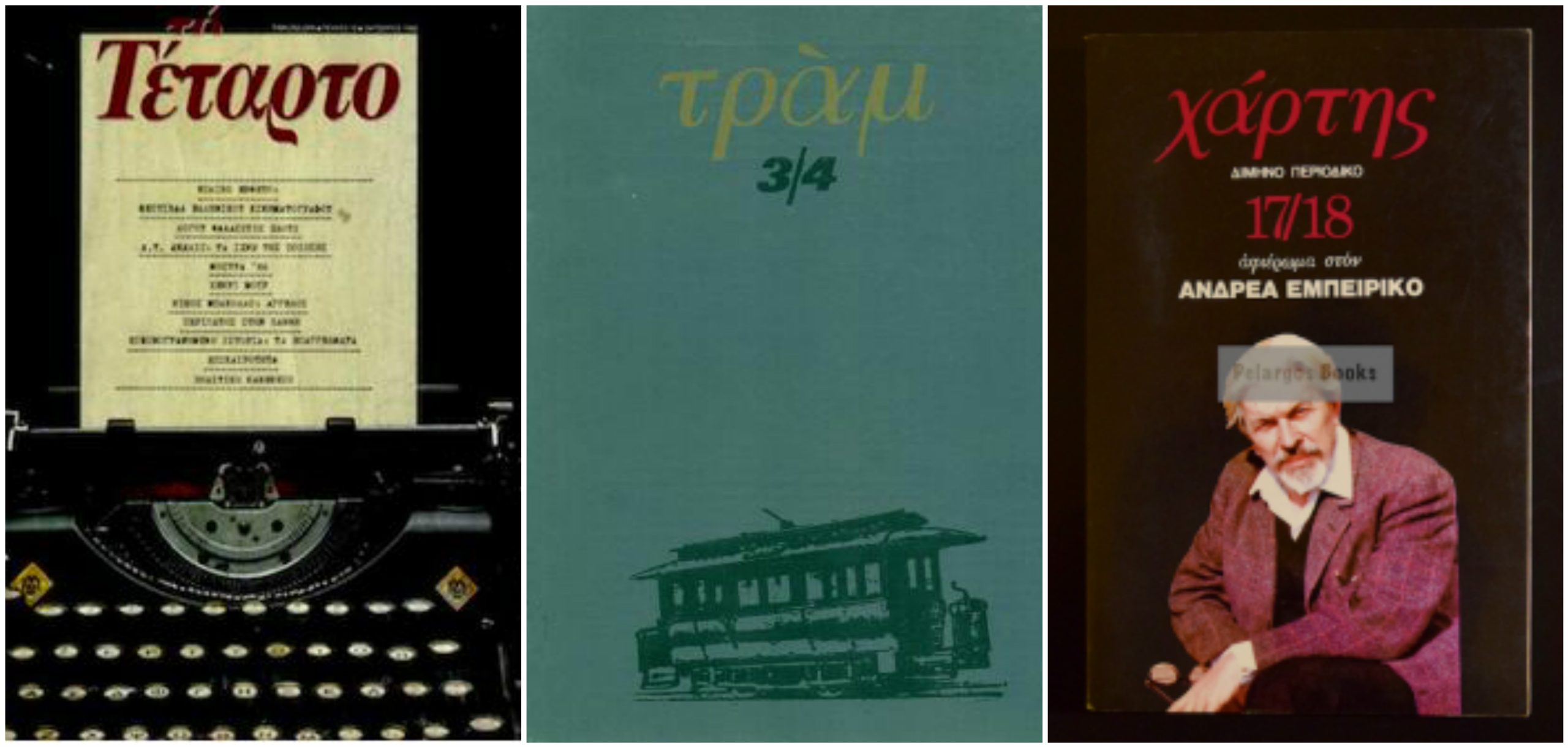 During the 1970s and 1980s, you founded, published or ran major literary and arts magazines, such as Tram, Hartis, and To Tetarto. How would you comment on current literary and artistic projects in the era of online communication?
Browsing through online magazines can be very interesting and will most probably change reading patterns as we know them today. And why not? I must confess, however, how wearisome it is to have to navigate through all these interrelated networks of vast information, as well as deal with a sweeping homogenization that occurs when entering a specific search field.
In contrast, a printed magazine is limited in the size, environment, and style it defines, helping us follow its flow and contents. Online magazines border on millions of other information hubs that may often be misleading. Yet, of course, this process, though time-consuming, is highly stimulating and may open up to diverse new fields of knowledge. Even so, what was once said about philosophers seems well-aimed in this case, too: "By the time they conclude their reply, you have forgotten what the question was."
What is the role that the Hellenic Authors' Society is called to play especially at times of crisis? What about the prospects of Greek literature and the new generation of Greek writers in this respect?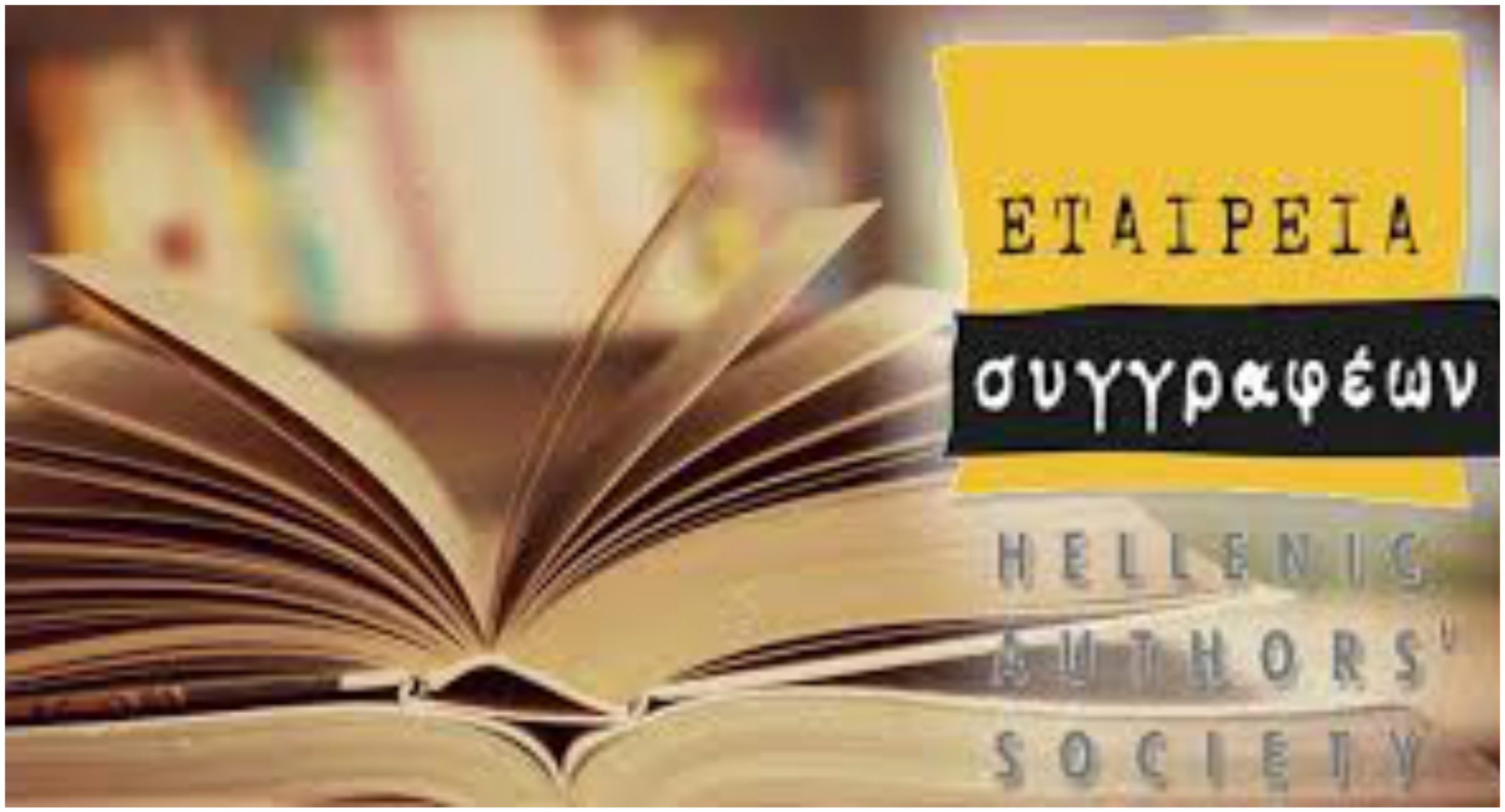 The Hellenic Authors' Society has a coordinating role mainly in promoting the work of its members, an objective to be carried out irrespective of any crisis. Besides, a writer is always in crisis: with oneself, with the world, with dreams, with everything, I dare say. The impact of every crisis unfolds over time. And this is what most writers, whether young or old, do: on the basis of "yesterday," they train themselves to express "tomorrow", but "today".
The Hellenic Authors' Society has defended the single price system for books, noting that such a system "supports bookstores, quality publications, and thereby authors." Tell us more.
This wording tries to reflect the personal contact and confidence that can develop between an (informed) bookseller and a client or reader. There is a dialectic in this relation between reader and bookseller that can enrich and help both identify qualitative (not just in appearance) publications, thereby approaching writers as creators and not only as brand names. This is something that can happen only in dedicated bookstores and rarely in stores that sell books among batteries and household appliances.
*Interview by Athina Rossoglou
Read also: Interview of Dimitris Kalokyris with Grèce Hebdo [In French]
TAGS: LITERATURE & BOOKS | READING GREECE