Κhaled Raouf was born in Alexandria, Egypt. He studied theatre, history and archaeology at the University of Athens and followed theatrical studied both in Greece and the USA. He studied Greek language and literary translation at the University of Athens and the Hellenic American Union. He holds a PhD in the history of classical art (University of Chicago) and has worked as a university teacher. He is a professional translator of Greek literature.
He has translated a great number of major Greek writers into the Arabic, among which Nikos Kazantzakis, Yannis Ritsos, Stratis Tsirkas, Kosmas Politis, as well as works by contemporary Greek writers such as Dimitris Dimitriadis, Theodoros Grigoriadis, Persa Koumoutsi, Ersi Sotiropoulos, Dimitris Sotakis etc. He currently works in the branch of the Hellenic Foundation for Culture in Alexandria.
What triggered your interest in the study of the Greek language and more specifically the Greek literature? More specifically what led you to the translation of Greek literary works?
I'm from Alexandria, Egypt, to begin with, so the Greek civilization has always been on the air somehow. As for the Greek language, it was not strange for me because I used to hear it around the streets of the city growing up from our neighbors. Being an avid reader as kid, the Greek history and literature used to fascinate me a lot; it was very special and different so somehow, I felt I was connected to this civilization and its philosophy and literature, both ancient and contemporary, so I read whatever I could find in Arabic back then. I later decided to study the language first, so I started a course at the Hellenic Foundation for Culture in Alexandria and then I went to Greece to study…
When I became fluent in reading books in the Greek language it was a revealing moment for me for two reasons, 1- I fell in love AGAIN with Greek literature; I started reading from the start everything I had read translated in Arabic, and that leads us to the second reason… 2- I was shocked reading the same books, authors and poets I had read in Arabic thinking I knew them but it felt like I was reading new texts, poems and books in general. Thus, I understood that something was missing probably because most of what I read was not translated directly from the Greek language but from a middle language, English or French…
After that, I started considering taking translation seriously; I mean to give it time, studying, training, reading intensely and practicing on my own. When I felt ready and had enough confidence I begun publishing. I started with poetry, an anthology of Yannis Ritsos, for the reason I mentioned above. I had read him translated from another language and I didn't like him. I mean I knew he is good, but when I read Ritsos in Greek I felt the greatness of his poetry. The same thing happened with Kazantzakis and other great authors. The real satisfaction came after the reaction of readers and critics.
Since you are currently working at the branch of the Hellenic Foundation for Culture in Alexandria, tell us a few things about its role and initiatives for the promotion of the Greek language and culture in Egypt and the Arab world in general.
Promoting Greek language and culture is one of the main strategies of the H.F.C. So, I believe that our branch in Alexandria is kind of a special case because of the city itself and its history, both ancient and modern. The tangible and intangible history and heritage of the Greek community in Egypt is also strongly present. It is the city of Cavafy and his house has become a shrine and is managed by the branch of the Foundation.
What we are trying to do here is to spread the Greek culture and language through cultural and educational activities; we try to perform this task to the fullest and I think the current output is very satisfactory. We have a good number of students every year at all levels who also participate in all the activities that we organize, cultural and artistic, while some of them are doing a master's or doctorate degree in Greece after studying the Greek language and culture in our branch. It is also worth mentioning that the Greek language teachers in the Alexandria branch are alumni of the foundation, meaning that they made their first steps in the previous decades as students and learned the Greek language in the same halls in which they teach now.
We are a small working group that cooperates with the director, Mrs. Stavroula Spanoudi, who has a long experience in the cultural field, especially in Alexandria and Egypt, and we try together, in cooperation with all Egyptian governmental and non-governmental cultural institutions, to put Greek culture on the local cultural map in a clear and effective way. This was clearly evident at the Cairo International Book Fair (the oldest and largest fair in the Middle East), where Greece was the guest of honor in 2022, and this participation witnessed great success according to the testimony of everyone from Egypt and the world. The participation was organised by the Hellenic Foundation for Culture and the Ministry of Culture and Sports and was strongly supported by the Embassy of Greece in Εgypt. They all deserve all the credit.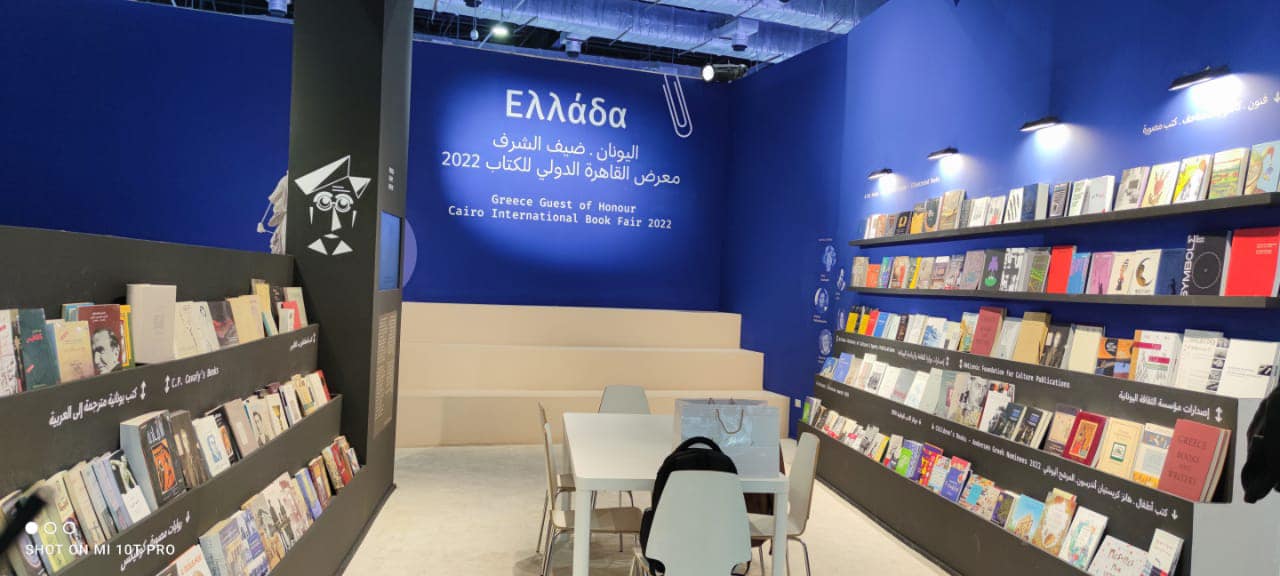 Which were the main challenges you were confronted with while translating major Greek writers, such as Kazantzakis, Tsirkas, Ritsos etc., into Arabic?
Well, I do apply the same process more or less with all the writers I translate. I see it as a mission, meaning that I want to present to the Arabic readers and the Arabic academia a panoramic view of the current Greek literary scene. So, I'm trying to translate some of the major authors like the names you mentioned and others that are contemporary and modern (D. Dimitriadis, Th. Grigoriadis, D. Sotakis, P. Komoutsi, ect), as well as some writers from Cyprus (N. Maragou, P. Ioannidis and Emilios Solomos). What I mean by the same process here is that I study the writer carefully before starting the translation to achieve the best possible result, which in my opinion should be "a copy of the original text; It should also be read as smoothly as the original text, and it must bear the same ideas, philosophy, and literary and creative style alike".
The translator doesn't translate a text but he translates and transfers a whole culture in a new language. So, I take my time in the preparation, reading and studying everything about the author and his book till I hear the text in Arabic. The rest is history. Back to your question regarding the major Greek writers, the answer is the same process but, maybe it takes a longer time given that the responsibility is huge. Most of them have already been translated from English or French and the result was not good, so, the challenge was to present those major writers as they deserve. Ι think the reception by the Arab cultural scene was amazingly satisfying because the writers were rediscovered somehow while the discussion about the translation directly from the original language has been rekindled.
In a recent interview to Reading Greece, Persa Koumoutsi said that "what connects Greek with Arabic literature is that they both focus on human beings". What, in your opinion, do the two literatures have in common? Where do they diverge?
I do agree with Persa of course.I believe that we are both from the Mediterranean, we have close bonds throughout history and to this day, while we are both made of the same cultural mixture, so it is natural that this is reflected in the arts and literature.
How familiar are Greek readers with Arabic literature? And, in turn, what is the appeal of Greek literature to the Arab world?
I believe the Greek readers are not as familiar as they should with the Arabic literature, and this because there are not enough translators from Arabic to Greek. For the the past 30 years only Persa Koumoutsi was the one who did and is still doing this job. Also, there is not any Arabic literature department in any Greek university that could produce specialists and translators from Arabic to Greek. Still though the work of Persa has made a great impact and I can say that throughout her career she translated almost 50 books and presented a good number of important Arab writers to the Greek readers. Still not enough because Arabic is a huge language and culture. Both sides need to build a long term strategy on many levels to achieve more.
I can say that Greek literature is so wanted in the market in Egypt and in the Arab world. It is so appealing and surprisingly successful in an unexpected way. Literature is a common international language in my opinion, yet also coming from a place and a civilization that is very close and intimate to the Arabs and especially the Egyptians. Somehow it doesn't matter anymore where the good stuff is coming from and yet it does because it makes us understand the culture of the "other". I want to believe that it will lead to a harmonious human coexistence of the planet in the long run.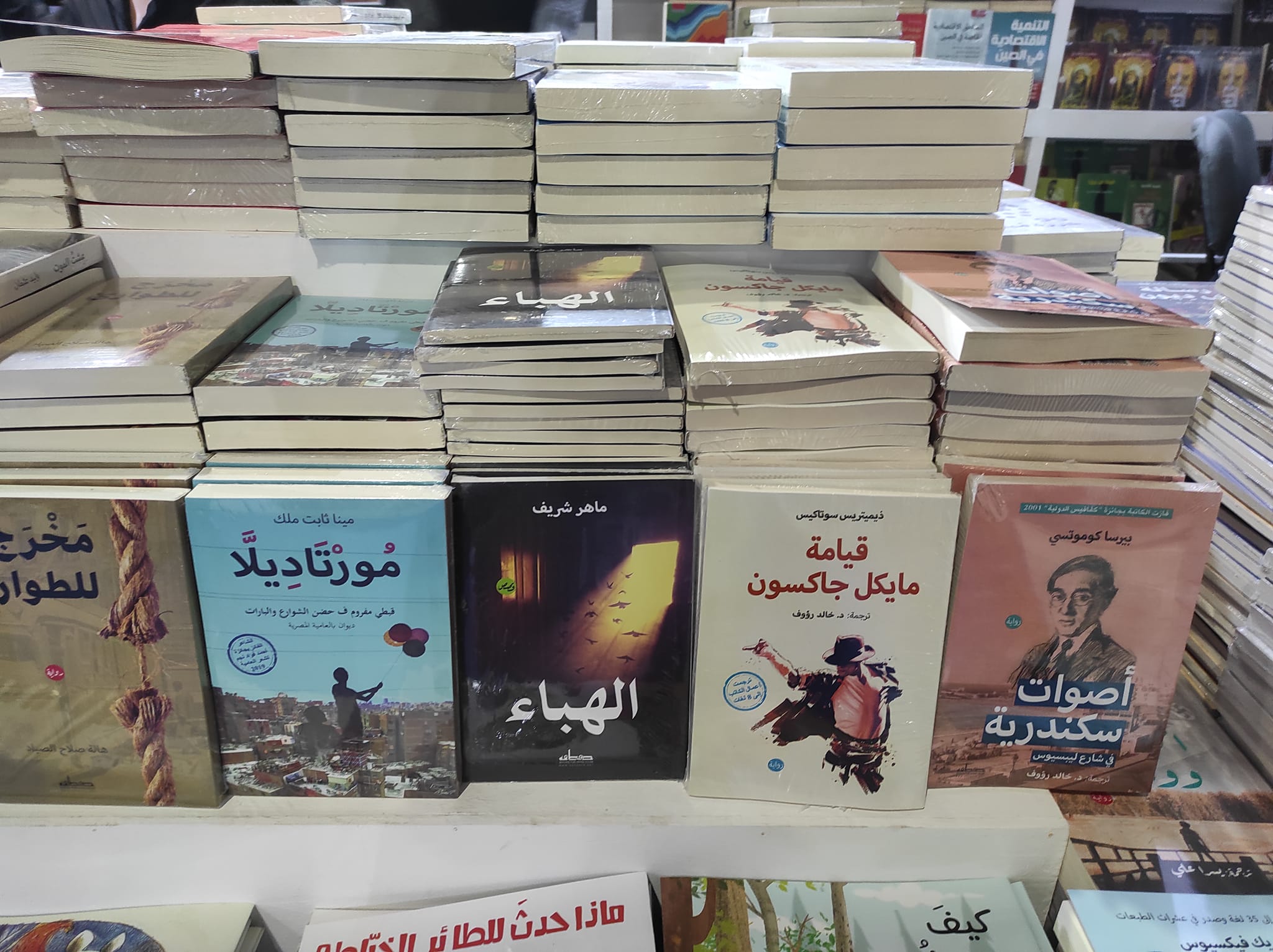 It has been argued that when translating from a so-called "minor" language, translators do sometimes hold remarkable power, including the power to produce what will in many cases become the only interpretation of a work of literature available in a given language. How do you respond to this power? Can translation ever be unethical?
It happens sometimes and we all have witnessed it one way or another; I think it does when we as cultures don't plan and foresee the cultural challenges ahead. So, I believe that any unethical type of deed that could come or happen could be avoided on the first place because they happen when there is no framework or plan, which in turn makes unequipped translators hold a power that they are not qualified to handle and thus cause great damage that takes time to repair.
In any case, translators do have a power, but it must be placed in its proper framework,that defines directions, powers and choices. The whole process must be carried out within the framework of clear cultural policies, starting with preparing and training the translator and then directing him towards producing projects that build bridges between the two civilizations.
Moreover, I don't really believe in the so-called "minor languages" when it comes to Greek. If a language that has given to humanity the spirt of life and the meaning of civilization from ancient times till today – the list of names from day one of the human civilization is endless – is called "minor", what is major then?!
How important is the role of translation in the dissemination of a literature beyond national borders?
MASSIVE. It is the soft power that brings people together from all cultures and nations and makes them understand each other on the deepest level. Long story sort, it achieves what politics and diplomacy can't.
In general, could translation contribute to a better understanding between cultures and translators act as cultural ambassadors between countries?
Of course, it could and it should… But to make it possible we need specific strategies from both sides to showcase our own culture; to do so, we need long term cultural policies, plans, cooperation on several levels ….
For translators to act as cultural ambassadors they indeed need these policies, they need a frame to work on and a purpose to work for, otherwise it's going to be the same (Personal initiatives may be good but it always depends on the quality of the translator himself as an intellectual and whether he has a vision or not). What's more it's risky, and I don't think we can't afford to take this kind of risks nowadays.
*Interview by Athina Rossoglou
TAGS: LITERATURE & BOOKS | READING GREECE