One of the most emblematic lyric voices of post-war poetry, Katerina Anghelaki-Rooke was born in Athens in 1939. She completed university studies in Athens (Greece), Nice (France) and Geneva (Switzerland). She holds a degree from the School of Translators and Interpreters (English, French, Russian). Her first published work, in 1956, appeared in the literary magazine "Kainourgia Epochi" (New Era). Subsequent to that, approximately 20 of her poetry collections have been circulated. In 1962 she won the Prix Hensch, Geneva's 1st Prize for Poetry. In 1985 she won 2nd Greek National Poetry Award.
Katerina Anghelaki-Rooke is also considered one of the foremost translators of English and Russian literature into Greek. She has translated, among others, Dylan Thomas, Samuel Beckett, Edward Albee, Seamus Heaney, and Derek Walcott into Greek. In addition, she has lectured and read poems at U.S. and Canadian universities (Harvard, Cornell, Dartmouth, State University of N.Y., Princeton, Columbia, to name but a few). In 2000 she was the recipient of the Kostas and Eleni Ourani Award (literary distinction by the Academy of Athens). Her works have been translated into more than ten languages and her poems can be found in various anthologies worldwide.
The Anorexia of Existence
I am not hungry, I am not in pain,
I don't stink.
Maybe I suffer deep inside
and don't know it.
I only pretend to laugh
I don't desire the impossible
nor the possible;
bodies forbidden for me
don't satiate my glance.
At the sky I look sometimes
full of desire
at the moment the sun withdraws its shine
and the azure lover surrenders
to the spell of the night.
My only contribution
to the whirlpool of the world
is my steady breath.
But I also feel another
weird contribution:
an agony suddenly seizes me
for the human pain
that stretches on the earth
like a ritual tablecloth
drenched in blood:
it covers myths and gods
identical to life
it is eternally reborn.
Yes, I want to cry now
but even the source of my tears
has dried out.
[Translated from the Greek by the author]
Her poetry, although gloomy at times, does not communicate angst and despondence. Working within a broad literary and historical tradition, she often resorts to myths and legends, which she weaves with Penelopean skill within the textures of her on creations. Many of the female personae she creates, or more accurately recreates, speak in refreshingly "feminine" voices and thus present a heretofore absent point of view. In so doing, they put into question long-established assumptions and force us to look at familiar characters (such as Odysseus and Penelope, for example) in new ways. But these new ways are so much destructive as creative, for the reader is made aware not only of the sadness and ugliness of life but also of its possibilities and of the potentialities of the living body.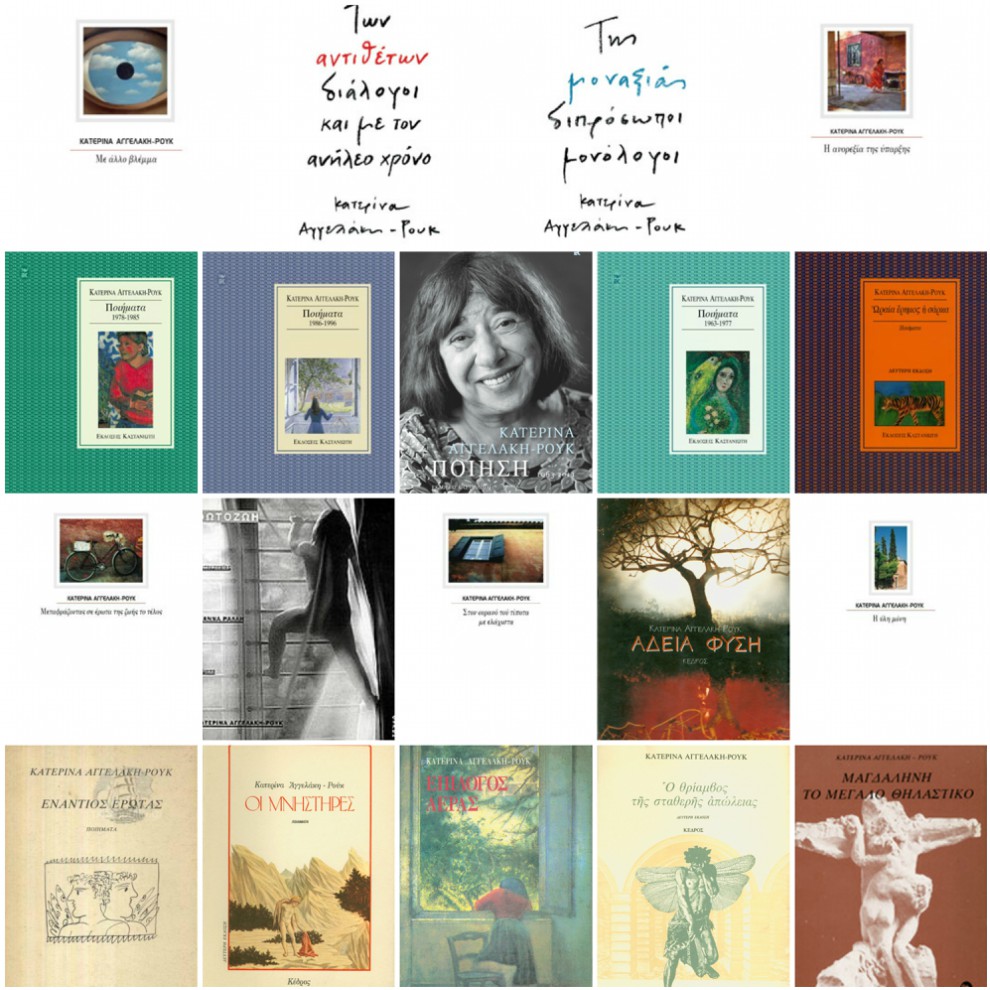 The range and power of Katerina Anghelaki-Rooke's language is evident as she recasts and reweaves the Greek idiom into forms that are powerful and new. Her verse has the clarity of contemporary vision layered with more than two millennia of Greek language and poetry. She takes everyday experience and turns it into an allegory of modern life. Her poems anchor the abstract metaphysics of myth in the ordinary rituals of everyday existence. Her allusive, anti-elegiac, nonrhyming verse, in asymmetrical bundles of loosely connected, unpunctuated strrophes, moves from the grand historical symbols back to the individual futile body.
Eleni Fourtouni has described Rooke as living in Athens half the time and dedicating the other half to her home on the isle of Aegina, "writing poetry, cultivating her pistachio orchard, and healing her friends' wounds with her laughter and love".
Read also: Reading Greece: Katerina Anghelaki-Rooke on Poetry as an Endless Source of Revival and the Creation of a New Poetic "Cosmogony"
TAGS: LITERATURE & BOOKS | READING GREECE