The web portal Study in Greece is campaigning for the promotion and international visibility of Greek Universities and the comparative educational advantages of our country. In particular, the campaign focuses on the foreign language study programs that Greek Universities offer to Greek and international students. The initiative is supported by the General Secretariat of Higher Education of the Ministry of Education and Religious Affairs and the General Secretariat for Greeks Abroad and Public Diplomacy of the Ministry for Foreign Affairs. In this context, a number of educational programs and actions are presented in detail on a regular basis, such as undergraduate and postgraduate programs, summer schools etc, to inform international students about the many foreign language options offered by Greek Universities.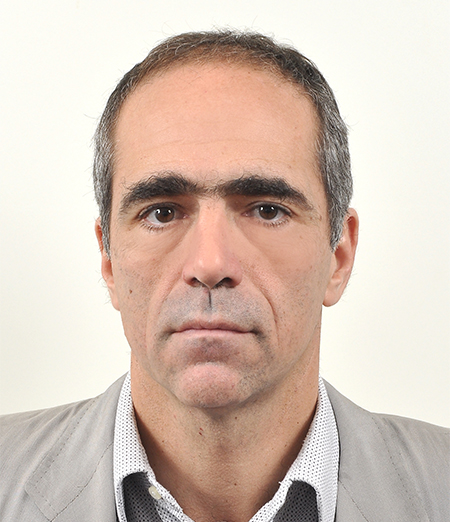 Study in Greece interviewed Professor Vassilis Hatzopoulos, Director of the MA in Digital Transformation: e-Diplomacy, e-Campaigning and Digital Law offered at the Panteion University of Social and Political Sciences about the program, its features and what it has to offer to international students.
Vassilis Hatzopoulos is full Professor of EU Law and Policies at the Panteion University, Athens. He was previously a professor at Democritus University of Thrace, where he also held the positions of Department Chair and School Dean. He is visiting Professor at the College of Europe, Bruges (Belgium) and honorary Assistant Professor at the University of Nottingham (UK). His research interests cover EU institutional law and governance, the EU internal market with special focus on service liberalization and the provision of services of general economic interest, state aid and public procurement, as well as EU asylum and immigration law.
Mr Hatzopoulos, please present to us the brand new MA in Digital Transformation: e-Diplomacy, e-Campaigning and Digital Law – its main objectives, vision and mission.
This is an innovative MA addressed to Greek and international students alike. It is innovative in at least three ways:
a. By its very topic: It focuses on digital transformation in three original and interconnected areas:
Diplomacy, also known as public diplomacy, and carried out by state entities through social media and other digital outlets;
Campaigning, carried out by private actors, covering both political and advocacy campaigning; and
Law, covering both ethical and practical issues at the European and Global levels.
b. By the way it's being organized: based on intensive on-the-spot meetings combined with remote teaching and interacting, this MA is destined to attract students from all over the world, both fresh out of University, as well as people who have already worked and want to acquire original and state of the art knowledge on an ever moving topic. The MA has three semesters, starts with a bootcamp, ends the second semester with a hackathon and then foresees another semester of internship, participating in a project or writing a dissertation.
c. By the teaching staff: the team is highly diversified and consists of academics, practitioners, experts and stakeholders from Greece, Europe and abroad.
d. By the academic methodology: this is an Innovative student-centric, experiential, blended and intellectually stimulating learning journey. Ourteaching and learning philosophy are student-centric and offer a dynamic interplay of blending ideas, asking new questions, cutting-edge theories and methodologies and digital tools, all implemented in hands-on real-world projects. We are preparing our international students to grow as open-minded strategic innovators, intellectually and digitally skilled to think and act as ethical Digi-leaders and as change-shapers of the AI innovations era.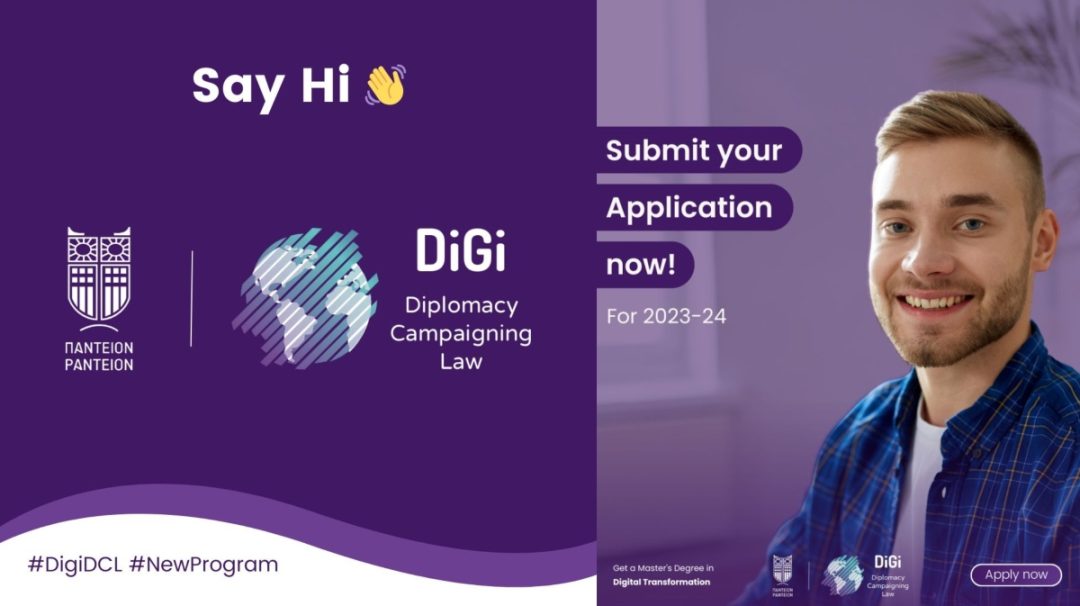 This program is the first effort by the Panteion University to offer an exclusively foreign-language program and to attract international students. Tell us about these efforts.
Panteion University is extremely present in the international scene and is actively developing both multilateral and bilateral relations with Universities in Europe and around the world. Incoming and outgoing mobility has been very strong for some time now. In order to cater for this mobility Panteion has been offering many courses in English, French and German. However, it is through this MA that Panteion is engaging in a fully-fledged English-spoken MA.
Why do you believe that an international student should choose this program?
The MA is aimed equally to Greek and non-Greek students. The fact that, except for the initial Bootcamp and the final Hackathon, all other academic activity is carried out online, is precisely aimed at making participation easier for international students. Moreover, the choice of the locations for the two in-situ events (Bootcamp and Hackathon), in historic places of natural beauty in Greece, offers an extra motivation for international students. Our team of Professors consists of scholars, practitioners and stakeholders from Greece and from around the world. They are supposed to team up and network with our students.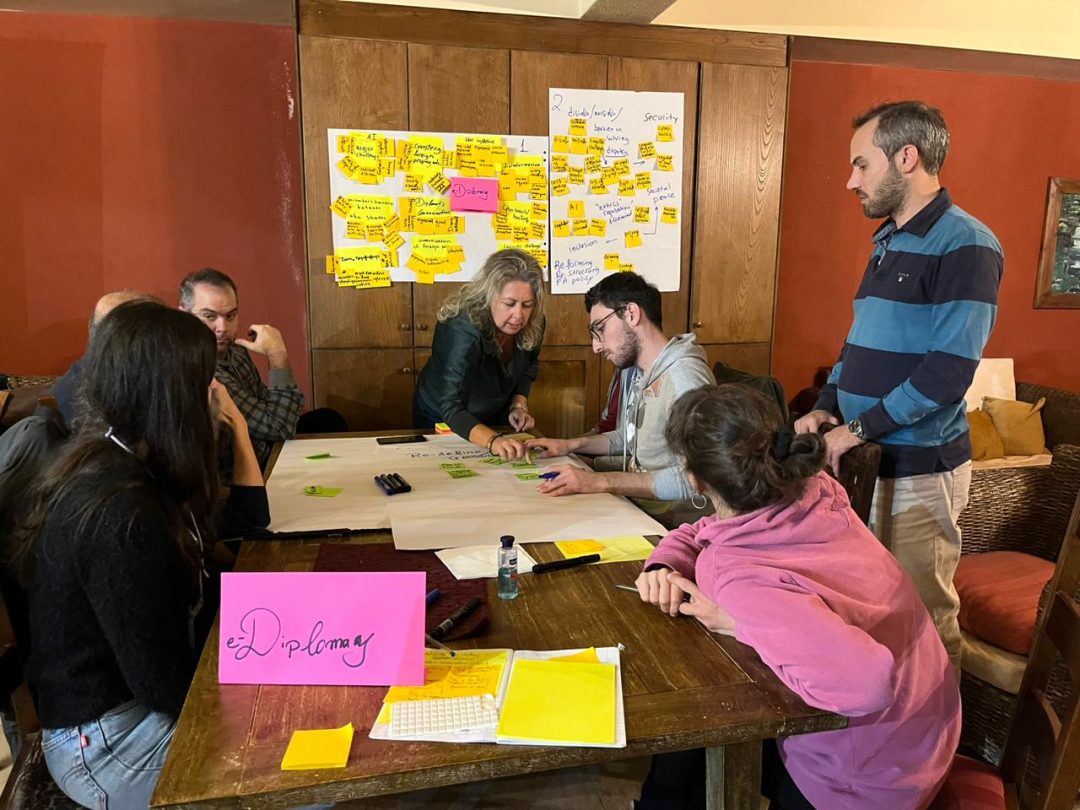 Digital diplomacy, a byproduct of globalization and a fruit of new public diplomacy, is seen as one of the key developments in diplomatic communication in the twenty-first century – tell us more about these innovative fields.
In actual fact, during the last decade, at least, public (visible) diplomacy essentially takes place through social media; to an extent such that traditional means of circulating and spreading opinions are nowadays almost obsolete. Panteion's Department of International, European and Area Studies has a long-lasting tradition of forming future diplomats and of closely following modern developments in diplomacy. The MA DigDCL is a means of connecting more closely University with Embassies and Consulates, for involving our students on a project-basis or on the basis of internships with stakeholders, and for trying to theorize this new trend in diplomacy.
Digital transformation is a continuous process that, by exploiting new digital technologies, creates new opportunities for businesses and consumers. What level of development do you consider Greece to be at?
Traditionally Greece has been a laggard on most digital performance indicators. In the EU Digital Economy and Society Indicator (DESI) for 2022 Greece was third from the end. And yet in these last years and months, Greek public administration has been transforming at an amazing pace, broadband use has been increasing exponentially together with digital literacy. Most importantly, Greece is progressively becoming a hub attracting investment in digital services, both from established players (such as eg the Microsoft datacenter) and, essentially from startups and potential unicorns (see eg here).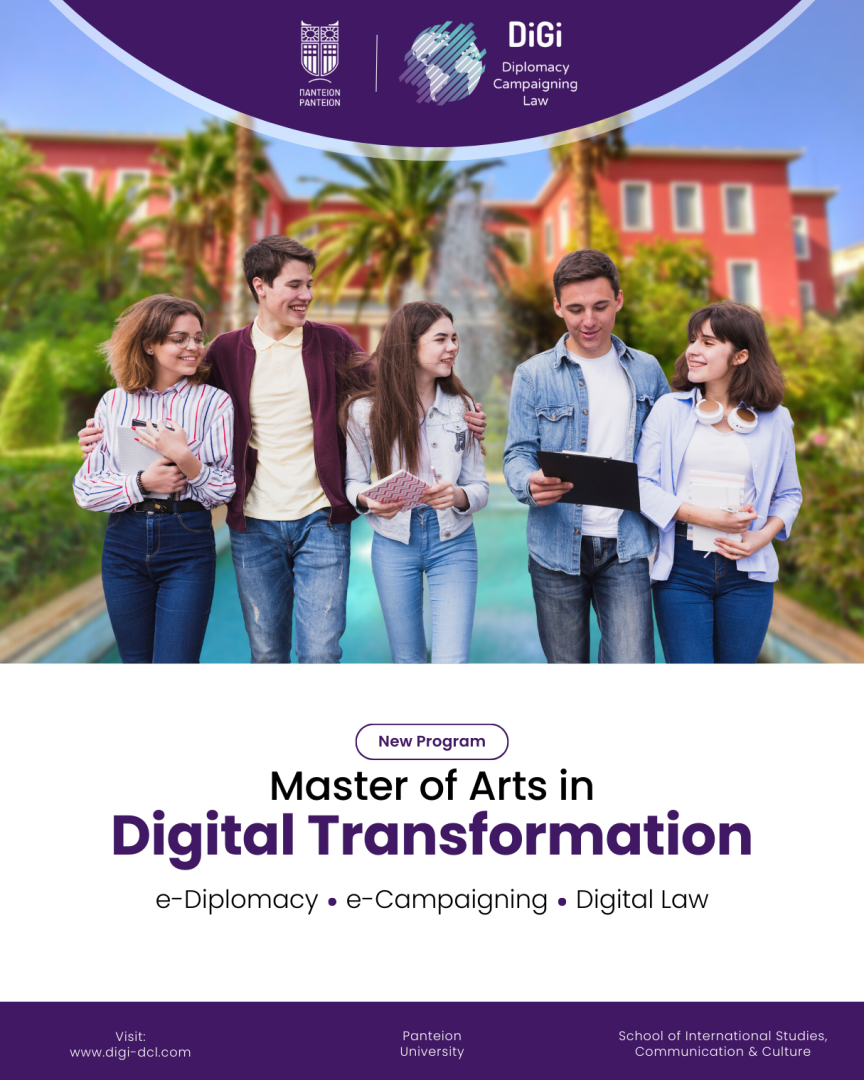 Τell us a few things about the Panteion University which is the oldest university of social and political sciences in Greece- its facilities, its departments and its future plans concerning the internationalization programs.
Panteion is a relatively small and well-managed University, centrally located in Athens, and easily accessible by public means of transportation. It is over a century old (inaugurated in 1911) and is the most interdisciplinary University of social and political sciences. Its departments cover: Public Administration; Economic and Regional Development; Political Science and History; Social Policy; Sociology; Psychology; Social Anthropology; International, European and Area Studies; and Communication, Media and Culture. It is a joint venture between the latter two Departments that has led to MA DigiDCL.
It is worth noting that Panteion is active at all levels of University studies (undergraduate, graduate doctoral, post-doctoral), as well as in lifelong and distance learning and training. It actively supports its students to acquire hands-on experience through internships, in Greece and abroad. As already stated under question 2, Panteion is increasingly active on the international scene, and is currently developing even more cooperations and synergies with Universities from the EU and overseas. DigiDCL aims at riding on, and further substantiating, all these advantagees, to the benefit of its national and international students.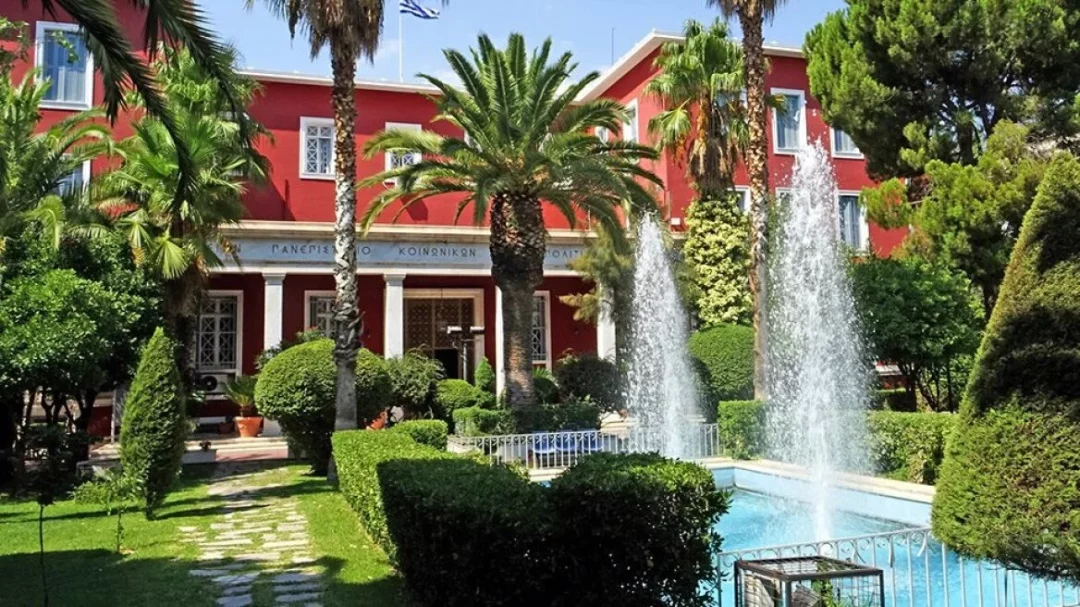 Another element which may be of importance to incoming international students are Panteion's student services: due to its relatively modest size, Panteion's services operate in an efficient, user-friendly, family-like manner, unknown to most Universities.
A virtual tour of Panteion and its facilities may be found here. MA DigiDCL will be using both the central facilities, as well as the Neoclassical building in Plaka, at the feet of the Acropolis.
Application deadline: 10 July 2023
Read also via Greek News Agenda: Digital Transformation in Greece 2021-2022 | Found.ation Report; The Digital Transformation "bible" of Greece (2020-2025)