Tassos Boulmetis' film "Mythopathy" was awarded the Best Feature Film award at Hellas Filmbox Berlin Festival, on January 22, 2017.
Holder of the keys to a nostalgic, bittersweet cinematic universe, director Tassos Boulmetis was born in Constantinople in 1957 and came in Greece in 1964. He studied Film Production and Direction at the University of California (UCLA). His first film "Dream Factory" gained 8 awards in Greece and the Golden Award of Fantasy Movies at the Houston Film Festival. His second film, "Touch of Spice", was the biggest selling Greek film in the history of contemporary Greek cinema, selling 1.600.000 tickets. The film also won 9 prizes at the Thessaloniki Film Festival and other international distinctions, while it was also screened at numerous Film Festivals around the world. His films "Touch of Spice" and "Mythopathy" are coming of age stories of a male character, sharing a lot of autobiographical elements and taking place in a past that Boulmetis represents in detail, with a sarcastic smirk.
On the occasion of the Best feature film award for "Mythopathy", Boulmetis talks to Greek News Agenda* about loss, which is the subject matter of his film work. He refers to the 80's as the decade in which the basis for today's crisis was set. Commenting on contemporary film production, he stresses that it goes on, despite difficulties and that it produces good festival material, but artistic success doesn't always translate in ticket sales. He adds that, interestingly enough, the crisis has helped Greek Cinema, as far as International Festivals are concerned, because there is a growing interest on Greece and the outcome of the crisis.
"Mythopathy" was awarded best feature film award at Hellas Filmbox Berlin Festival. Is this your first interview after the award?
It is. "Mythopathy" has participated so far in film festivals that relate to the Greek Diaspora, such as the Los Angeles Greek Film Festival, San Fransisco Film Festival, as well as Sao Paulo Greek Film Festival and Nuremberg. It will also be screened at the Greek Film Month in Paris and in Brittany. It appeals to the Greek Diaspora. As far as international film festivals are concerned, "Mythopathy" has been invited to the Constantinople Film Festival and will be screened in April. It has also been invited to the European Union Film Festival, which takes place in the USA, where a selection of European films is presented to the American public. Hellas Filmbox is a new Festival, which began last year. It is organized by young, energetic people and I dare say that it accomplishes its aim in the sense that it brings Greek film to the German public, 20 days before the Berlin film festival. It also brings them in contact with distributors. Some of these distributors have shown interest in "Mythopathy", which will also be screened around Germany as will happen with the rest of the winning films of the Hellas Filmbox.

Loss constitutes a prominent issue in your films. How do you perceive the feeling of loss at a period of crisis that Greece is going through?
For me, there was a sudden realization. With my second film, "Touch of Spice", I was faced with a huge success which I tried to manage as humbly as possible. I was enjoying success during a period of prosperity for Greece (Olympic Games etc). At the same time, I was intrigued by an idea which I was trying to approach in a humorous mood, despite the fact it was hiding something serious: what happens to a family or a society when it starts to deconstruct the myths on which it has build its narrative? The entity of a community runs through a history, a narrative. I don't necessarily mean political or religious history; I mean something more than that, its internal narration, which structures the myths that hold it together. So what happens to this community when you start to deconstruct them? The answer is simple: the community falls apart. As I said, this was a concept that intrigued me, but the only way for me to express it was through a humorous story. I had been working on this concept, when two events occurred in 2010: two unpleasant events that helped me understand what was hiding beneath my thoughts: the first tragic event for me was losing both of my parents within a year; the second was that Greece officially entered a crisis.
I was overcome with emotion as Greek society was going through this loss. On a personal level, I had lost the people closest to me and as a member of society I had lost an era that would never come back. I realized then, looking back at my previous films which include my first, lesser known film that the core of my work is about loss and how people deal with it. In "Mythopathy" I decided to talk about loss mainly on a social level. This is an autobiographical film, in which the basic protagonists are my parents and I, but it isn't a film about my parents only. Many elements of the father's persona in "Mythopathy" are drawn from my own father, who used to sell travel items, as well as my mother. I have also drawn many elements from my parents' life in Constantinople for the parents' personae in "Touch of Spice".
By realizing that loss is the running theme in my films, I felt the urge to talk about the time I was a teenager, when I decided to become a film director and study film in the USA. So the film takes place between 1974, after the fall of the Junta, to 1981. I left for the USA in 1980, the beginning of the period during which the script of the crisis we are currently undergoing was written. To me, the whole spectrum of Greek politics from Right to Left holds its own part of the responsibility. In the years following the fall of the dictatorship, all political parties promised prosperity. PASOK, the ruling socialist party of the time, undertook the task of realizing that promise for prosperity and today we are experiencing the results of that promise.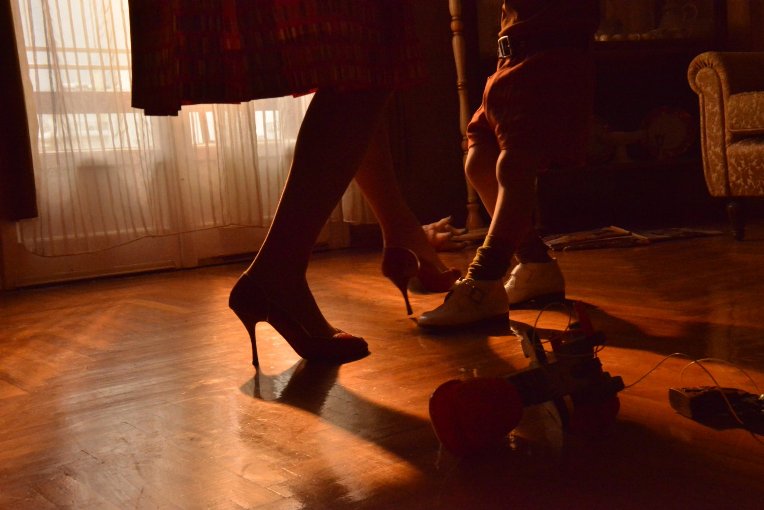 "Mythopathy" and "A Touch of Spice" share a bittersweet, "sarcastic nostalgia" as you have described it in an interview. Is contemporary Greece a different country to that of the 70's?
In a sense it is, as far as values are concerned. Throughout this time, the political parties, accordingly to the time they stayed in power, promoted corruption at the expense of ethical values.
It is not by chance that viewer reactions to "Mythopathy" fall into two groups: the first concerns those aged over 45, who come out of the cinema with a sense of nostalgia, longing for the feelings of hope and optimism of those years. On the other hand, younger viewers tell me they envy the protagonist who left to pursue his dream. So this is the theme of "Mythopathy", that in Greece we have lost times that are never coming back. And, as you can see in the film, every character is trying to come to grips with loss: the mother's unaccomplished dream to travel to the south, the father, who is a down-to- earth person, is consciously trying to survive on a fake story, a myth. He represents a social class in post civil war Greece in the 60's that is trying to survive and construct its own identity. So the father makes up and sells a story, a myth. Mother is aware that the story is a fake, but pretends to believe it, in order to keep her family together. Thus, there is a silent, unspoken and unconscious complicity for the survival of this nuclear family in a society that seeks prosperity.
Parents in your films serve as a comic relief. They represent the "ancient regime" watching the dawn of a new world they don't understand, while worrying and trying to protect their child. Does this reflect the way you perceive Greek family and parenthood?
I totally agree with your remarks; and yes, it does reflect my personal experiences. I also have a brother whom I love very much and he likes to joke with me because he is absent from my films. I tell him that if I put him in the film not only would the cost of the film rise, but the psychological toll on me as well, because there would be an extra relationship for me to analyze! On the other hand the characters of the parents relate to my cinematic references. I like Woody Allen's sense of humour and the depiction of his parents in his films, especially in "Radio Days", where they are arguing over ridiculous things, trivialities. These quarrels reminded me a lot of the ones we used to have at home.
What is the role of women in «Mythopathy»? Has it served as a political allegory in the film?
It has and I have to say that I was worried it might sound sexist, which wasn't my intention at all. In the film, my hero is trying to understand himself at a time when his sexual awakening is taking place. This is a part of his personal journey towards the construction of his sexual as well as individual identity. Unfortunately, he happens to be extremely unlucky, because he fantasizes of women who are linked to politics. Politics, in one way or another, take away from him the objects of his desire one by one. I used this concept as a vehicle to show that politics have taken from Greeks everything they desired.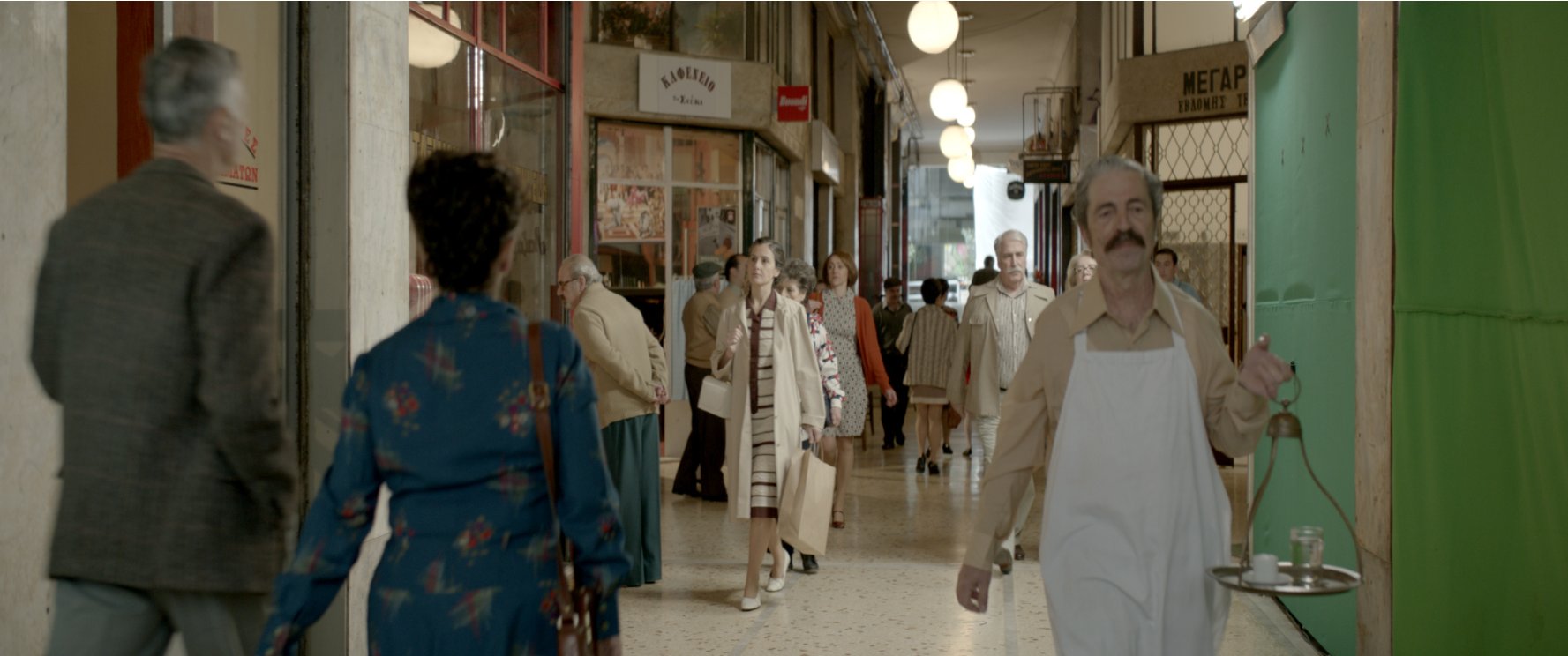 You work on your own, carefully elaborated stories with a historical background, persisting on minute detail. How easy is it to fund an expensive film production in the current economic situation?
Not easy at all. I was lucky to get financial support from the Greek Film Centre, Cosmote, as well as the Onassis Foundation. I also had other sponsors with product placement in the film. There were also other co-producers that contributed with digital effects. "Mythopathy" did not cover its production costs, but at least we are not in debt. As far as historical dramas are concerned, digital effects are of a great help but they are also very expensive. I am lucky to be collaborating with the same production company (MAGIKON) as in "Touch of Spice", which undertook part of the production cost. If I were a newcomer, it might have been impossible to make this film.
You were the first chairman of the Hellenic Film Academy and have invested a lot of time and energy to this endeavour. Could you comment on this experience?
It was my first experience of that kind. At some point, the Gavras committee on Greek cinema, under prominent Greek-French director Costa Gavras was established, and he asked me to join. Other members included Apostolos Doxiadis, Yorgos Tziotzios and Christos Mitsis, an excellent team, which had no corporate interests. We had a lot of fruitful discussions and one of the outcomes was the request for a Greek Film Academy in line with established Film Academies around the world. Film Academies are private institutions founded by members of the cinematic community, which have nothing to do with public funding. For example, the Film Academy in Germany was founded by 85 film directors, in France by a group of producers, distributors and directors. These are private institutions which set targets as well as criteria for member eligibility. What are the targets of a Film Academy? First, to promote national cinematography, secondly to promote the art of cinema in general and, last but not least, to organize events and bring national cinematography and cinema art closer to the audience. The Greek Film Academy succeeded in these targets. It was founded by 106 film professionals, it has established awards and it has organized amazing events. In that sense, I consider my term as chairman as successful.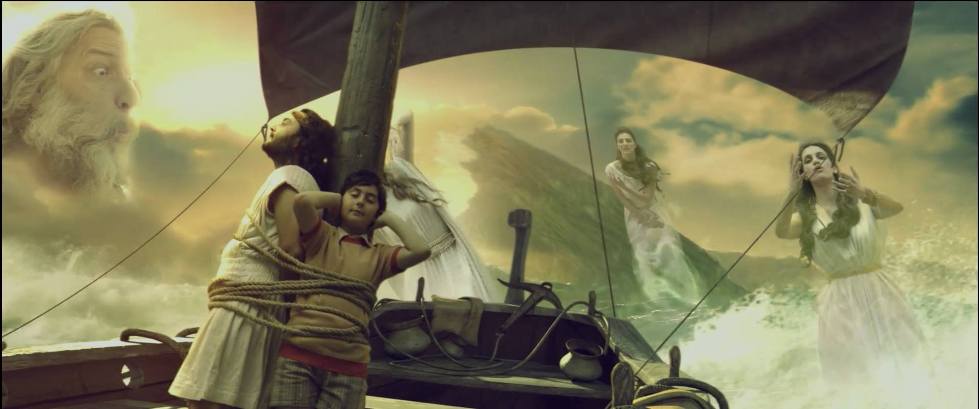 What do you think of contemporary Greek cinema?
The number of films produced has been very good, despite current economic circumstances. Greek films are doing well in festivals, but they don't sell at the box office. There are many reasons for that – the public isn't attracted to these films. Take "Mythopathy" for example: my collaborators and the distributors estimated that ticket sales would be higher, because of the success of "A Touch of Spice". My expectations were more modest. The film sold 150.000 tickets, which was very good in the current situation, but it was lower than my collaborators' estimations.
Another positive aspect, as I mentioned earlier, is the interest for Greek films from film festivals around the world, meaning that we have very good festival material. Greece has a very prominent new director, Yorgos Lanthimos, making great films causing a stir. His work has a distinct style, it is globally acknowledged and each film is an original. Lanthimos initiated what is called the New Greek weird wave, which was followed by other Greek filmmakers, sometimes successfully, sometimes not. Critics associated the New Greek weird wave with the crisis. This crisis has focused attention on Greece and there is a growing interest on what the cultural product of the crisis will be. This fact has benefited Greek cinema, because festivals are interested in Greek films. The same has happened with Turkish and Iranian films. So, in the context I described above, there have been Greek films that worked on the theme of the Greek family and its distortions. There are some Greek films on incest and are being read as political allegories. Danish cinema has also worked a lot on the theme of incest, bringing it to the fore as a social problem. Personally, although Sophocles was the first to work on the issue of incest, I don't think it is one that represents Greek society, as it is a problem common to all societies.
What about your future plans?
I'm currently working on a documentary on the AEK basketball team on the occasion of the fiftieth anniversary (next year) of the team winning the European Winners Cup, in Athens, in 1968. The year 1968 was a milestone year as regards political events around the world. This Cup was important because it was the first international distinction for a Greek sports team. On the occasion of the Cup anniversary, this documentary talks about the history of the team, the people etc. Let's not forget that AEK has its origins in Constantinople. When I was living in Constantinople, I would often come across AEK fans and became a fan too, when I came to Greece.
Read also: Hellas Filmbox Berlin Festival: Cinema as a Bridge, Euronews: Sarcastic Nostalgia Tassos Boulmetis is back with Mythopathy
*interview by Florentia Kiortsi