Vasilis Kostas is an acclaimed laouto (traditional Greek lute) player from Ioannina in Epirus, Greece. He is a member of the Global Messengers, an ensemble launched by Grammy Award-winning pianist Danilo Perez. This year, Danilo Perez and the Global Messengers were nominated for Best Latin/Jazz Album Award at the Grammies, for their 2022 release Crisálida (recorded in 2019) – a project influenced by the musical traditions of the Middle East and North Africa. Perez was also nominated for Best Instrumental Composition for one of the album's tracks, performed by the band.
Vasilis Kostas has performed in Carnegie Hall, the Montreal International Jazz Festival, the Panama Jazz Festival and WOMEX. He has shared the stage with renowned artists including Simon Shaheen, Tigran Hamasyan, Antonio Serrano and Christos Zotos. He has appeared as a soloist with the Berklee World Strings Orchestra conducted by Eugene Friesen and has traveled to Europe and Latin America to present his work on the laouto.
His innovative approach to laouto playing is a based on adapting Petroloukas Halkias's clarinet lines and instrumental philosophy, as well as finding ways to combine jazz improvisation tools with the traditional elements of his musical roots. A fruit of his collaboration with master clarinetist Halkias was the music album The Soul of Epirus (2019).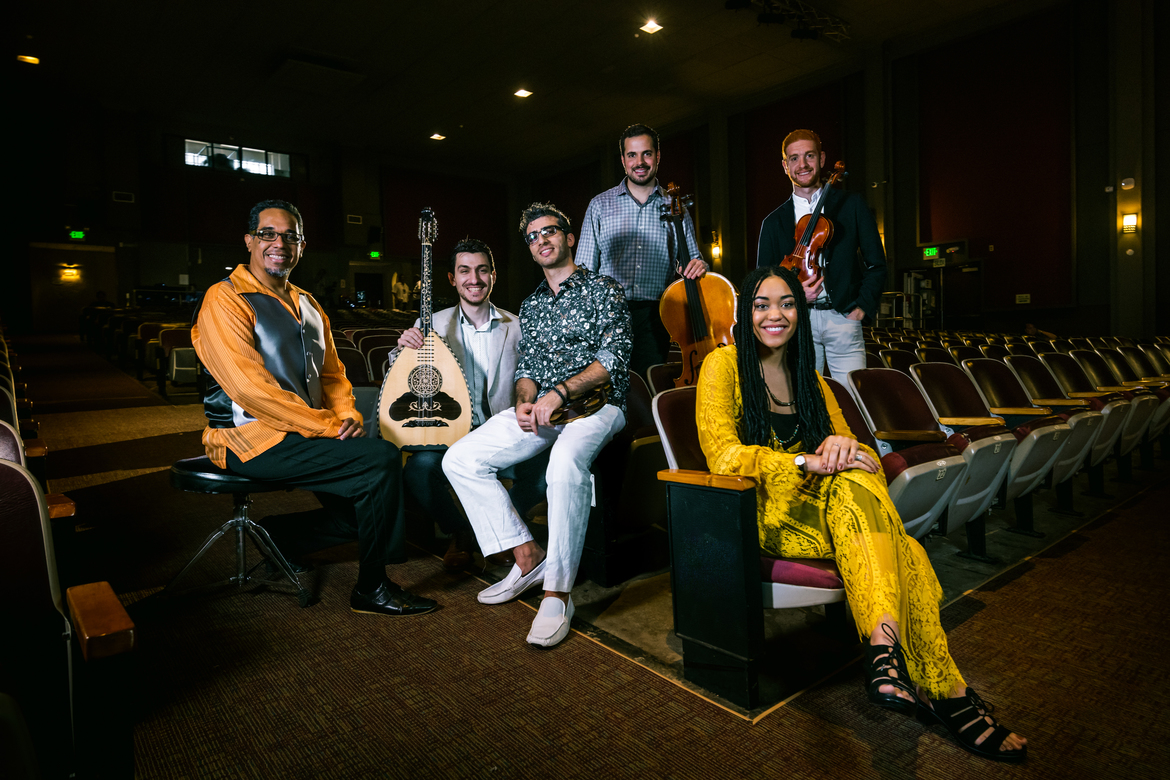 Danilo Perez and the Global Messengers
Kostas graduated with a master's degree from the Berklee Global Jazz Institute in Boston, where he studied on a full scholarship after he received his diploma from the Berklee College of Music's undergraduate program. In addition, he has a diploma from Philippos Nakas Conservatory, and a degree in Philosophy and Education from the Aristotle University of Thessaloniki. He received an Artist Fellowship in the Traditional Arts by the Mass Cultural Council (Massachusetts) in 2020 and the Forty Under 40 Award by the Greek American Foundation (New York).
He has taught music in Boston, and currently teaches laouto at the Department of Music Science & Art of the University of Macedonia in Thessaloniki, while also continuing to perform in various venues on both sides of the Atlantic. Greek News Agenda interviewed* him on the occasion of the Global Messengers' recent nomination.
You have both studied and taught music in Boston – how influential was this experience for your evolution as a musician?
Having had the opportunity to study music alongside top jazz teachers such as John Patitucci and Danilo Perez, and later to teach at American universities such as Berklee College of Music, I can only feel grateful to have gained valuable experiences as a musician, an educator and a human being. I realized that evolution in music is deeply connected with the effort to advance and expand our relationship with our fellow humans. And vice versa: through constant effort to improve your character you can become a better musician. In Boston I had the opportunity to meet great artists from all over the world and to start collaborations I never expected. To this I owe my collaboration with Danilo Perez but also my meeting Petroloukas Halkias, which led to our first album The Soul of Epirus.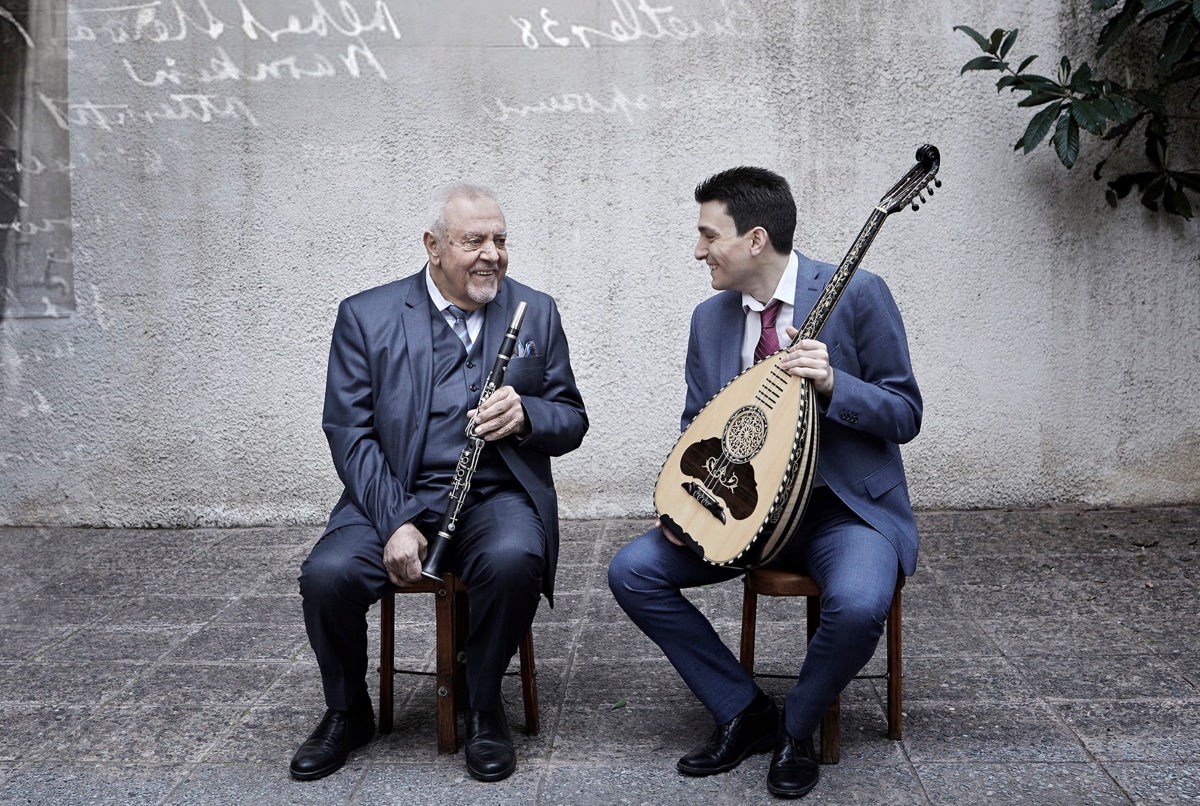 Vasilis Kostas (right) with Petroloukas Halkias
You come from Ioannina, and you also have a deep knowledge of the music of Epirus. Musicologist Christopher C. King describes the tradition of Epirus as a distinct "musical biosphere". Do you agree with this description?
The music culture of Epirus truly represents a unique musical world as one can identify in it certain attributes that are hard to find in other parts of Greece. The diversity of this tradition –meaning that we can encounter completely different types of music in different parts of Epirus–, the improvisation involved in the performance of all the elaborate tunes, the extensive use of the pentatonic scale, which is one of its most typical elements, but also the great masters such as Petroloukas Halkias, who have truly shaped the evolution of this culture – these are the principal elements that make the music of Epirus so unique.
Greek traditional music (with its very special characteristics), jazz (considering your degree from the Berklee Global Jazz Institute) and Latin – where do these meet? How easily does one hop between them and, more importantly, how does one fuse them together?
I believe that in order to combine two or more musical genres in your original compositions and/or improvisations, the key is to systematically and methodically study the different musical worlds you want to discover and bring them together in a natural way. With this mindset you begin to perceive their similarities and common elements as well as find creative ways to bridge these different traditions musically. Certainly, my involvement with Greek traditional and jazz music alongside true masters of each tradition has helped me a lot in deeply understanding these musical traditions and the ways they can co-exist harmoniously.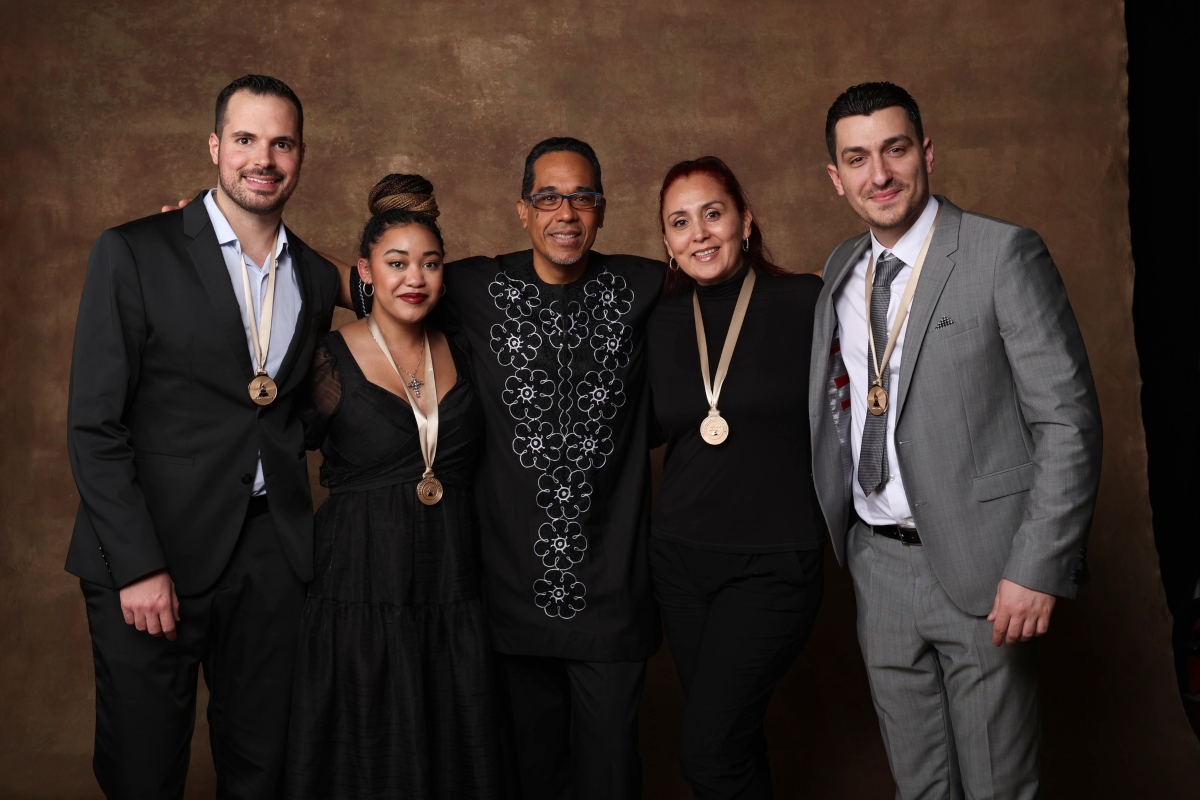 With Danilo Perez (center) and the Global Messengers at the 2023 Grammy Awards ceremony
How exactly did your collaboration with the Global Messengers begin?
This collaboration came about in 2017 after an invitation from Danilo Perez to be part of his new ensemble, the Global Messengers. This conversation took place while I was still a student in the graduate program of the Berklee Global Jazz Institute, of which he is the founder and artistic director. After several concerts in the United States, Canada, Panama and Europe we recorded our first album Crisálida in 2019, and it was released in 2022. This ensemble gave me the platform I needed to explore a new world where my musical roots can have a creative application and a dialogue with contemporary and jazz improvisation. This was also my own goal and, at the same time, a challenge: how the systematic study of traditional and jazz music can help me make a meaningful contribution to this project in a way where my own lived experiences would be evident in the music itself but also, most importantly, in a way where they could be perceived by an international audience that would understand the final result.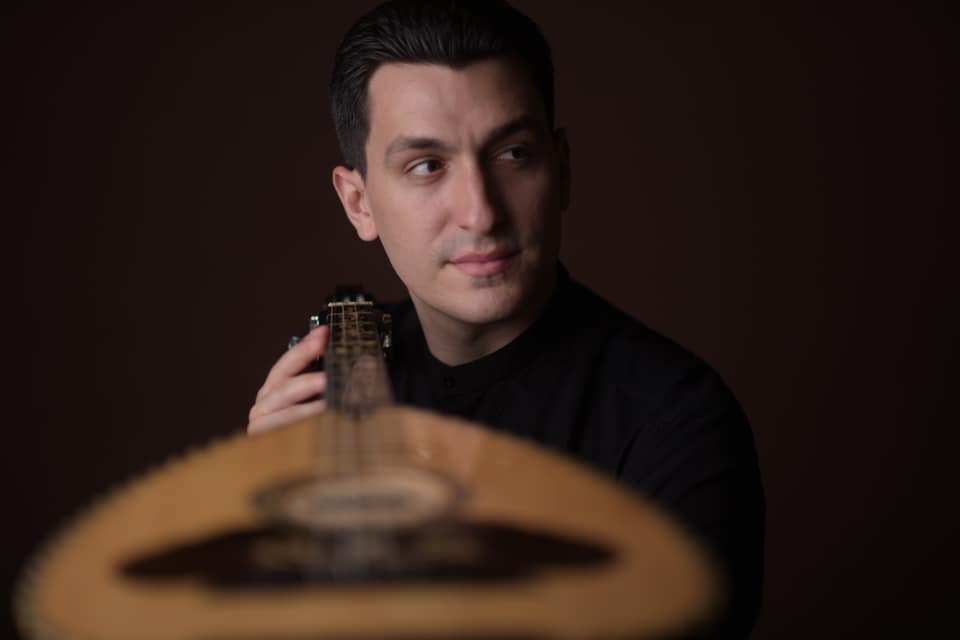 What does this Grammy nomination mean for you as a musician?
To be nominated for a Grammy Award among renowned artists from all over the world is a great honor and a responsibility to continue exploring music in the same methodical way, in the years to come. A responsibility that is not pressuring but inspiring for to my upcoming efforts regarding the younger generation of musicians in Greece and the way new platforms can help them apply their artistic –and especially musical– talent.
Apart from teaching at the Department of Music Science & Art at the University of Macedonia, what are your current projects and your plans for the future?
Teaching Greek traditional music and dealing with the younger generation of musicians is the main focus of my activities. My next steps include the creation of new musical-educational programs regarding our music in Greece and the USA, the release, with Petroloukas Chalkias, of our second duet album The Soul of Epirus, the recording of my first personal album Lèna based on original compositions, and the concerts that are coming up in Greece and abroad.
Vasilis Kostas's Official YouTube channel
*Interview by Nefeli Mosaidi
Read also via Greek News Agenda: Christopher C. King | "Lament from Epirus" An Odyssey into Greek folk music; Musician Sofia Labropoulou: The kanun has led me to roads I could not imagine; Alexis Rotskos and Yannis Tsiligiris on the Art of Making Traditional Musical Instruments