A new generation of female prose writers has recently been anthologized by Miel des anges Editions under the imaginative title Elles sont neuf! in an effort to present once more a literary genre – short stories – to a francophone audience that seems to ignore it despite the fact that Greek literature has a great number of worth reading male and female writers that excel in this field.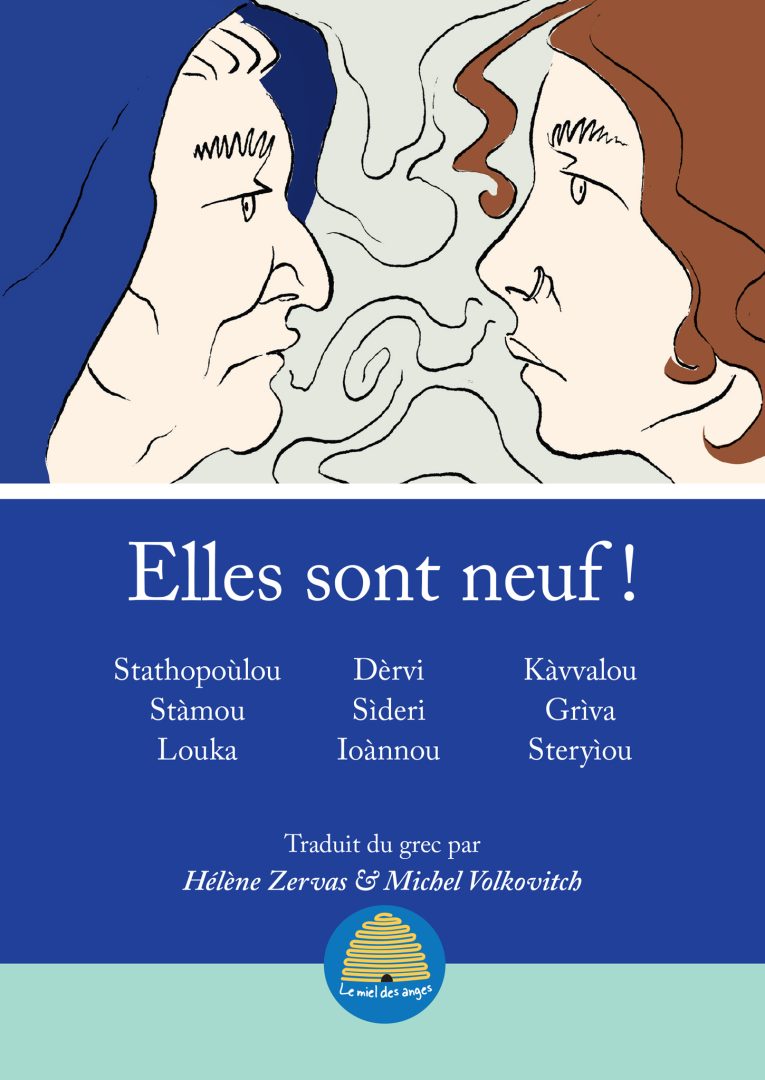 Eleonora Sthatopoulou, Eva Stamou, Dimitra Louka, Loukia Dervi, Natassa Sideri, Maria A. Ioannou, Stergia Kavvalou, Anna Griva and Vivian Stergiou. Nine female writers, the same number as the Muses. One may wonder why the anthology features only female writers. As one of the book's translators, Hélène Zervas, explains, "it wasn't to define a female writing, nor to defend a female identity in a genre where women have long conquered their position. Although an answer cannot be given with absolute certainty, it rather has to do with our desire to present the anthology to readers who love reading women's texts". As for the writers included in the anthology, "they were chosen upon certain criteria: we already knew some of them from previous works, while for others we resorted to articles and literary reviews. As for the texts, most of which are quite recent (the oldest was written in 2004), we let the writers chose for themselves".
The nine women writers anthologized show remarkable variety. First of all, in terms of age: forty years separate the youngest from the oldest. The same goes for the themes they delve into, as well as the atmosphere that prevails in their texts. Yet, one may not help but notice that with the exception of few scenes that unfold outside Greece, motherland remains a focal point in most cases. It should also be noted that, as is almost always the case in Greece, there is an obsession with the issue of family — and at this point militant feminism would not be wrong to pinpoint the frequent absence, or disappointing presence of the male figure, whether as father, husband or lover.
What is striking is that, even today, even among the youngest writers, recent Greek history remains omnipresent — the German Occupation, the Civil War that followed, dictatorship, poverty — "a past that cannot fade away, just like the vivid memory of the rural Greece of the past as it has been passed down mainly through family narratives — an inexhaustible literary source. Incidentally, one finds that Greece is a country where its inhabitants have not stopped talking to their dead…", as Zervas eloquently put it.
A.R.
Read also: Michel Volkovitch: la poésie, c'est la langue naturelle des Grecs; Michel Volkovitch: la Grèce a un problème d'image;Reading Greece: Anna Griva on the Poetic Conversation of Ancient Myths with Contemporary Reality; Reading Greece: Vivian Stergiou on the Literary Depiction of Millennials
TAGS: LITERATURE & BOOKS | READING GREECE