"Eλλάς" (Hellas or Greece) is a project that presents the crisis affecting Greece in the past years through the eyes of six authors, cartoonists and illustrators: George Botsos, Petros Christoulias, Thanassis Dimou, Michael Kountouris, Antonis Nikolopoulos (Soloup) and Thanassis Petrou.
Under the high patronage of the Greek Embassy in Rome and with the collaboration of Katerina Fragou (founder of Iris Literary Agency), the project was presented last year by Giuseppina Frassino for Tricromia gallery (Rome, Italy) in an endeavor to explore the crisis from an economic, social and political point of view.
The idea of the exhibition was to portray the crisis in pictures, hoping that through the Greek case one can understand the future of every European nation. At the same time, special tribute was paid to the satirical magazine Charlie Hebdo that has become for many people, a symbol – like Greece- of freedom and courage.
Greek News Agenda* spoke to Katerina Fragou** who provided an insight to the project's concept and future plans, as well as to the six participating artists*** who shared their views on how feasible it is for an illustrator-cartoonist to communicate the case of Greece abroad, taking into consideration the cultural differences between countries.
Can you provide an insight on how the "ελλάς" project came to life? What were the aims of the initiative; any plans for the future?
Katerina Fragou: The initial idea came from Tricromia, the Italian gallery in Rome and its owner, Giuseppina Frassino. Tricromia specializes in comic illustrators. Giuseppina Frassino asked me to help her find important comic illustrators occupied with the crisis and the problems it created in Greek society. She also suggested that, in case they happened not to have works on the crisis, she was willing to commission artworks. In Greece however, we lived in times of immense change for years and the crisis was, and still is, abundantly portrayed, especially in works of cartoonists.
The Italian gallery aimed to give food for thought to Italian society, which was in a similar situation.
The idea was to have a travelling exhibition or to present similar shows in other countries in galleries, museums or embassies. Judging from my contacts around the world, people in other countries are curious to see how we survive in Greece with all the problems we are facing.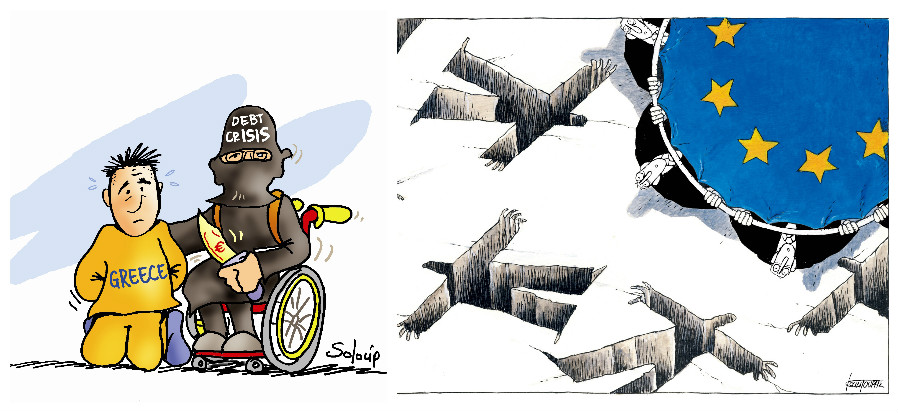 We use to say that "a picture is worth a thousand words"; however, the work of illustrators and cartoonists is a bit special, as it involves political -often satirical- messages touching on delicate social problems. Judging from your participation in the "ελλάς" project, as well as from your overall working experience, how easy is it for an illustrator/cartoonist to communicate the case of "Greece" abroad, given the different cultural backgrounds between countries?
George Botsos: I tend to turn around the saying; the opposite could really be true: "a word is worth a thousand pictures". Words and images can be the source of infinite combinations and, moreover, our main field of inspiration. When you communicate visually, you are able to express a whole "text" in a single gesture, to tell a story with a "silent" symbolic movement. That is why for my contribution to the "Ελλάς" exhibition I've chosen to communicate without words, in the form of a triptych synthesis, using the universal language of comics, trying to surpass the possible different cultural backgrounds of our foreign audience.
To communicate the "Greek case" through artistic expression is totally different from a political or economic analysis. An illustrator-cartoonist is not striving to persuade through his work, but to send a message that is both intellectual and emotional, sometimes ambiguous in an aesthetically appealing way. If a creator is able to express his ideas about "Greece" in an interesting, original way, his Greek origin can work only as a "plus".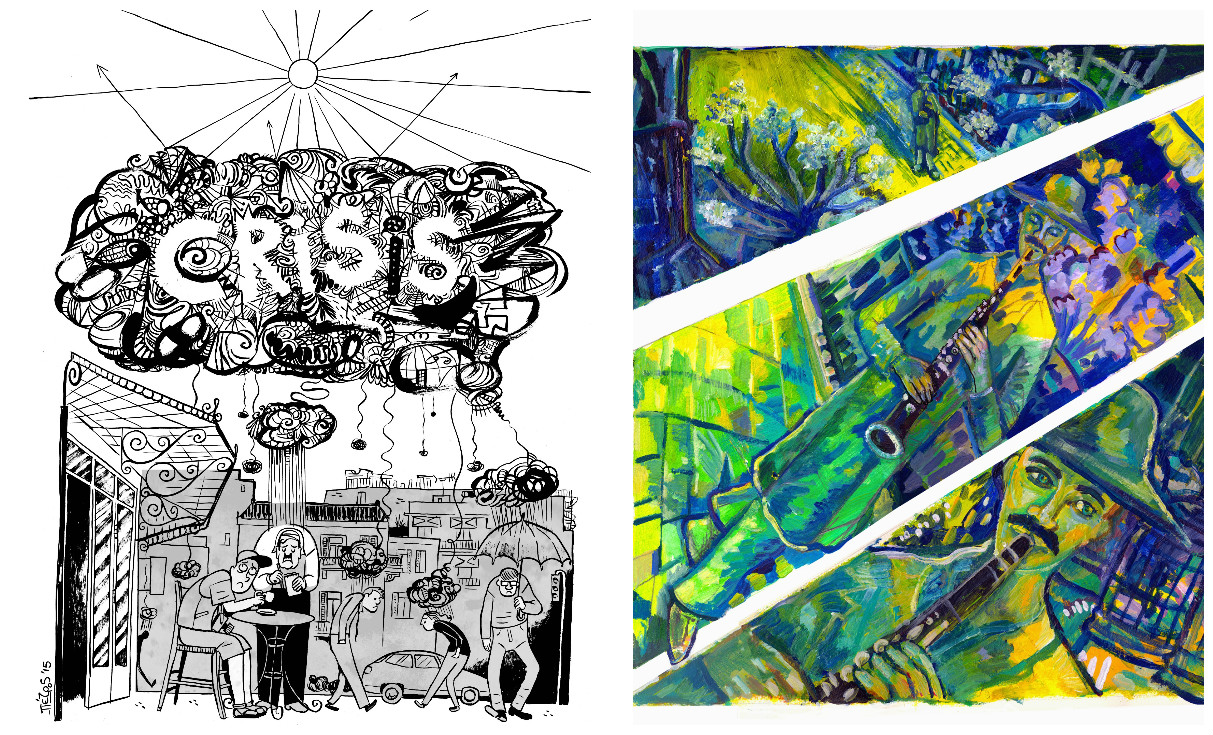 Petros Christoulias: The task of communicating the case of Greece to a foreign public is not easy. Society is not compact – neither in Greece or abroad – and an artist deals with diverse audiences. Despite the difficulties however, an image can carry a message in a more abstract way, generalizing the situation that it tries to depict. This way it can be more effective than a thorough documentary.
I used this approach when I was "drawing the crisis" as an abstract confusion of inked lines and motives. In the first image, the symbolic representation of the gloomy atmosphere is sitting like a heavy cloud over Athens and its people, while in the second image, a high wave threatens to gulp down a symbol of Greece's positive face, that of its ancient history and culture.
Thanassis Dimou:"I admire the ability of political cartoonists to do this job and to encapsulate reality, but I have not practiced this profession myself. Humor, however, is a way of handling the reality that one is faced with, while comics and illustrations generally offer readers a creative escape. The language of sketches is global and this is its strength".
Michael Kountouris: My cartoons rarely come with words or captions. In order to describe or comment on people or a situation, I opt for symbols and images, making sure they are clear and intelligible to the public, both at home and abroad. The same rule applied to the 'ελλάς' exhibition: the cartoons I chose with which to take part in the exhibition were such that that pictures and symbols could be understood by the Italian public.
With over thirty years working experience in the field, I can assure you that it is much easier to talk about the crisis –whether economic, political or social – with a sketch than it is to deal with it in everyday life.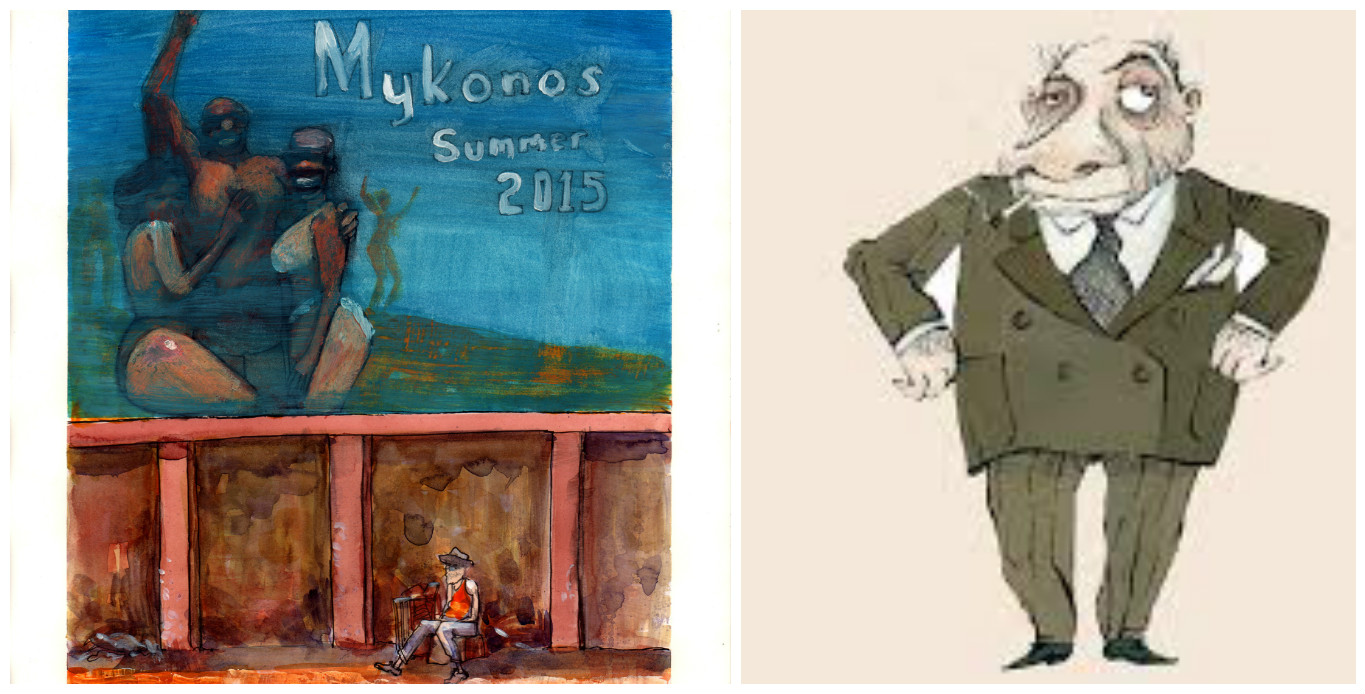 Antonis Nikolopoulos (Soloup): Yes, it's true… you just described my daily life in the satirical and political newspaper "to Pontiki" where I've been working as a cartoonist for the past twelve years. Every day, togetherwith my colleague journalists, we are up against deadlines. For this reason, we have several meetings at the newspaper so as to discuss our reports, what happens in Greek parliament or abroad etc. Then I also need to be informed about what other newspapers or portals report. Finally, all this information needs to be transformed into a satirical sketch. With one cartoon, you must report and comment on a political or a social situation. Not only do you have to describe the story behind the report but you must communicate your thoughts, your point of view about what is happening.
Every nation lives with its own preconceptions. All around the world, people tend to believe that their country is a little bit better than others; and all around the world, there is a core national narrative regarding "the superiority of our race". We have to bear in mind that this type of prejudice may exist, when we wish to communicate our country and our messages abroad. You have to respect other cultures and keep in mind that everyone loves their country, customs, traditions and way of life as much as you love yours.
It is not so easy to communicate your work around the world if you come from a small country like Greece. Other people don't understand your language and something like that is a huge obstacle. But the problems we are faced with nowadays, such as the financial crisis, nationalism, immigration, poverty etc are global. So, if you want to communicate something clear about these issues, you also discoverways of arousing the interest of people around the world.

Thanassis Petrou: I took part in the exhibition, more as a comic book artist rather than a political cartoonist. A political cartoon is the art of the ephemeral: it comments on the daily social and political life, and it is often difficult to be understood, not only by the foreign but by the Greek public as well, if it refers to events that took place a long time ago that might be forgotten. For the "ελλάς" exhibition, I tried to create works that could have wider reading and be understood outside a narrow Greek context.
The different cultural background between countries is not that different between creators, because we have all seen and studied the work of foreign artists for many years, so there is proximity in our expression and aesthetics.
Unfortunately Greece, for years now, has been at the heart of developments taking place at European level, so both publishers and the public abroad expect to see works commenting on the crisis we are experiencing. From my own personal experience, having published a series of comics in France and reading the comments and reviews that followed online, it was made clear to me that audiences are looking for associations with the crisis in anything to do with Greece, even in works that do not directly relate to the crisis.
* Interview by Eleftheria Spiliotakopoulou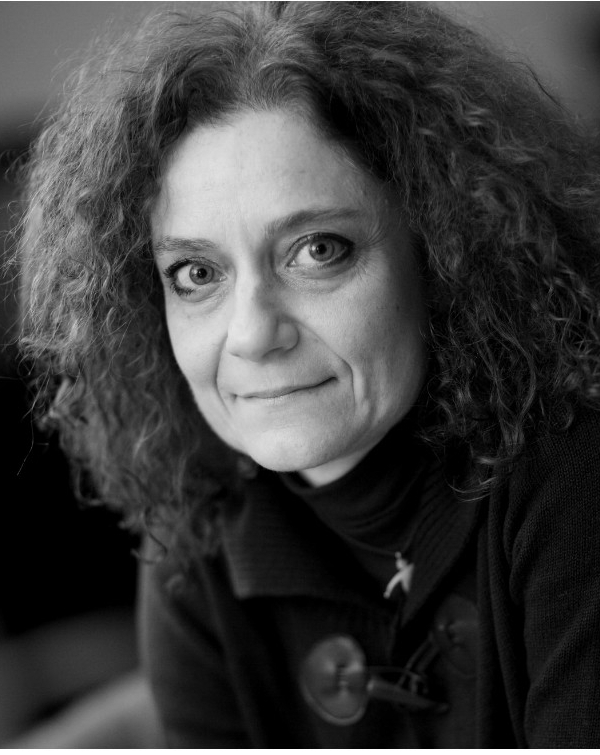 **Κaterina Fragou was born in Athens, where she studied French Literature. She lived in Paris for 15 years, where she also studied Comparative Literature. In 1995, she established Iris Literary Agency in Athens, undertaking the translation of works from all over the world into Greek.
She is working on making Greek literature known abroad, whilst working at the same time as a translator and an editor. She also organizes exhibitions.
***Authors- illustrators – cartoonists (in alphabetical order):

George Botsos was born in Athens, in 1960. In 1983 he graduated from the Department of Political Sciences of the University of Athens. He published his first comic in "Babel" comics' magazine (1987). This was the beginning of a long lasting collaboration with Babel, in which he presented 60 short comics. His comics have been published in magazines in France (L'Echo des Savannes) and Italy (Dolce Vita).He has also been working as a freelance illustrator for books and magazines (such as Marie Claire) and as creative director for advertising agencies. Since 2000, he has been teaching the art of comics and is director of the Sketch-Comics-Cartoon department of AKTO Art & Design College.He has also written and illustrated eight books for children and exhibited his paintings in several solo shows.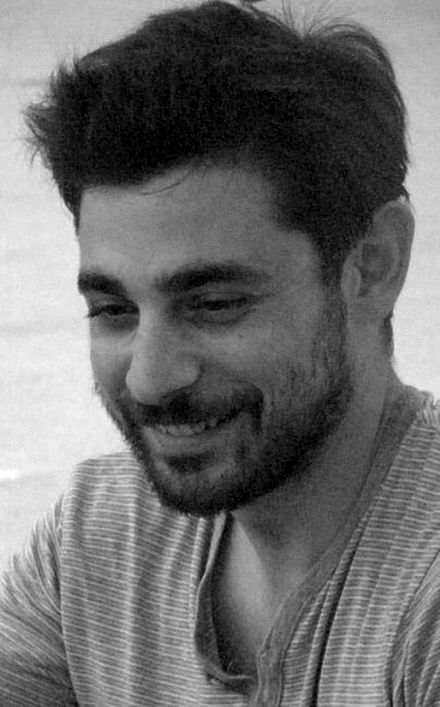 Petros Christoulias was born in Chalkida in 1979 and studied Fine Arts at the Aristotle University of Thessaloniki. He works as a painter, comic creator and illustrator of children's books. The comics he has written and illustrated have been published in magazines and websites and have received many awards. He has also been involved in animation projects. He has participated in almost 20 collective comic expositions in Greece and an exposition on his book "Trenches" was held at the Greek National Library. He has also participated at the festival La Storia in Piazza, at the Palazzo Ducale in 2011 where he received honours in "conflicts war balloons" for "Trenches". In 2015 he participated at the collective exhibition "Ελλάς" at Tricromia gallery in Rome and in the Ravenna festival. All of his books have received different prizes.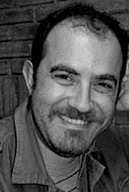 Thanassis Dimou is a graduate of the Department of Theatre Studies of the University of Athens (2000) and the "Theatro Technis K. Koun" Drama School (2001). Since then, he has collaborated with the National Theatre of Greece, the National Theatre of Northern Greece, the Athens and Epidaurus Festival and many important repertory theatres in Athens (Theatro Technis, Theatro tou Notou, Praxis, Porta etc.) in works of Aristophanes, Shakespeare, Goldoni, Moliere, Kleist, Chekhov, Durrenmatt, as well as in contemporary Greek and foreign plays. He also works as a cartoonist and recently wrote and illustrated the "Winter's tale" (based on William Shakespeare) for which he received the National Award for Children's Book Illustration (2009).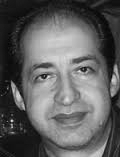 Michael Kountouris was born in Rhodes, in 1960. Since 1985, he has been working as an editorial cartoonist in Greek newspapers and magazines. He currently works at the ("Efimerida Ton Syntakton") newspaper; he also cooperates with Courrier International and Caglecartoons. He has taken part in many solo and group exhibitions in Greece and abroad, such as The Hague Sculpture-GIANTS (The Netherlands, 2004), "G20" (Andy Warhol Museum, Pittsburg, 2009), "Ελλάς" ('Tricromia' Gallery, Rome, 2015), 'Fifty-fifty' Gallery (Düsseldorf 2016). He has received awards in various cartoon contests at the United Nations, Portugal, Spain, Belgium, Italy, Turkey, Iran, Greece, etc. As a children's books illustrator he has been awarded with the Illustration Prize of the International Board on Books for Young People (IBBY, 2002) and with the First EBGE Prize on Graphic Design and Illustration (2006). Since 2011, he has been working on innovative projects regarding the use of cartoons in education (Educartoon).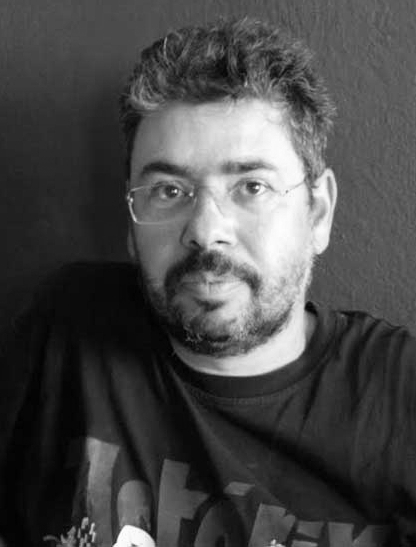 Antonis Nikolopoulos (Soloup) is a caricaturist who collaborates with "to Pontiki", as well as other major newspapers and magazines in Greece. He studied Political Sciences at Panteion University and obtained a PhD in Cultural Technology and Communication from the University of the Aegean. He has published 13 books with comics and cartoons. His Phd is about the History of comics in Greece. His graphic novel Aivali, which deals with the violent expatriation that took place during the war in Asia Minor between the Greeks and the Turks, in the wake of World War I,received the prize of the best comics and of the best scenario at Comicdom Athens 2015; It has been translated into French and Turkish and is the first graphic novel that is the subject of an exposition at the Benaki Museum travelling all over Greece. In 2015, he participated in the exhibition "Ελλάς" in Rome and in the Ravenna realistic comic festival "Komikazen". In 2016, Aivali was presented in Brussels, Paris, Istanbul and Ayvalik.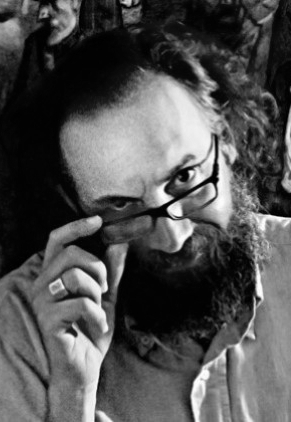 Thanassis Petrou was born in Thessaloniki in 1971. He studied French Literature in Thessaloniki and Paris and has a Master's in Sociolinguistics. In 2002, he won the first national comic prize of "9" magazine while he started to work for the magazine. In 2005, he completed his studies in comics with distinction (AKTO Art & Design College). He has published comics and cartoons in major magazines and newspapers in Greece and has participated in festivals in Greece and other countries. Since 2012, he has been teaching Sketch, Comics and Cartoons. In 2015, he participated in the group exhibition "Ελλάς" at Tricromia gallery in Rome and in the Ravenna festival. He has illustrated and, in some cases, written scripts for comic books, such as: The Marathon battle (Patakis, 2015), Actors (Cartoonark, 2013, which received the Mention of EBGE Prize on Design and Illustration), Giousouri and other fantastic stories (Topos editions, 2012, which received the Best Comic Prize in Comicdom Athens 2012), Pararlama and other stories (Topos editions, 2011) and The corpse (Jemma Press, 2011, which received the first Cover Prize in Comicdom Athens and the prize of the best comic in EBGE Prize on Design and Illustration; in May 2015, it was published in France by Steinkis.
TAGS: ARTS | CRISIS | DESIGN | FESTIVALS | GLOBAL GREEKS | INTERNATIONAL EXHIBITIONS | LITERATURE & BOOKS | MEDIA