Acclaimed Greek writer Theodor Kallifatides, who has been living in Sweden since 1964 and whose books have been translated and published in more than 20 languages, spoke to Greek News Agenda (GNA)* about some painful childhood memories and how it all began, what it means to be a bilingual writer, and how it feels to be called a "migrant writer". He also shared his views on Greece's brain drain, the refugee crisis, and Greece's image abroad.
Q: It has been 40 years since you started making a living exclusively from writing. How did it all begin? At what age, and instance, did you feel the need to write for the first time?
A: It all started when I was very young, 5 years old to be exact. My father, who was a teacher, had already taught me how to read and write. It was during the Occupation of Greece in WWII. The Germans executed a man in our village, and to set an example, we were all forced to observe the execution. My father was already imprisoned. My older siblings were away. Thus, it was I and my mother who was holding my hand that watched the execution. I watched the man fall, and saw his dying gaze. That evening, I didn't go out to play. I stayed in, and for the first time, without knowing why, I wrote something about that execution.
Q: You belong to that rare species of bilingual writers. What does it mean, in practical terms, to write in a language that is not your mother tongue?
A: It implies a constant insecurity, which is positive however, because one is always alert and in search of every word, writing with difficulty since nothing flows with ease. All this is good for a writer; ease and convenience are not, they're an enemy. I have to know exactly what I want to say, without any rhetorical tricks. Writing in Swedish has forced me to be honest.
Q: A recurring theme in your novels is migration. How has it affected your mentality, your frame of mind as a writer? Do you accept the term "migrant writer" (invandrarförfattare) that is widely used in Sweden, or does it bother you?
A: The term "migrant writer" bothers me. I am a migrant, but this is not why I am a writer, irrespective of whether emigration was and remains an experience of decisive importance in my life.

Q: One of the consequences of the Greek economic crisis is emigration, especially of young and educated people (brain drain) leaving Greece in search for a better future abroad. However, this option is not always that simple or easy. Having gone through this yourself, what would you say was the hardest part and what would your advice to those opting for this path nowadays be?
A: Only if you know why you are leaving and are certain that there are no other solutions, only then would I recommend this path, emigration. Living in a foreign country entails many challenges and ordeals; it requires giving it all to survive. Determination and drive, perseverance and commitment, hard work and self confidence; you have to know who you are so as not to get lost.
Q: Another side of migration that Greece is facing nowadays is that of refugees from the Middle East coming to Europe with hopes for a better life. What is your view on the running public debate in Europe concerning the refugee crisis?
A: Europe is not dealing with how to help these people but with how to avoid them. It is shameful and idiotic because huge human potential that we'll need one day is being wasted unreasonably.
Q: In what ways and to what extent do you believe that the image of Greece in Northern European Media and public opinion has been affected in recent years?
A: Unfortunately, a great deal of goodwill towards our country has been lost, and this is not only on account of any mismanagement of the situation, but because of the intransigence of the Institutions as well.
Q: You have now lived for over 50 years in Sweden, where you have enjoyed a successful career, have been awarded with honours and prizes and, above all, have gained the respect and appreciation of the Swedish public. Do you consider yourself in a way as an 'ambassador' of Greece abroad?
A: I don't consider myself as an 'ambassador' of Greece, but I always defend the Greek people. This does not mean that I am blind to what's wrong with us or others. But you don't strike one who is down; you help him stand on his feet.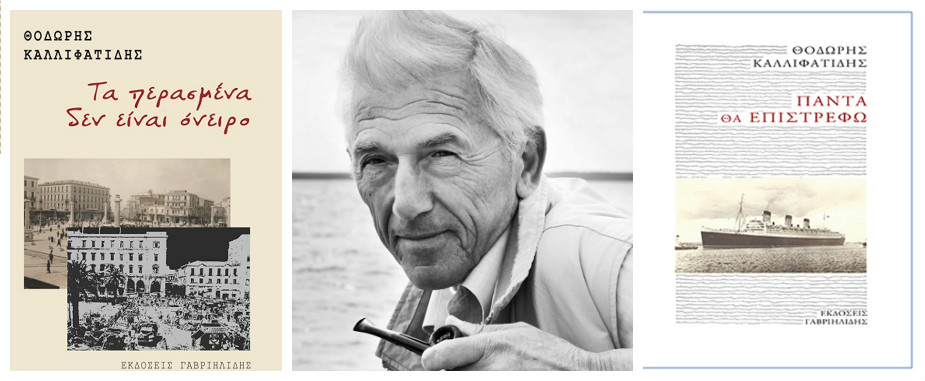 Theodor Kallifatides was born in the village Molaoi of Laconia, Greece, in 1938. In 1946, he and his family moved to Athens where he finished high school and studied at Karolos Koun's Art Theatre school. He immigrated to Sweden in 1964, where he has lived ever since. He studied philosophy and worked as a lecturer at Stockholm University between 1969 and 1972, and then as chief editor of Bonniers literary magazine "Litterära Magasin" between 1972 and 1976. Kallifatides made his literary debut in 1969 with a poetry book, but gained recognition mainly through his subsequently published novels. He is one of the most acclaimed contemporary writers in Sweden and is considered the most prominent example of writers from migrant background in the Nordic countries that have chosen to write in the Nordic languages. Since 1994, he began writing in Greek as well. In total, 18 of his novels have been translated and published in Greece (mainly by Gavriilidis Editions). His autobiographical work "The Past is not a Dream" was published in 2012, and his latest novel I will Always Return was published in 2015. He has published novels, poetry collections, travel essays and plays, and has received numerous awards for his works which usually revolve around memories of his homeland and his life as a Greek abroad. He has also written film scripts and has directed a film.
* Interview by Eleftheria Spiliotakopoulou
Read more: Leaving, Losing, Letting Go: Some Steps in Bilingual Transformations in the work of Theodor Kallifatides (Modern Greek Literature: Critical Essays, 2003)
Watch video (in Greek): Theodor Kallifatides – Writer (produced by ERT, the Hellenic Broadcasting Corporation, 2011)
TAGS: ARTS | GLOBAL GREEKS | GREEK LANGUAGE | LITERATURE & BOOKS