Greece's diverse geography and Mediterranean climate have played an important role in the development of its rich culinary tradition. Many of its products have acquired PDO (Protected Designation of Origin) or PGI (Protected Geographical Indication) status – some of these have been traditionally associated with Greece for a long time, will others may surprise you!
The EU geographical indications system protects the names of products that originate from specific regions and have specific qualities or enjoy a reputation linked to the production territory. To date, more than 100 Greek products have been registered as PDOs by the European Union, including several wine and oil varieties, several types of cheese, vegetables, fruit, pulses and honey. The list is impressive and is constantly being added to.
Olives & Olive Oil
There is probably no other product as closely associated with the land of Greece as olive oil. Olives are believed to have been introduced to Greece tens of thousands of years ago, and oil is believed to have been produced since before 4000 BC. For decades, Greece has been among the top olive oil producing and exporting countries in the world.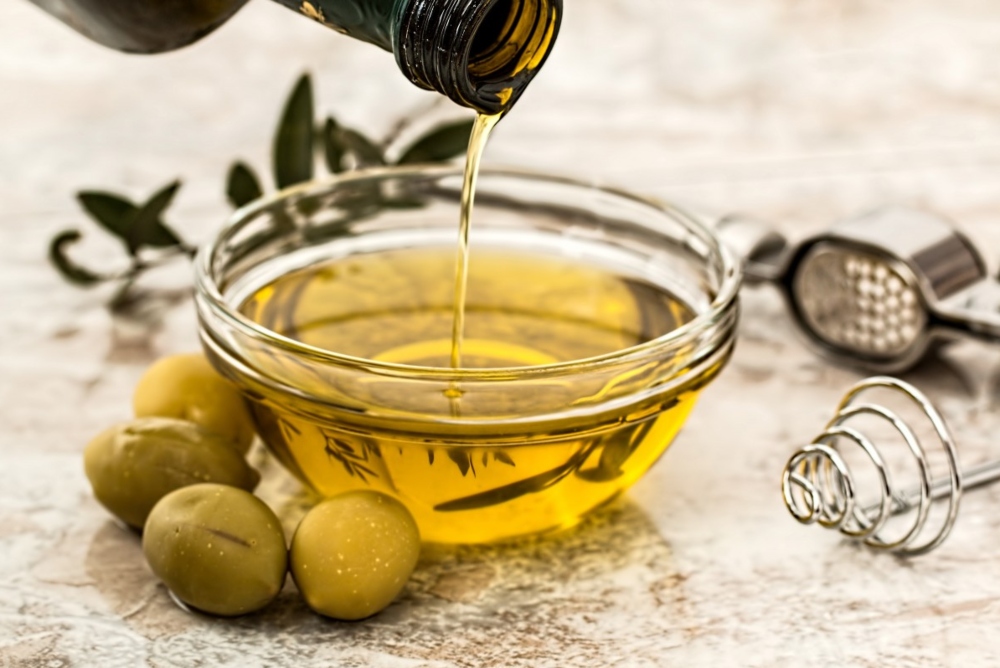 pxhere.com
Many varieties of Greek olive oil, originating from throughout the country, have Protected Designation of Origin or Geographical Indication status. These oil-producing regions include Crete, Chalkidiki, Kalamata, Laconia, Cephalonia, Olympia, Lesvos, Preveza, Rhodes, Thasos, Samos, Zakynthos, with many local labels having received awards at oil competitions. Equally renowned are Greece's table olives; among the varieties enjoying PDO or PGI status are the famous Kalamata olives, the green olives of Chalkidiki, the throumpa from Thasos, Chios and Crete, and the konservolia from Amfissa.
Wine
Wine was a staple in ancient Greek culture and diet; its production in preceded both the Minoan and Mycenaean civilisations, and modern wine culture derives, to great extent, from the practices of the ancient Greeks. Dionysus, the god of wine, was one of the most important and respected deities, and the precursor of the Roman Bacchus. There are 33 wine varieties with a PDO status, such as Nemea, Rapsani, Robola, Malvasia, the Muscat of Patras, Lemnos and Rhodes, and the Mavrodaphne dessert wines of Patras and Cephalonia. There are also over 100 varieties of wine from throughout the Greek countryside (from Macedonia to the Peloponnese and Crete, including several of the Aegean and Ionian Islands) with a PGI status.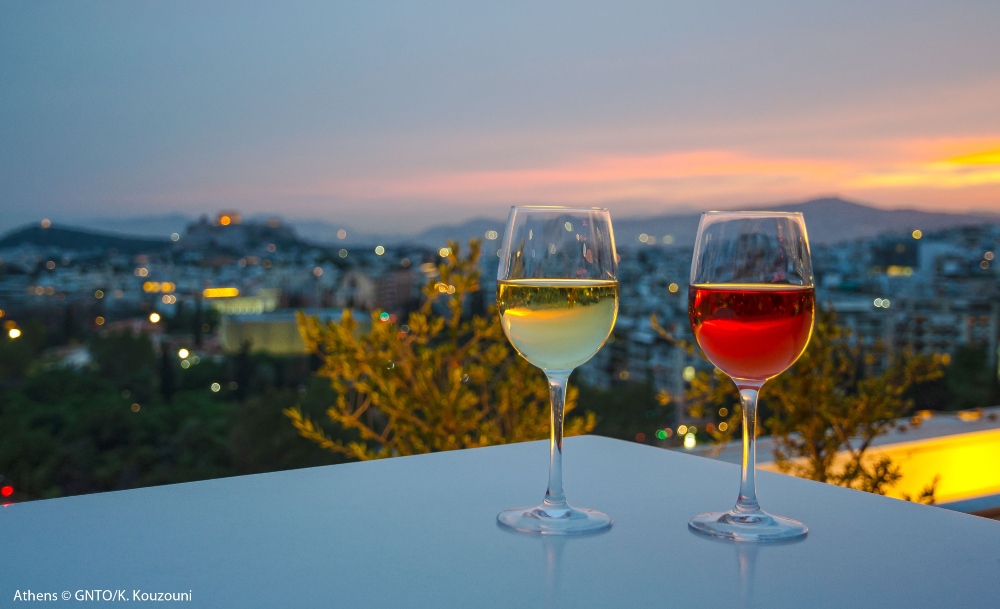 Spirits
Special mention must be made of Greek spirits besides wine; in EU Law, GI (Geographical Indication) is specific for spirit drinks and aromatised wines, and there are 15 traditional Greek spirits that have been granted a GI tag. Ouzo, arguably the most famous spirit to be exclusively produced in Greece, is of course one of them, while there are also separate GI tags for five distinct varieties of the popular anise-flavoured liquor.
Other GI-registered drinks include tsipouro (three varieties, from Thessaly, Tyrnavos and Macedonia), a strong distilled spirit produced from grapes, its Cretan equivalent, tsikoudia, a liquor distilled from grape pomace (marc), tentura, a fragrant liqueur from Patras sweetened with herbs and spices, and Koum Kouat of Corfu, a liqueur made from the PGI variety of kumquat fruit grown on the island.
Dried fruit, nuts and honey
Apart from wine, Greece's extensive grape cultivation also makes it an important producer and exporter of raisins. Especially famous are the raisins of the Black Corinth cultivar, grown in Corinth and Zakynthos, and hence known in English as Corinth raisins or Zante currants. Other PDO-designated nutritious delicacies include dried figs from Kymi (Euboea) and of course pistachio nuts, most famously from Aegina Island, but also from Megara (Attica) and Phthiotis (Central Greece). Greece is also home to many varieties of honey, among which the Vanilia pine honey produced in the Menalon highlands of the Peloponnese has a PDO designation.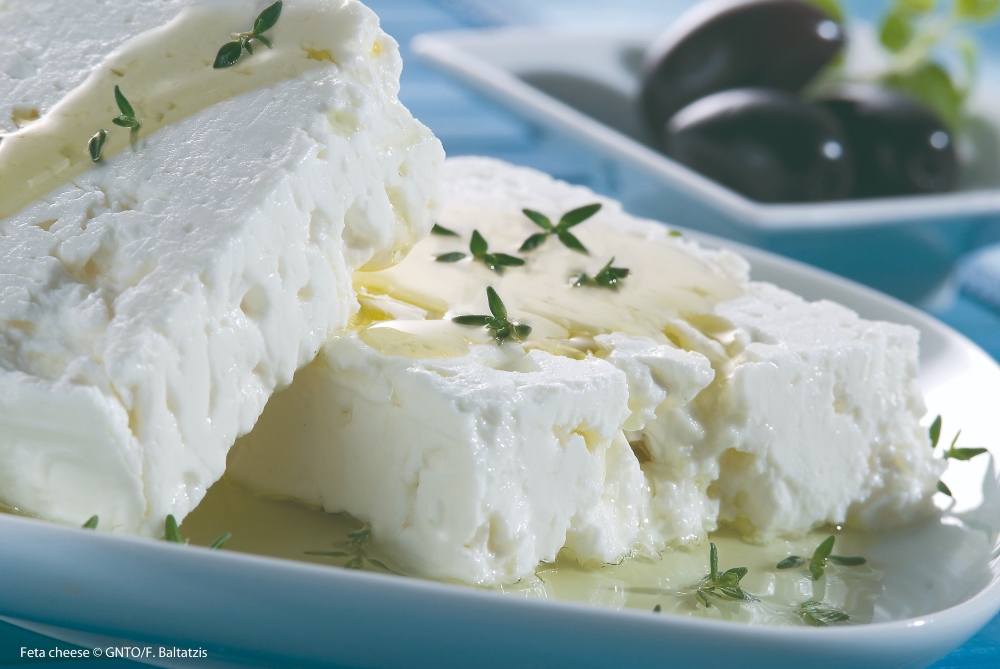 Cheeses
Cheese is widely consumed in Greece, and almost every region boasts one or more local varieties; there are 22 PDO-designated cheese varieties produced in Greece, from the famous and omnipresent feta (for many, the quintessential Greek food product), to the equally popular kasseri and kefalograviera. Among the most renowned local varieties are the graviera from Crete and Naxos, the ladotyri from Mytilene, Syros Islands' San Michali, Crete's xinomithythra, sfela from Mani, kopanisti from the Cyclades, batzos from Western Macedonia and Thessaly, anevato from Grevena, Naxos's arseniko and katiki from Domokos.
Vegetables and pulses
The Mediterranean diet, and especially the Greek cuisine, is largely based on vegetables, pulses and fruit. Lentils, beans and chickpeas are widely consumed, and in fact many consider the white bean soup (fasolada) to be Greece's national dish. Beans have been cultivated in Greece since ancient times; one famous type is known as gigantes ("giants", a variety of the scarlet runner bean), usually served baked in thick tomato sause. There are six local varieties (including gigantes and white beans) that have a PGI status, while the famous Fava Santorinis (a type of vetchling, the seeds of which are used to prepare a hummus-like dish) have been registered as PDOs.
The island of Santorini is also renowned for its PDO variety of cherry tomatoes, mainly used in sauces, or served in sundried form or even as a sweet preserve! The tsakoniki variety of aubergines (eggplants) produced in the town of Leonidio (in Arcadia, the Peloponnese) also has a Protected Designation of Origin.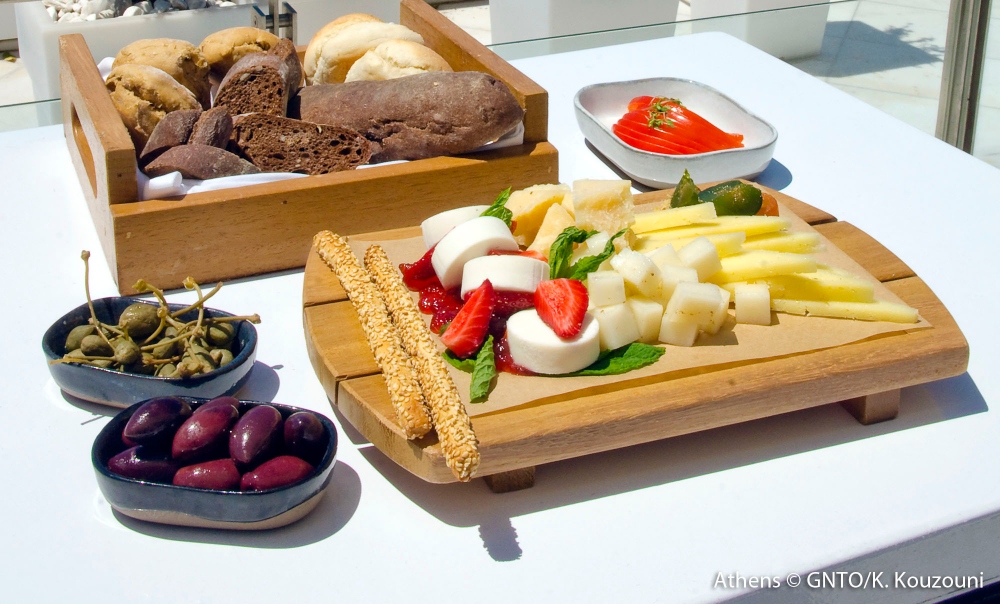 Fruit
Greece, like the rest of Southern Europe, is of course also known for its rich fruit production. Most may associate the Mediterranean predominantly with citrus fruits, and indeed Greece boasts a large orange and lemon production, including the PDO Maleme orange variety, from the eponymous village near Chania, Crete. Many might be surprised to learn that Greece is also home to three PDO apple varieties (Delicious Pilafa from Tripoli and Zagorin and Firiki from Pelion). Kiwifruits from Spercheios (Central Greece), cherries from Rodochori (Central Macedonia) and peaches from Naoussa (Central Macedonia) also enjoy PDO status.
Distinctive tastes
Finally, apart from the most famous and widely popular Greek products, it is of course also worth discovering local products and specialties from various corners of the country. Τhese include avgotaraho (bottarga), a delicacy consisting of the cured roe pouch of flathead grey mullet from the lagoon of Missolonghi –one of the few seafood products with a PDO in EU–, krokos, a variety of saffron crocus from Kozani, considered a superfood for its antioxidants and other health benefits and known for its use cooking but also in pharmaceuticals and paint production; and mastic from the island of Chios, which is known for its unique aroma and used in gums, confectionery, liqueurs but also cosmetics – in fact, mastic powder, mastic chewing gum and mastic oil are three products, each with its own distinct PDO designation, while the masticha liqueur has a GI tag.
Read also via Greek News Agenda: Discover Wines of Greece; Greek Wine: A Modern Success Story; Greek olive oil: the history and the future of a multifaceted product; Herbs and spices from Greece; Greek yogurt: tradition exported; Greece's Fascinating World of Mushrooms
N.M. (Based on an article published on Punto Grecia; additional source: eAmbrosia; all images ©Visit Greece/GNTO, unless indicated otherwise)