In ancient Greek, the word φάρμακο (phrámakon), which Plato used as a metaphor for writing, meant both remedy and poison. It's exactly this double meaning that inspired a group of friends to create a high-quality literary magazine titled [FRMK] almost ten years ago. "We found the title quite suitable since poetry is indeed a remedy and at the same time a refreshing poison that delves deep, where we dare not look; it challenges our certainties, asks us to distrust the commonly accepted, reveals difficult truths and puts our humanity to the test", says Katerina Illiopoulou, the magazine's founder and chief editor.
[FRΜΚ], now in its 17th issue, was first published ten years ago as a natural development of the dialogue, cooperation and ultimately friendship of the people who created it. First of all, the visual artist Yiannis Isidorou, art director, responsible for the magazine's aesthetics, most of its covers and the visual section, and the editorial team: the poets Vassilis Amanatidis, Orfeas Apergis, Phoebe Giannisi, Panayotis Ioannidis, Iana Boukova, Theodoros Chiotis and the translator Eleni Iliopoulou.
Since the first issue, the magazine has shown a refreshing attitude both in terms of aesthetics and content, thus aiming to answer the question of how a literary magazine could be today, creating the magazine that we would all like to read. "A magazine, as we see it, is not a list of texts, not even an aesthetically beautiful and quality publication but something more. It is itself a poem, in the sense of its architecture, conception and development. And it is also a meeting place", as Illiopoulou eloquently put it. The sub-title of the magazine (on the reflection the poetic phenomenon) precisely defines the respective research on what this phenomenon can be today, how it manifests itself, in what way and with what ties it is connected to the past, how it is detected by theory and how it runs through all aspects of artistic creation, how it creates communities, how it sharpens our critical ability and creates poetic knowledge.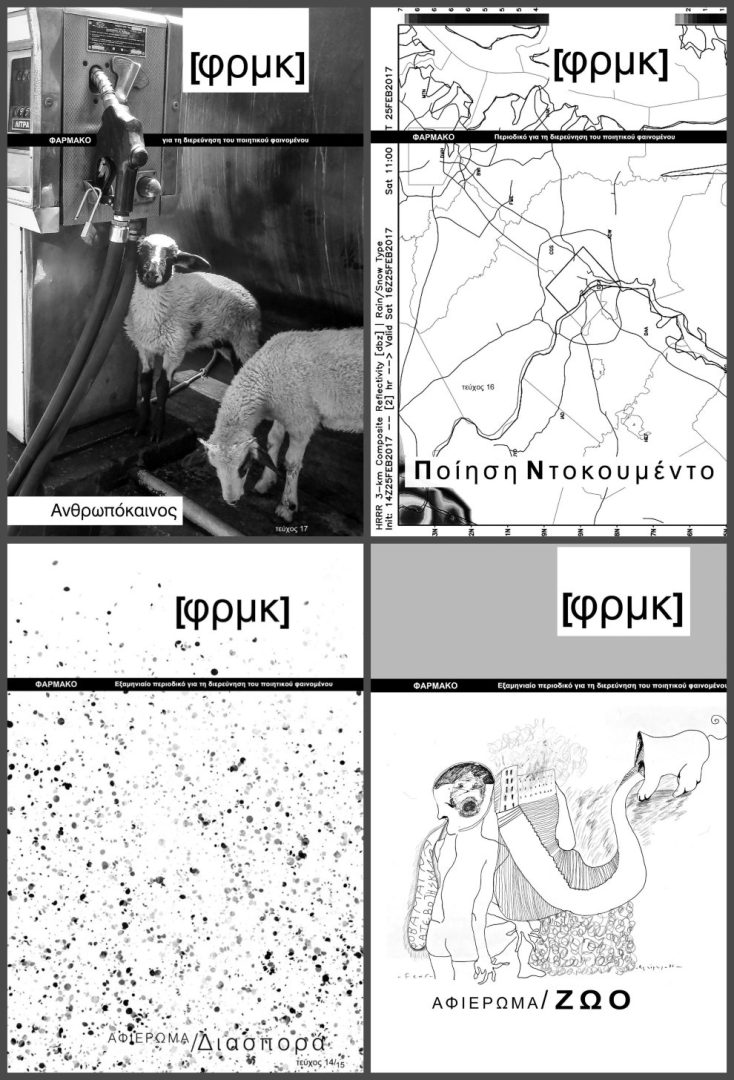 Indeed, [FRMK] traces the contemporary poetic and artistic scene, presenting cutting-edge works by Greek-speaking poets who began publishing after 2000 as well as translated post-war poets from various languages ​​and often for the first time in Greek, along with contemporary theoretical texts both original and translated. Considering art as a unified field, it includes a purely visual section, which functions as an independent printed exhibition and presents contemporary Greek visual artists. [FRMK] has also organized and presented poetic performances and shows, collective readings and discussions with the participation of numerous poets as well as theorists and artists from different fields in various places in Athens as well as at the international art exhibition Art Athina and the Thessaloniki International Book Fair.
In its ten years of publication, FRMK has published extensive tributes regarding the relationship of poetry with knowledge, disease, the text in visual arts, the human animal, the political in art, diaspora, documentary poetry and the Anthropocene.Τhese tributes usually constitute a synthesis of theoretical and poetic texts. Each requires an extensive months-long research along with a group of collaborators who are stable but also constantly enriched. "By converging diverse fields including literature and art, thought, politics and social sciences, there is created a work of reference as well as a virtual space for action, knowledge and dialogue. The translation of a diverse and extensive number of related texts, both theoretical and literary, for the first time into Greek, constitutes an offer and an opening of the field in Greece, a channel of communication but also an invitation for original works by young scientists, writers and artists", Illiopoulou explains.
The current issue titled Anthropocene is also addressed to a variety of audiences, so as to be informed and reflect on the broad concept of the Anthropocene and the importance it has for understanding the world we live in and its political, cultural and historical consequences. Far beyond, the magazine's editorial team hopes it will lead to the realization that this term is not only about a dystopia but a field of reflection, a prism of viewing the world that reveals its contemporary aspects and creates links between the global and the local, while it also inspires thought and creative ferment for potential answers and considerations for the future.
"We raise the question of what cultural products can do in terms of enriching the scientific archive but also as forms of intervention to it. And yet: can we draw on historical experience and literary representations to invent alternative ways of thinking about 'ecology' (in its broadest sense), economics and politics? In what way do the works of art establish a field of radical thought but also a moral attitude towards extremely complex issues that question the dominance of the human presence on the planet?", says Illiopoulou, and adds that "the relation between social science and poetic creation usually remains ambivalent. It makes sense to think of poetry as something that reaches out from aesthetics to ethics at the heart of questions about how to act in the modern age".
A.R.
Read also: Reading Greece: Katerina Iliopoulou on Poetry, Language and Art as a Denial of Defeat; Reading Greece: Orfeas Apergis on Poetry as Ferment, Experimentation and a Promise of Revolution; Reading Greece: Phoebe Giannisi on the Meeting Point between Poetry, Performance, Representation and the Natural World; Panayotis Ioannidis on Poetry as an Art of Sounds and the Quest to Immortalise the Moment through Words; Reading Greece: Iana Boukova – "We Should Learn to Use the Way of Poetry to Walk in the World"; Reading Greece: Theodoros Chiotis on 'Futures: Poetry of the Greek Crisis
TAGS: LITERATURE & BOOKS | READING GREECE