The small Greek island of Tilos has made its official commitment to become a Zero Waste Candidate City, thanks to the Just Go Zero Tilos an initiative. The Zero Waste Cities Certification is a robust European third-party assessed certification standard, developed by Zero Waste Europe (ZWE) and operated by its sister organization Mission Zero Academy (MiZA).
Just Go Zero Tilos
Tilos has a population of about 350, increasing to 800 during the peak summer months. Waste management used to be heavily relied on landfill; however, in the latest years, thanks to initiatives by the municipality, the community, and a private agent with the know-how, the island has moved towards a zero-waste model dominated by prevention, reuse and resource recovery.
Just Go Zero Tilos, an initiative of Polygreen, a company which focuses on circular economy in waste and resource management, began its implementation in June 2021. In one year since the implementation of door-to-door separate collection and separate organics collection and management, 100% of the residual waste has been diverted from landfill while recovery rates are approaching 90% and the landfill facility has been closed.
Zero Waste means that all waste produced on the island is collected and managed in a fully circular way in order to eliminate its environmental footprint. Public dustbins have been eliminated in favor ofsorting at the source and door-to-door collection, with the aim of composting, recycling and reusing.
The old landfill has been fully transformed and now operates as a Centre for Circular Innovation, where waste is transported to be further sorted and processed; what cannot be recycled (biowaste) is converted to fertilizer. The rest is reused or prepared for waste to energy conversion. For example, old furniture, defective devices, old fabrics etc. collected and transported to the Center for Creative Upcycling to either be repaired and reused or become raw materials for art and creation.
This model of public-private partnership not only benefits the environment but is also a significant investment transforming local waste management infrastructure, building the green transition capacity of the local community and creating more than 10 permanent or seasonal new jobs. Furthermore, it creates a new paradigm that can be implemented by other communities in Greece and abroad, and helps promote Tilos as an international destination for sustainable tourism.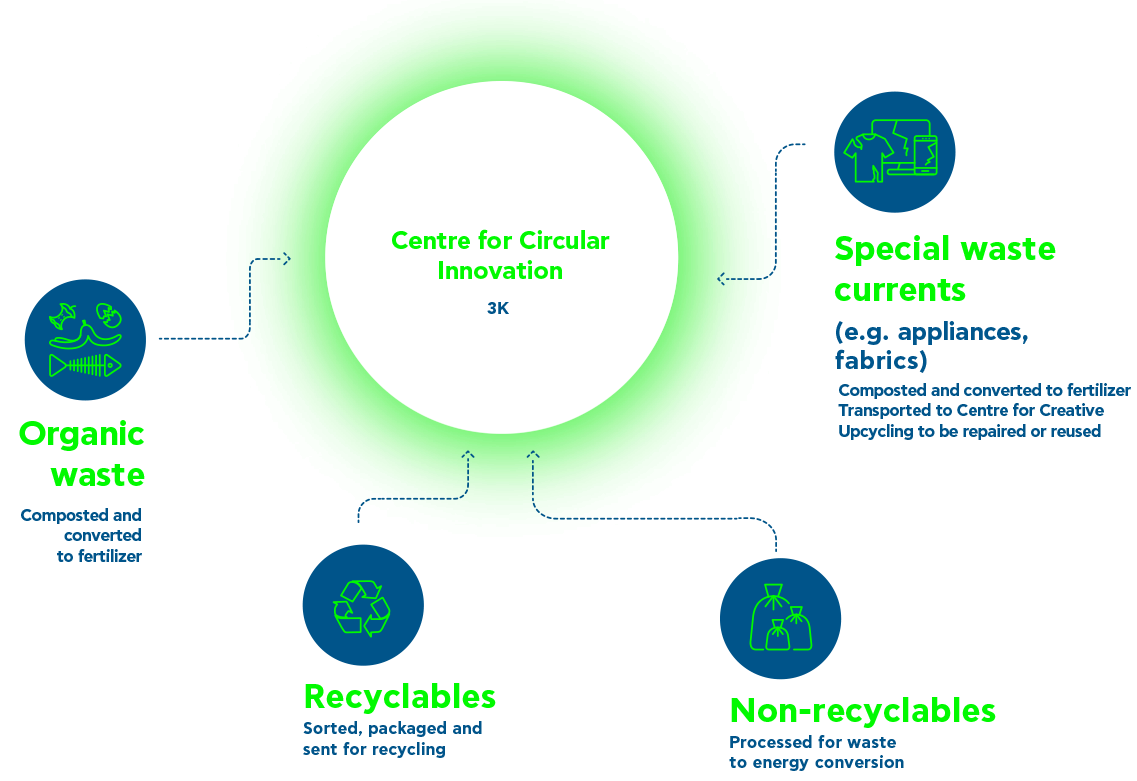 With its official candidacy to join the Zero Waste Cities network, the Municipality of Tilos is committing to a continuous effort to prevent and further reduce its waste and begins its collaboration with MiZA, ZWE and the Ecological Society of Recycling.
Within its commitment, the Municipality of Tilos' zero waste strategy has a long-term vision, which includes:
A constant pursuit of the 90% municipal waste diversion from final disposal;
Keeping the figure of less than 10% generation of residual municipal waste per year;
Reduction of waste production with special emphasis on the seasonal fluctuations produced by the increasing touristic activity;
Encouragement and promotion of reuse and upcycling activities and initiatives;
Mobilization of consumption habits modification and active participation of both residents and visitors towards the zero-waste target;
Prevention of the ecosystem degradation, upgrade of the island's natural resources and improvement of the residents' quality of life.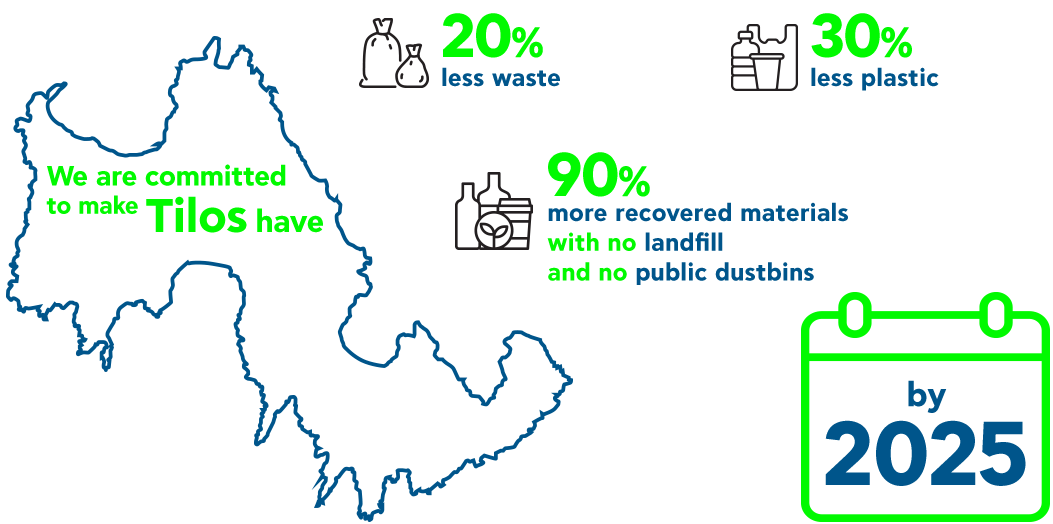 TILOS project
It should be noted that this is not the first time that the small island of Tilos adopts pioneer methods towards a more eco-friendly and sustainable life: thanks to the pioneering European research project TILOS (Technology Innovation for the Local Scale), an intelligent, innovative micro-electric power line has been developed on the island (based on the hydrological scheme of wind and solar energy and advanced technology accumulators), making it energy self-sufficient and largely free from fossil fuel-based electricity generation.
The TILOS project, which is now completed, has won several distinction since the beginning of its implementation; in 2017 it won an EU Sustainable Energy Award for outstanding innovation in energy efficiency and renewables, becoming the first-ever EUSEW "Energy Islands Award" winner.
Sources: Mission Zero Academy, Just Go Zero Tilos
Intro image: Visit Greece / ©Militos
Read also via Greek News Agenda: A record-breaking summer, one step closer to sustainable tourism; Chalki, the first Gr-Eco Island; The "Smart Green Island" of Astypalea; Tilos island: A future energy paradigm for the country?; Green energy in Greece | The sustainable answer to climate and energy crisis