The National and Kapodistrian University of Athens, the oldest higher education institution in Greece, launched its E-Learning Program in 2001; today, its platform offers over 450 different programs in Greek and 45 programs in English, covering a vast array of interests and fields of knowledge, and has 165,000 registered students.
E-Learning Program
The Supplementary Distance Education Program (E-Learning) is implemented by the Center of Continuing Education and Lifelong Learning (K.E.DI.B.I.M.) of the University of Athens (UoA). It employs a user-friendly educational platform which integrates new technologies. The programs are conducted solely via the Internet and are addressed to all age groups.
Depending on the requirements of each program, applicants can be high school or vocational school graduates, or people with a university degree. All new programs are designed taking into account the knowledge and skills required in the labor market at national and international level in order to create a dynamic and competitive professional profile.
Each course is certified by NKUA and has been developed in collaboration with researchers and academics as well as faculty from different schools and departments. Credit points for Vocational Education and Training (ECVET) are awarded in most of the programs, while graduates, in addition to the Certificate, also receive the Europass Diploma Supplement. The use of ECVET allows the recognition, transfer and accumulation of credit points between programmes of different Educational Centers.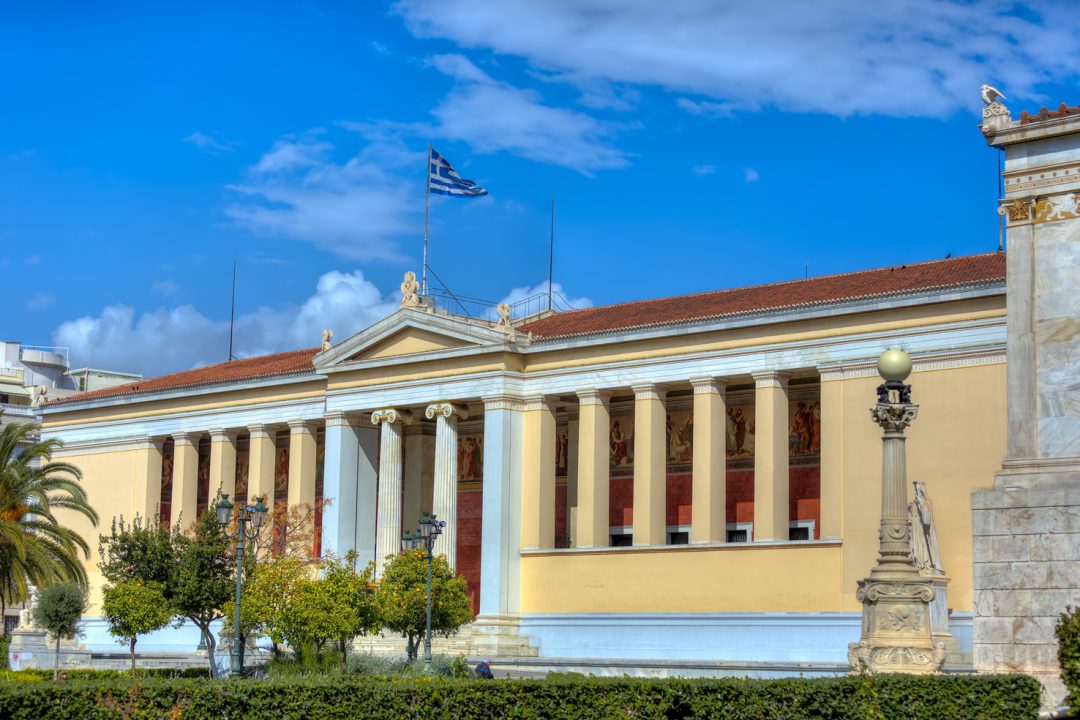 Online Programs fall into the following broad categories:
Arts / Culture
Greek Language
Business / Economics
Coaching
Environment / Architecture
Health
Intangible Cultural Heritage
Law
Nanotechnology / Nanomedicine
Security Sciences
Translation
An overview of some of the most popular programs
Below we present a few of the most popular programs offered through the University of Athens (UoA) E-Learning platform.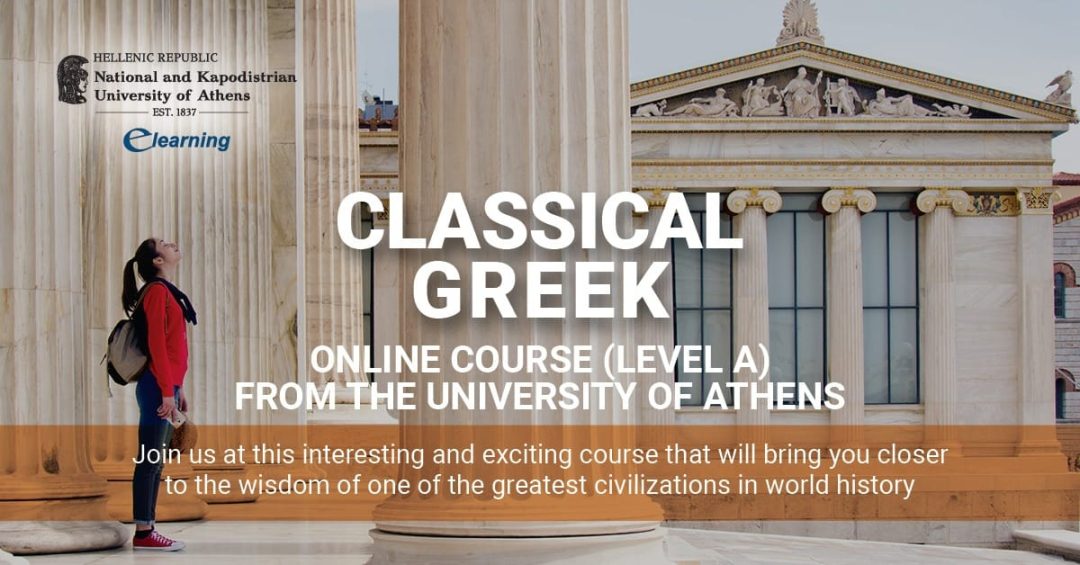 Classical Greek
The "Classical Greek – Level A" program is a pioneering initiative of UoA's E-Learning, aimed at promoting the rich heritage of the Greek language and culture. The program's objective is to teach ancient Greek and give the opportunity to people from various countries to discover the roots of the language and culture of one of the most influential civilizations in Western history. No prior knowledge of ancient Greek is required.
The 12-week program features written theory, exercises, videos, as well as communication and collaboration with the instructor. The program also presents some of the finest excerpts from ancient literature. It has been developed in collaboration with specialized researchers, academics and professors from various fields and is specifically designed for non-Greek-speaking learners.
The Classical Greek program was launched in October 2022 and was met with enthusiastic response, attracting from various countries, including the USA, Australia, Canada, India, the United Kingdom.
The program leads to a Certificate of Continuing Education.
For more information, please visit the program's official webpage.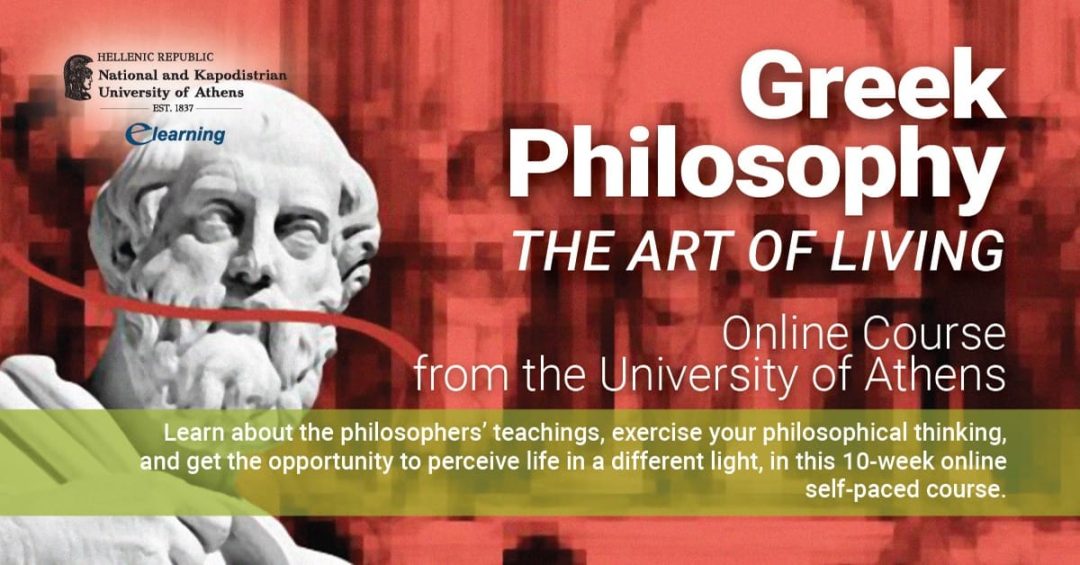 Greek Philosophy
The program "Greek Philosophy: the art of living" presents the philosophy of ancient Greeks, while also bringing the teachings of those philosophers to the present day, by applying their forms of thinking to current problems, in order to offer a new perspective and therefore a different way of coping with them.
This online course does not only aim at introducing you to the thought of Heraclitus, Democritus, Socrates and other philosophers, but also at helping you find alternatives in a world of dazzling change. For example, the philosophies of Aristotle and Plato are analyzed in Business Ethics, in order to teach managers how to run their organizations better.
The program leads to a Certificate of Continuing Education.
For more information, please visit the program's official webpage.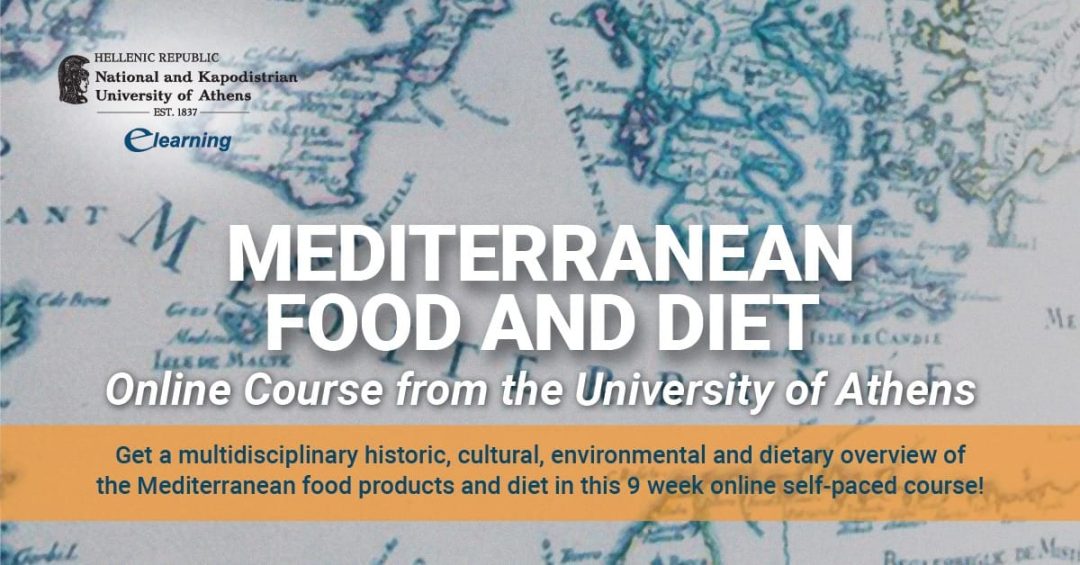 Mediterranean Food and Diet
This online course is a multidisciplinary Historic, Cultural, Environmental and Dietary Overview. Its purpose is to introduce participants to the Mediterranean diet and key food products, as well as to the intangible cultural heritage and goods that are related to food: customs, traditions, social status, culinary practices and tools, ceremonies, and values. This course is ideal for anyone interested in nutrition and its multiple cultural dimensions.
It also offers an exciting journey to the various cultures and traditions of the Mediterranean countries, navigating their similarities and differences regarding recipes, food production and cooking methods.
The program leads to a Certificate of Continuing Education.
For more information, please visit the program's official webpage.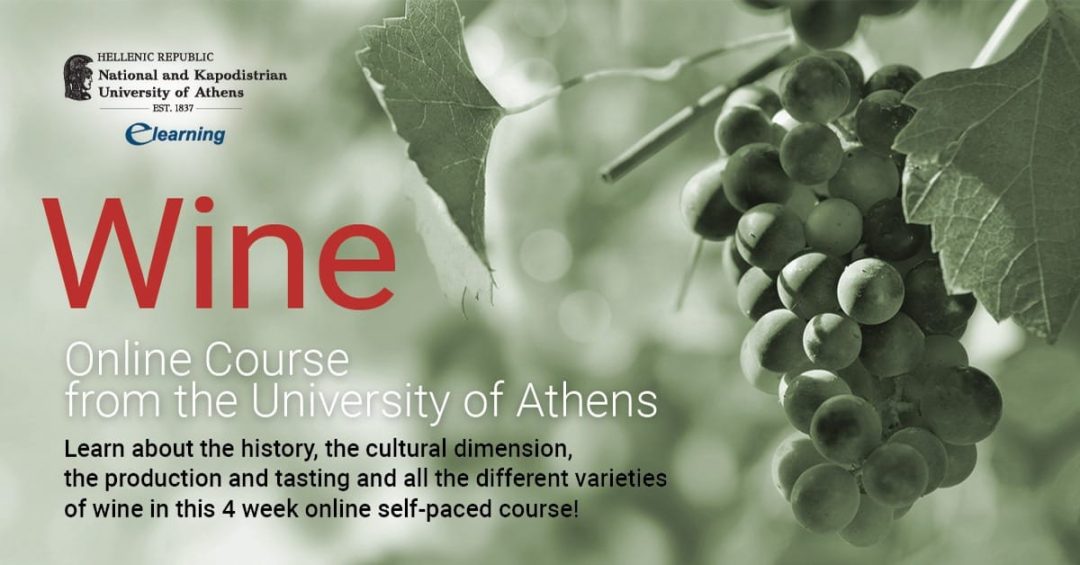 Online Course about Wine
Wine has been an integral part of Greek cultural heritage and agricultural production for more than 4.000 years. Through this online course, participants can learn about how wine was produced for the first time and what its cultural history is.
They will also have the opportunity to find out the secrets and techniques needed to in order to make one's own wine. The course also offers information on the nutritional value of wine and the ways in which it can be combined with food or used in food preparations.
The program leads to a Certificate of Attendance.
For more information, please visit the program's official webpage.
Cooperation with GSGAPD
The General Secretariat for Greeks Abroad and Public Diplomacy (GSGAPD) of the Hellenic Ministry of Foreign Affairs has launched a collaboration with the National and Kapodistrian University of Athens with the aim of promoting the E-Learning Programs on an international level.
The GSGAPD helps raise awareness of the Athens University's long-distance programs by engaging the Embassies and Consular Authorities of Greece abroad, as well as the Greek Diaspora in general, in keeping with its pledge to promote Greek culture and Greek studies worldwide through the use of public diplomacy.
The ultimate goal is to further promote Hellenism and Hellenic Civilization all over the world and offer an in depth understanding of Greece's history and culture, through, inter alia, the University of Athens E-Learning courses covering Ancient / Modern Greek Language, Mediterranean Nutrition, Philosophy etc.
More details on the all E-Learning programs, their contents, cost of participation, etc. can be found on its official website; for more information about the Greek-speaking programs visit the official website (in Greek). Contact details: E-Learning University of Athens, email: info@elearninguoa.org tel: +30 2103689396
TAGS: EDUCATION | GREEK LANGUAGE | STUDY IN GREECE