The inaugural London Design Biennale opened its doors at Somerset House on September 7, with installations by architects and designers representing 37 countries. Each project responds to the theme of "Utopia by Design," aspiring to explore big questions and ideas about sustainability, migration, pollution, energy, cities and social equality.
Pairing with the Hellenic Ministry of Culture and Sports, together with Emmy-awarded lighting designer Eleftheria Deko and graphic designer Domnika Gregoriades, Sisters Niki and Zoe Moskofoglou of on • entropy have created a digital marble landscape aiming to convey the feeling of utopia through marble and its innate landscape.
Included in the Top Five Picks of the Biennale, according to NY Times, Utopian Landscape is a digital recreation of a marble quarry at Dionysus, offering potent ground for an investigation into heritage, trade and population movement. The installation features a video projection of the quarry, transporting viewers to Mount Pentelicus, the birthplace of the stone used in constructing the Parthenon as well as the more contemporary National Library of Greece and the Greek National Opera. The video also show the history of transporting marble and the shifts in cultural and social migration it brought to the Greek community. The second room features a digital recreation of a solid 1.2-ton Pentelikon block structure — and a light installation by Eleftheria Deko that creates a sense of fluidity against the sturdiness of the marble.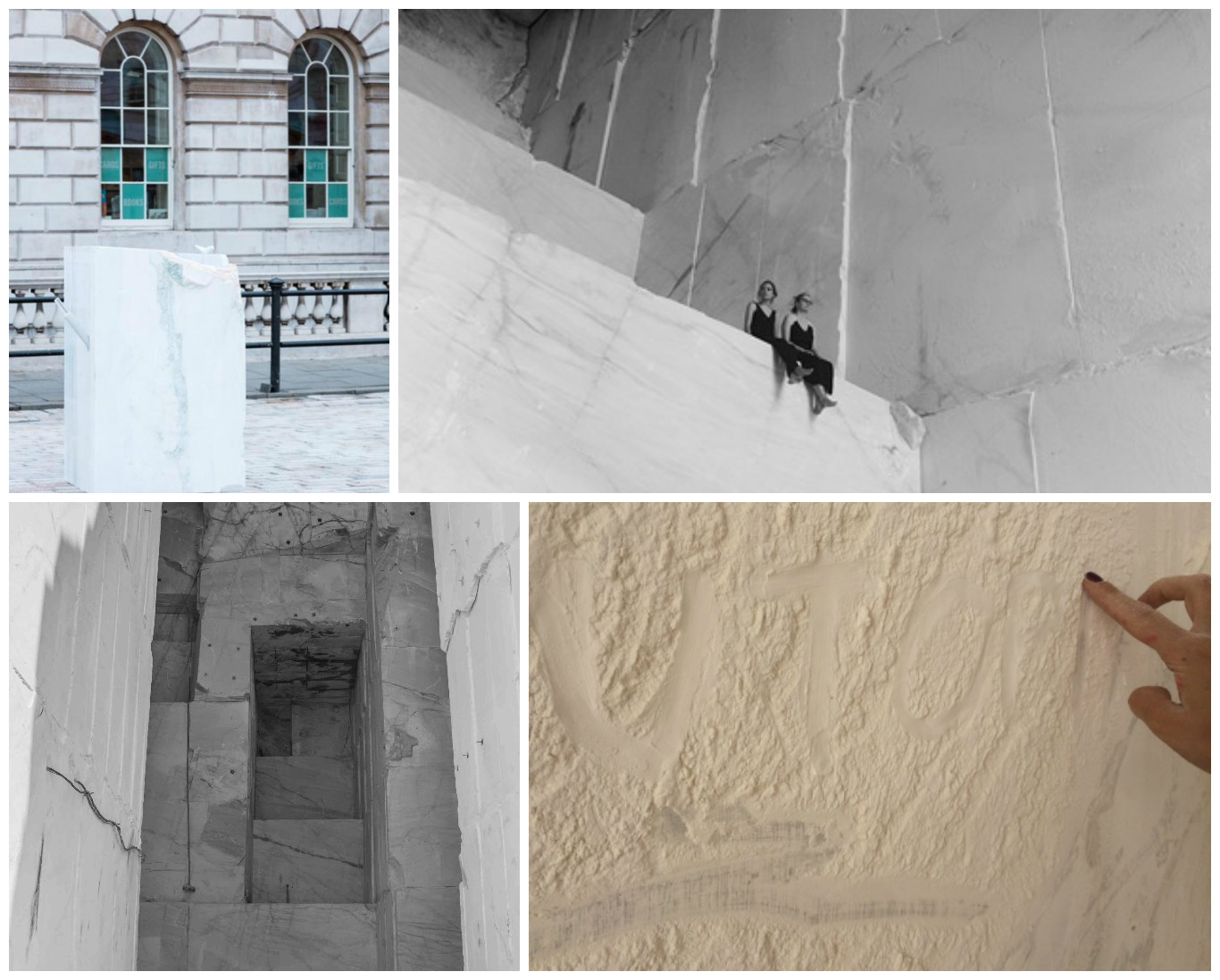 The Greek team references the current flows and transitions of people, contextualized against a long history of population movement through Greece – a geographic bridge between east and west. The aim is to explore the complex relations between landscape, heritage, identity and materiality in varying historical spatial contexts. Marble sets the backdrop and foundation where the utopian narrative takes place: the landscape. Its imperfections, veins and natural flaws render the marble's strata a map in itself with its deltas, uneven terrain and infinite routes. Storytelling through the installation reminisces of travelling through landscapes as places of cultural heritage and spaces of desire. It confronts a sense of identity and belonging, viewing the self through time and place.
Read more about the Utopian Landscape installation here: LDB booklet