Thirty-seven years after his death, the oeuvre of Nikos Engonopoulos is showcased in "Orpheus of Surrealism", a grand retrospective exhibition running through June 19, 2022, at the B. & M. Theocharakis Foundation. Curated by Takis Mavrotas, the show features 140 works by Nikos Engonopoulos, taking visitors on a journey through the surreal world of the great Greek painter.
Nikos Engonopoulos (1907-1985) is Greece's foremost surrealist painter, as well as one of the most iconic members of the so-called 30's Generation, a group of Greek poets, artists, and intellectuals who endeavored to combine modernism with tradition. Despite European surrealism in which humanistic values collapse or are stigmatized irreparably, Engonopoulos' style remains deeply anthropocentric and his figures retain their original emotional coherence and spiritual balance.
Thus, his world is a universe of painting with imaginary heroes from mythology, literature, history, and poetry. An unexpected world, uniting the past with the present, showcasing the power of the surrealist expression through painting, using pure colors and strong drawing skills. As Errieti Engonopoulou points out, her father's belief was that:
"With Art we can face the incoherence of life. Art can alleviate our life, our journey towards death."
Born in 1907, Engonopoulos studied at the Athens School of Fine Arts under Konstantinos Parthenis and Fotis Kontoglou. During his studies, he traveled to Paris, Vienna, Munich, and around Italy for artistic inspiration. Upon his return to Greece and the completion of his studies in the late 1930s, the artist began to work as a lecturer in painting, art history, and scenography at the School of Architecture of the National Technical University of Athens, where he was later appointed Assistant Professor in 1945 and Professor in 1967.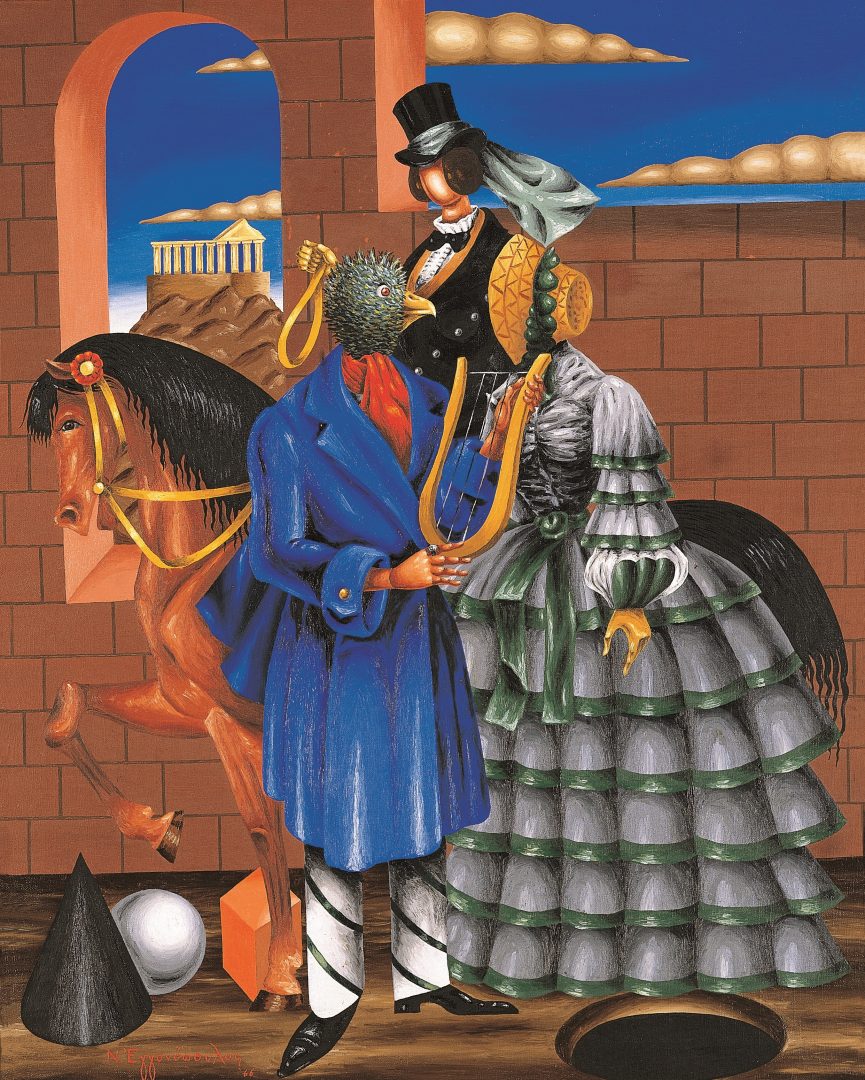 Even though Engonopoulos had represented Greece in major international exhibitions, such as Venice and Sao Paolo Biennials, the road to success was not evident from the beginning. In fact, his first solo art exhibition, held in 1939, caused an extreme critical reaction. With influences from the metaphysical world of De Chirico and the transcendence of Byzantine art, he tried to express the universality of Hellenism. During the same period, he published his first collections of poems entitled "Do not talk to the driver" (1938) and "The Clavicembalos of Silence" (1939) – now considered classics of modern Greek poetry- which, however, provoked strong reactions at the time. His only defender was Greece's other exponent of surrealism, Andreas Embirikos, who wrote to Engonopoulos: "In this world, two are the greatest and most valuable elements, Eros and the Sword. Everything else just follows and last of all follows criticism. You are a really great poet, so let others say whatever they want".
Engonopoulos – who lived by Horace's maxim Ut pictura poesis: "as is painting so is poetry" or, more freely translated: "Painting and poetry must be based on the same principle – has been honored in Greece and internationally for both his paintings and his poetry. Among others, he was awarded the first State Poetry Prize in 1958, and about a decade later, he was honored, as a painter, with the Golden Cross of George I. His work is displayed in the National Gallery in Athens, as well as in museums, galleries, and private collections across Greece.
More info: visit Nikos Engonopoulos and B. & M. Theocharakis Foundation websites
Read also on GNA:
E.S.
TAGS: ARTS | FESTIVALS | GLOBAL GREEKS | HERITAGE