Panayiotis Tetsis, one of Greece's most notable postwar painters and academics, died March 5, 2016. "Who can really imagine the history of modern Greek painting without Tetsis?" noted the director of National Gallery, Marina Lambraki Plaka, a few days prior to his death, at an event held by the Ministry of Culture, which honored Tetsis with the state's first biannual Visual Arts Award Yannis Moralis.
A life full of exhibitions and distinctions
Born in 1925 on the Saronic island of Hydra, which along with Sifnos would inspire much of his later work, Tetsis took his first painting lessons in 1940. He graduated from the Athens School of Fine Arts in 1949, when he formed with other prominent Greek artists – Nikos Hadjikyriakos-Ghikas, Yiannis Tsarouchis, Yiannis Moralis, Nikos Nikolaou and Nikos Engonopoulos – the "Armos" art group. In 1951 he was appointed lecturer in free-hand drawing at the Faculty of Architecture of the National Technical University of Athens, and then professor at the Athens School of Fine Arts. Tetsis pursued postgraduate studies at Paris' famed Ecole des Beaux Arts from 1953-1956, where he was taught engraving.
In the course of his career, he held over 90 exhibitions and partook in numerous group exhibitions in Greece and abroad. He participated in the Sao Paulo Biennale (1957) and the Alexandria Biennale (1959). His retrospective exhibition, 35 years of painting (Pieridis Art gallery, 1992), was also shown at the Municipal Galleries of Mytilene, Patras, Kalamata, Chania and Rhodes. More retrospective exhibitions followed at the Athens National Art Gallery (1999), in Florence, Cyprus and elsewhere. His last exhibition was held in 2015. He bequeathed 210 of his works to the National Gallery. In his honour, the National Gallery will exhibit one of his best works, 'Laiki agora', at a hall that will bear his name.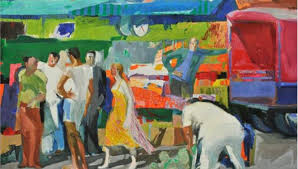 Tetsis has received many distinctions, the Critics' Prize (Keranis Award) for his Shipyard (1962), a grant from the State Scholarships Foundation (1953), an honorary scholarship from the Italian state (1960), and a grant from the Ford Foundation (1972). In 1993 he became a member of the Academy of Athens, and in 1999 he was awarded the title of Grand Commander of the Order of the Phoenix.
A great artistic flair
According to the French Romantic artist Eugene Delacroix, the first virtue of a painting is that it be a feast for the eyes. This quality features prominently in the work of Greek artist Panayiotis Tetsis. What is deeply moving in the case of Tetsis is an unrelenting energy that urges him to work for long hours under the hot Aegean sun or dash up the trees next to his home on Hydra to gather lemons. He displays the same vitality when he uses his paintbrushes, transforming them into a stream of love that connects everything he holds dear: friends and places, the trees and the sea. It is precisely this pure, sincere relationship between the artist and his subject matter that also moves audiences.
"The Greek landscape always warms my heart and inspires me. I try to visit Hydra in the winter when the island is empty, the sea colours are gorgeous and the people are very calm. There are no socialites in view," he said in an interview with Kathimerini. "If we are to stand on our feet, if we are to work and hope, we all need to find something to hold on to".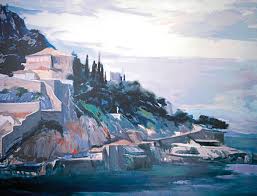 In his paintings, he has always maintained constant links with the senses. His gaze was trained in reading the light and translating it into pure forces of colour. Panayiotis Tetsis literally builds with colour, translating light and shadow into calculated units of pure and gleaming colour. This endeavor is far from easy, for Greek light, according to the artist, "democratically flattens out all tones" and makes strong colours fade. Tetsis finally managed to establish Greek painting that is at the same time phototropic and colouristic.
Thetsis guides the viewer's gaze toward the inner motions of the soul, which is why he only paints what he is intimately familiar with: his friends, landscapes from the island of Hydra or Sifnos, the last rays of the sun, the Friday open-air market on Xenokratous Street, in Athens, and still-life paintings, depicting objects with which the artist maintains a constant tactile and visual relationship. Balancing discipline and emotion, his singularity, according to the director of Basil & Elise Goulandris Foundation Kyriakos Koutsomallis, is found in his combination of "elegiac colour tones, compositional clarity and precision, thematic variety, a monumental character and freely, openly sketched contours".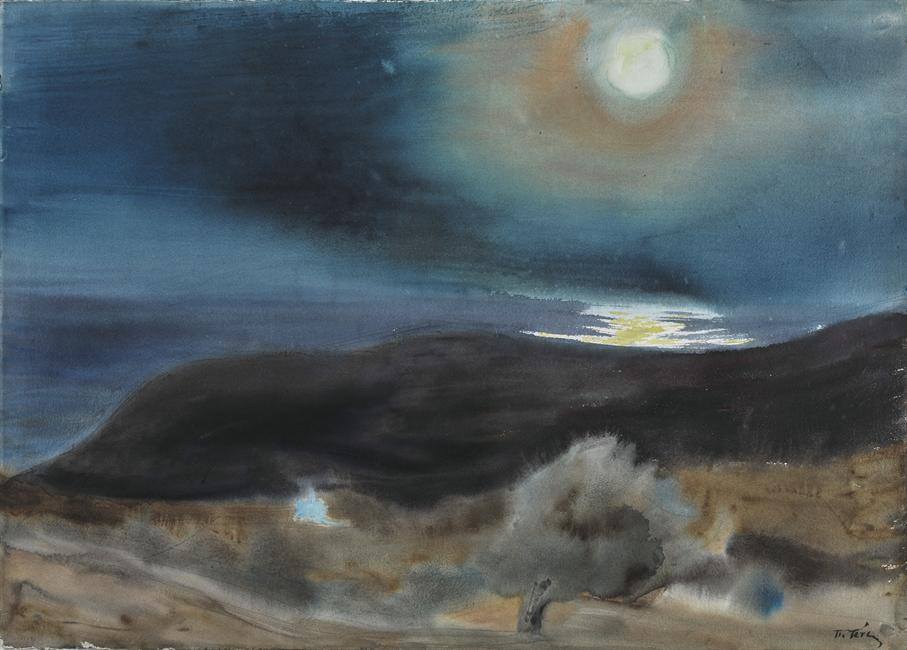 It was evident from the outset that Tetsis' paintings had assimilated abstract and modernist characteristics, remaining, nevertheless, figurative. His depictions of the sea have an abstract quality in the same way that the sea itself is not a clear blue but goes through often imperceptible transformations. These vary from subtle and dramatic variations of colour to the outbursts of its swiftly changing moods: serene and epic in its solitude, or raging wild and menacing. Applying generous brushstrokes, Tetsis avoids repetition by rejuvenating his chromatic palette, capturing the swift changes observed in nature. His solid-built composition, the abundant colour, the inimitable metier of a fine craftsman, all helped transform the most insignificant motif into a memorable painting event.
"If I take a long voyage at sea, I get bored," Tetsis said, "and I don't agree with Cavafy that headed for Ithaca we ought to hope that the voyage lasts as long as possible." […] "I paint a large number of my seas from memory. I don't need to paint them from life. And even if I do, I change them later in my studio, even changing them totally." In this spirit the dazzling, at times oppressive, Greek light that can distort form by causing its contours to dissolve is counterbalanced in Tetsis' compositions so as to preserve the form's three-dimensional presence.Viewers are invited to recreate the image that stimulated the painter through their own perception, enjoying at the same time the creative process, the visible poetics of the work.
Watch the documentary Panayiotis Tetsis – "Playing…with colours" (2014) by Yiannis Vamvakas
TAGS: ARTS | GLOBAL GREEKS