In order to promote a nation's image to a wider international public, Public Diplomacy uses modern instruments and techniques of communication to inform large or influential segments of foreign audiences that may even motivate them to a particular course of action[1]. Public Diplomacy involves a two-way model of communication by building relationships, understanding the sensitivities of other countries, cultures and peoples, communicating a country's points of view, correcting misperceptions and looking for areas where a common cause can be found[2]. As Jan Melissen argues, "the world in which public diplomacy was considered as one of the leftovers of diplomatic dialogue is rapidly disappearing. So is the world in which public diplomacy can easily be dismissed as an attempt at manipulation of foreign publics"[3].
Greek News Agenda interviews* the newly appointed Secretary General for Public Diplomacy, Religious and Consular Affairs Constantinos Alexandris on the priorities of this recently founded Secretariat. Born in Athens, Constantinos Alexandris is a career diplomat. He served at Greece's Embassies in Washington, Tel Aviv and Ankara. He studied Law at the National and Kapodistrian University of Athens and holds a postgraduate degree in European Law.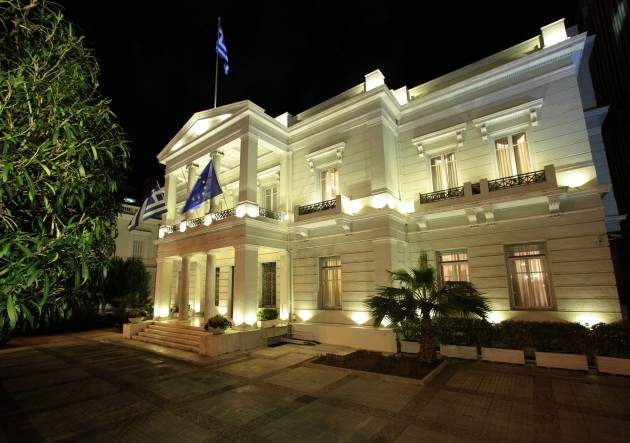 The Ministry of Foreign Affairs
One of the changes implemented by the government is the introduction of the new General Secretariat for Public Diplomacy, Religious and Consular Affairs in the Ministry of Foreign Affairs. How will this promote our foreign policy goals?
Public diplomacy is a key "soft policy" mechanism which, thanks to new technologies and social media, is gaining greater importance in our country's efforts to promote its image. Having realized that, the newly elected Government moved swiftly and, on day one, introduced this Secretariat, aiming at the coordination and streamlining of policies and projects of different Agencies. We expect thus to multiply the impact of our human and material resources and transmit a more coordinated and targeted message abroad.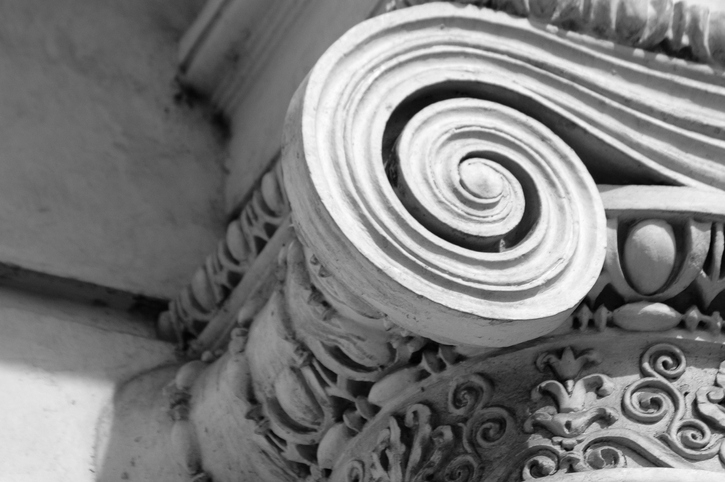 Ionic column – Stock photo Getty
What is the new 'national image' of Greece and how do you plan to promote it?
Greece's brand is already very strong, thanks to our ancient civilization which is widely acknowledged as the cornerstone of western civilization. You read about Greece in every history, philosophy and political science book around the world. You may identify elements of Greece in the arts, literature and sciences, in each one of us who adheres to the values of humanism. This is our greatest asset. Unfortunately, the decade-long economic crisis inflicted a severe blow to our country's image, fueling the reproduction of negative stereotypes. This is what we are trying to reverse today, by bringing up the comparative advantages of our nation which has been not only the bastion of universal values but also a conduit of cosmopolitanism, openness, resilience and creativity. In other words, it is high time we rediscover our extrovert nature and look at the future with self-confidence. It is time to "rediscover Greece". This requires good planning, hard work and believing in our ability to bring Greece back to the vanguard of progressive and developed nations.

Getty Images- View of Athens from Filopappou Hill, Greece – stock photo
Could you offer some examples?
A good example is the milestone of the bicentennial celebration of the Greek War of Independence. This anniversary is a great opportunity to shed more light onto what our nation has achieved in these two centuries: the very establishment of our state, against all odds I would dare say, as well as the fact that despite setbacks, wars and hardship, we managed to always stand on the right side of history, make the right strategic choices for our future, become an integral part of strong alliances and organizations and claim our rightful place among the developed nations of the western world. Besides, apart from our achievements as a nation, we should not ignore all those contemporary Greeks who have gained international acclaim and elevated our country's image, including Nobel laureates, artists, doctors, mathematicians and other scientists, not to mention our compatriots who have made Greece a leader in the shipping industry. In addition, let us keep in mind that not many countries in the world are blessed with the full package of history, natural beauty, protection of human rights, security and "joie de vivre". All of the above already constitute a powerful narrative that may pave the way for more growth. The next few years will signify a turning point for our country in terms of enhancing extroversion and attracting large investment capital. The MFA will be at the forefront of this collaborative effort and Public Diplomacy will play a significant role in reestablishing Greece as a land of creativity, innovation and economic growth.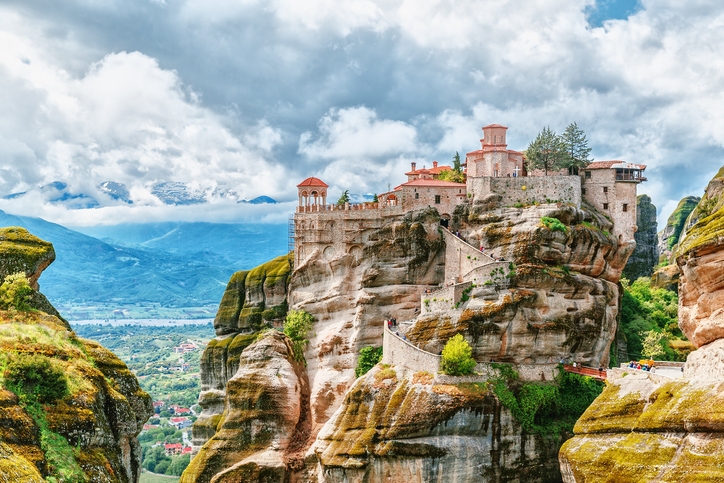 Meteora monastery, Greece. UNESCO heritage list -stock photo
What are the specific goals of your Secretariat in the framework of promoting a new national image?
The first major challenge is to integrate the Press Counselors and Secretaries sector into the MFA structure. Our effort is to make this transition as smooth as possible in order to better use the skills of these qualified professionals in favor of our common goal to modernize and enrich our public diplomacy.
In addition, this Secretariat oversees Religious, Cultural and Consular Affairs.
When it comes to religious affairs, Greece could be a key player, as a country endowed with a strong Orthodox culture and the ability to better understand other cultures due to its geographic position on the crossroads of continents, civilizations, and religions. After all, what is often hard to find in international affairs is empathy. This is where religious diplomacy can play a positive role, as a tool to better understand other peoples' values and sensitivities. For Greece, church affairs also have an additional significance which derives from the pivotal role of the Church in the organization of our Diaspora communities.
That brings us to consular affairs. In this field, our endeavor is to make the lives of Greeks abroad easier by tackling red tape and modernizing the operation of our Consulates. New technologies can be a great tool to this end.
And last but not least, culture. I've already emphasized the positive role of our cultural heritage in Greece's global image. Here, the sky is the limit!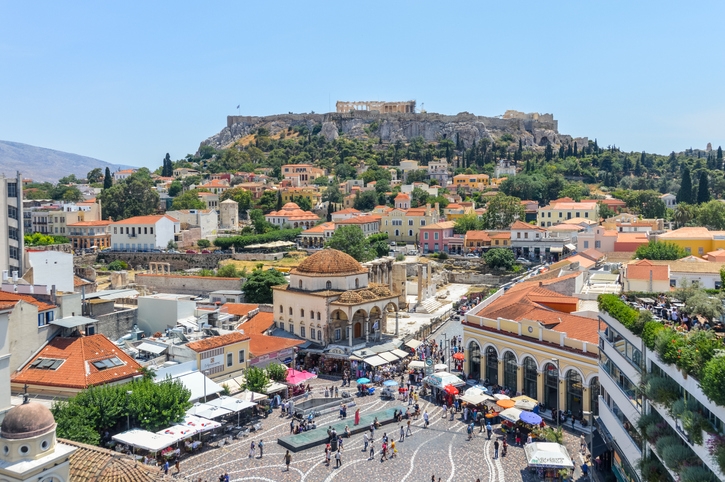 Monastiraki Square in Athens, Greece-stock photo Getty
Can you elaborate on that? How do you plan on promoting the new image for Greece via cultural diplomacy?
Greek culture, whether we talk about antiquity or modern times, has a very specific characteristic, i.e., the human being at its center (πάντων χρημάτων μέτρον άνθρωπος) and it is open to other cultures; it is not exclusive but inclusive. That is why our culture is our strongest asset in our mission to promote the extrovert, self-confident face of our country, a country that is timeless and where the old and the new co-exist harmoniously throughout the centuries.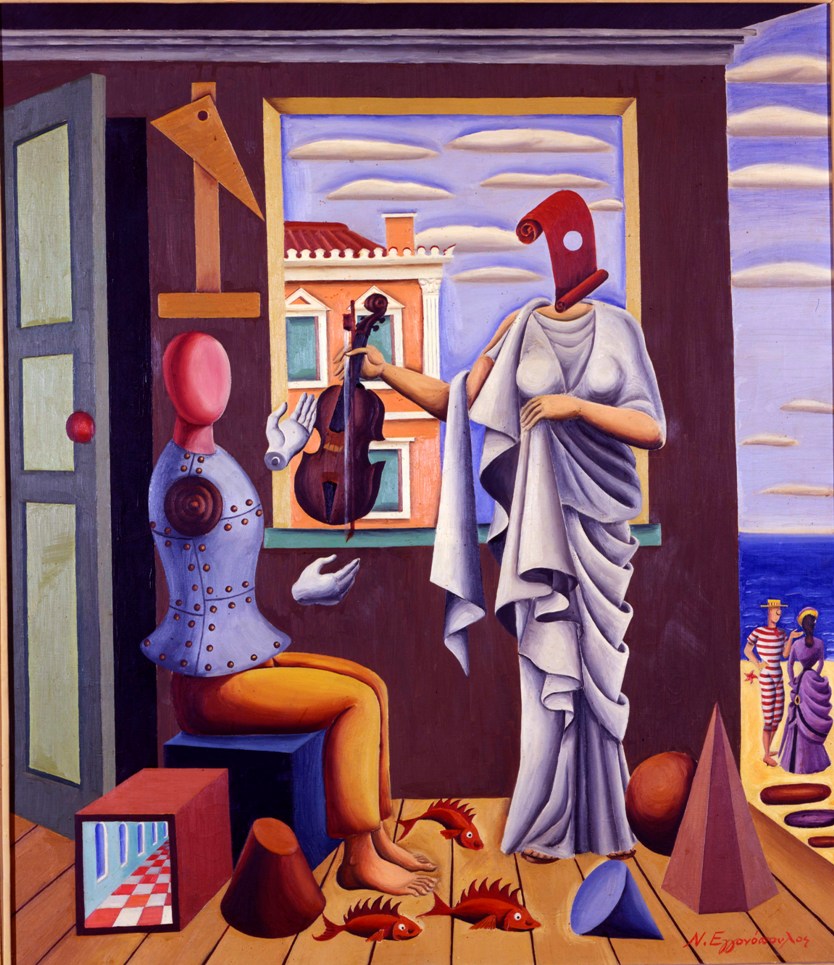 "Poet and Muse" (1938), Nikos Eggonopoulos
Let's end this interview on a more personal note: what are your own goals as head of this new Secretariat?
Allow me to say that this is not about me and my goals. This is a collective effort, requiring teamwork and a vision shared by everyone employed at this office. We are talking about a newly founded Secretariat, so this is a big challenge which encourages us to release all our creativity in order to set a successful and positive precedent for those who will replace us one day.
* Interview by Florentia Kiortsi
[1] James Pamment, "New public diplomacy in the 21st century: a comparative study of policy and practice", Routledge, Taylor & Francis, London, NY, 2013, p. 6-7.
[2] Mark Leonard et. al., "Public Diplomacy", The Foreign Policy Center, NY, 2002, p. 8
[3] Jan Melissen (ed.), "The New Public Diplomacy: Soft power in international relations", Palgrave, Great Britain, 2005, p. 11.