If there is ever a drink that symbolizes Greece, it is ouzo. Considered the country's national drink, no other beverage is indeed as uniquely Greek or as closely linked to a culture as ouzo is to Greece. There is an old Greek saying that "ouzo makes the spirit" and this is especially true in Greece where ouzo drinking is a way of life. The Greek spirit or "kefi" is found in hearty food, soulful music, and the love of lively conversation. People use to drink it along with good friends, either straight or watered down, with plenty of ice and always accompanied by delicious appetizers, called 'mezedes'. Greeks are very fond of gathering with friends around a table eating, drinking, laughing and toasting each other. Ouzo simply completes the picture and helps lift spirits higher and higher.
Moreover, ouzo has so many uses in Greek folk medicine that people often call it "To Farmako" (the medicine). In reasonable proportions, the aniseed-flavored aperitif is considered to have various health benefits for its consumers (insomnia, relaxation,toothache,decongestant,expectorant,antiseptic) alleviating some of the worst symptoms.
The word "Ouzo" cannot be translated; the origin of the name is actually disputed. Scholars believe the name ouzo comes from the ancient Greek verb "to smell," or "ozo." Another hypothesis is that the word "ouzo" comes from the Turkish word üzüm 'grape', while others say it can be traced back to a story about a Turkish consulate physician in Thessaly in the 18th century who tasted the local raki and cried out, "But this is uso di Marsiglia!" The phrase, meaning "for use in Marseilles," was at the time stamped on crates of silk worm cocoons exported from Thessaly to major merchants in the French port, and had become synonymous with any product of excellent quality.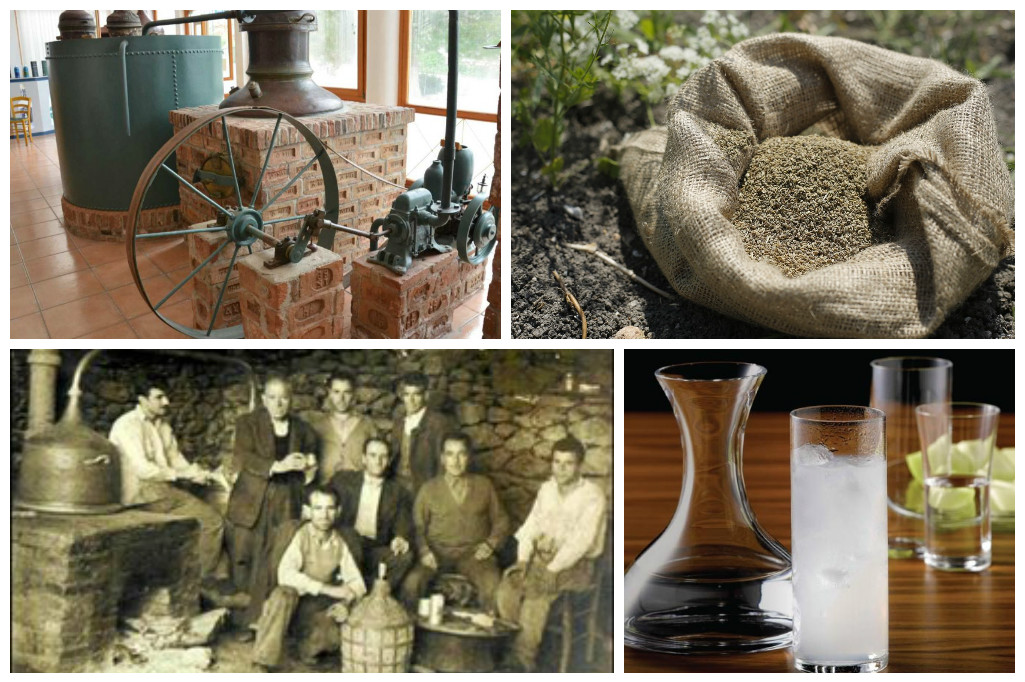 Ouzo's predecessor is tsipouro. However, the difference is that, right after distillation, the base spirit used to make ouzo is higher in alcohol than the base spirit used to make tsipouro. Additionally, tsipouro doesn't have to be anise flavored, but ouzo certainly does. The specific element distinguishing Ouzo from other aniseed-flavored spirit drinks lies in the aromatization method. In the majority of spirit drinks classified asanis, the aromatic constituents of the seeds are usually obtained by water and in turn added to the alcohol solution. As regards Ouzo, the aromatic substances are traditionally obtained naturally, by means of distillation of a solution containing water and alcohol in the presence of the seeds. That is why it is classified as distilled anis.
Ouzo's distillation largely took off at the beginning of the 19th century following Greek independence: in 1856, Nicholas Katsaros and his family opened the first ouzo distillery, which still produces ouzo today. Today, ouzo is produced throughout Greece, as well as in Cyprus. In total, there are over 500 labels and approximately 300 Ouzo producers, which results in a considerable degree of product differentiation. Each location prides itself on its ouzo but the most famous are from the island of Lesvos and from Tyrnavos in Thessaly.
The anise-flavored aperitif has experienced something of a rebirth in the past few years. Specifically, EEC Regulation 1576/89 officially gave ouzo its passport, designating it as an alcoholic beverage exclusively produced in Greece and in Cyprus. In 2004, five Greek regions with a long tradition and history in ouzo distilling received a Protected Geographical Indication designation for their ouzo production: "Ouzo of Mytilene", "Ouzo of Plomari", "Ouzo of Kalamata", "Ouzo of Thrace", and "Ouzo of Macedonia". Winning the right to call the country's trademark anise-flavoured aperitif ouzo as an exclusively Greek product means that "nobody outside Greece can make ouzo and call it that". As a result, most of the ouzo produced in Greek distilleries is currently exported around the world. For instance, Stathis Barbayannis in Lesvos, a fifth-generation distiller at the well-known ouzo production plant that is, along with Callicounis in Kalamata, one of the oldest distillers in Greece, exports 30% of its production to 18 countries: around Europe (except Scandinavia), Turkey, South Africa, Australia and the United States.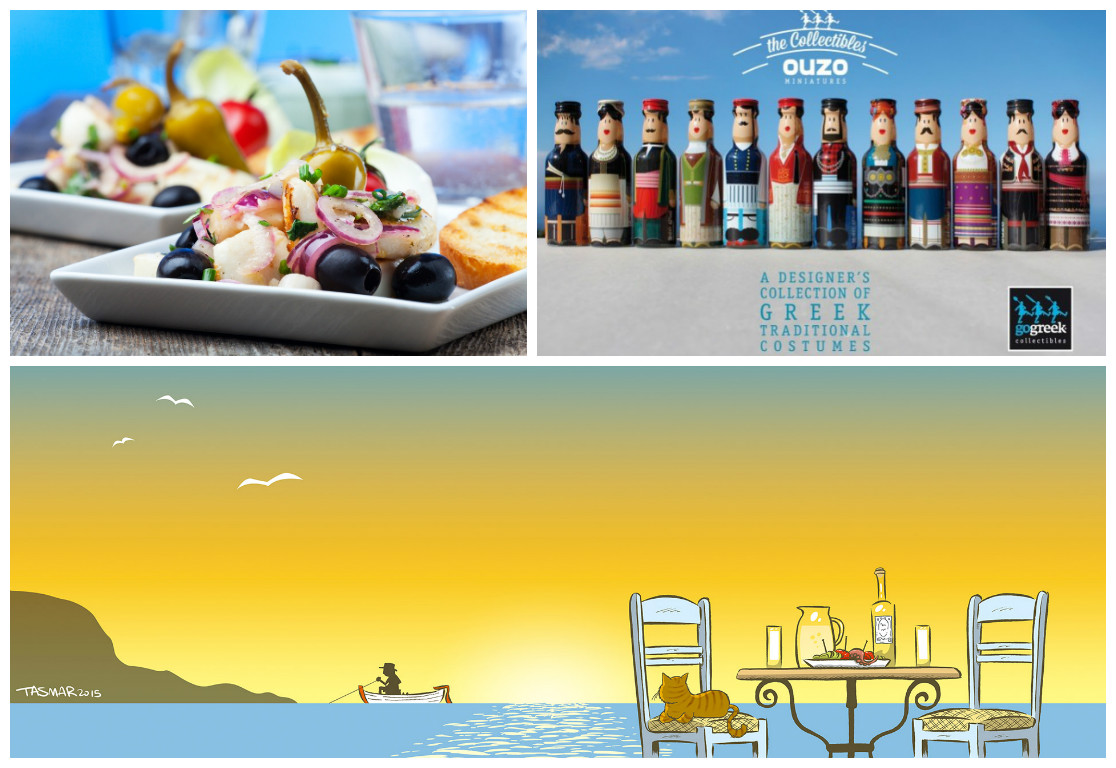 A platform aiming to contribute to the promotion of ouzo exports to both existing and new markets is Tsou.Greece (which, read out loud, sounds a lot like "tsougrise", i.e., "let's clink our glasses" in Greek). It is an online meeting point for ouzo enthusiasts around the world, created in 2007 by ouzo fan and collector of rare bottles of Greece's national drink, Haris Bekris. The site showcases the special attributes and long history of Greece's national drink, highlights the distilling industry's latest accomplishments and aims to forge a modern image of ouzo that does it justice, so that it can draw a global map of the spirit by pinpointing the locations of production in Greece and Cyprus and then, with the help of visitors to the site, by adding as many points of sale and consumption around the world as possible.
"It's getting a new lease on life. Now we want to acquaint younger generations with it and to show them that it's so much more than bouzouki music and the classic staid brands. It would help, say, a resident of Munich find out where he can buy or enjoy ouzo within a 10 kilometer radius of his home, and whether there are bars or restaurants serving it. This way, we can contribute to the promotion of exports to existing and also to new markets" says Bekris.
See also: The World of Ouzo (and watch video) & Greek Federation of Spirits Producers
Read more on GNA: GNA Feature | Greek Wine: A Modern Success Story & GNA interviews Konstantinos Lazarakis, Master of Wine
(Ed.) Eleftheria Spiliotakopoulou
TAGS: BUSINESS & TRADE | FOOD & DRINK | GLOBAL GREEKS | HERITAGE | LIFESTYLE | PRODUCTS